Low profile PCs are thin encyclopedia sized computers that are great for spaced constrained environments. The downside, if 'compact' has a downside, is the computer chassis isn't very thick, so the height of the CPU heatsink is considerably restricted. Most heatsinks that ship with low profile PCs are your only option, any they're usually just adequate. After market heatsink companies haven't shown much interest in making quieter or higher performing low profile cooling systems, until very recently... The Japanese manufacturer Scythe has introduced a low profile, sub-70mm tall heatsink for Intel and AMD processors tailor made for low profile computers. If you've got a low profile PC and are looking for that extra cooling edge, this might be just what the doctor ordered.
The Scythe Shuriken (SCSK-1000) heatsink features copper heatpipes, high density stacked aluminum fins, a copper base and a low profile 12mm thick 100mm Pulse Width Modulation (PWM) fan. All that in a package that is 65mm tall.
Though compact, the Scythe Shuriken weighs in at 355 grams and features three 6mm diameter copper heatpipes. The fan is a little surprising because it is just so thin, I can't recall ever seeing a 12x100x100mm fan used on a heatsink before. The fan has 13 impeller blades, spins at 650-2200RPM and is rated for 31CFM. Springy wire clips are used to hold it in position, and I suppose if your computer has the room it could be substituted for a 25mm thick 100mm fan with little difficulty.
The Scythe Shuriken heatsink is compatible with Socket 478 & 775 Intel processors, and the entire AMD K8 processor family (754-to-AM2+). The Scythe Shuriken heatsink retails for about $27USD ($27CDN).
Scythe Shuriken Heatsink

---

heatsink specsheet
manufacturer: scythe
model no.: shuriken scsk-1000
materials: nickel-plated aluminum fins, copper heatpipes and base, extruded aluminum base cap.
fan mfg: scythe sy101sl12h (pwm)
fan spec: 650-2200rpm, 12v, 0.24a, pwm
fan dim: 12x100x100mm
heatsink & fan dim: 65x117x105mm
weight: 355 grams
includes: multi-socket mounting hardware, thermal compound, instructions.

---

Compatible with Sockets: 754/939/940/AM2/AM2+, LGA775/478
Est. Pricing: $27USD ($27CDN)
The nice thing about the Scythe Shuriken heatsink is that Scythe have taken the best aspects of its thermal designs and compacted it. The downside is that Scythe have compacted some components, without reducing others. Here's an example; on the new Scythe Zipang heatsink the heatpipes are spaced 7.3mm apart on the fins. The considerably more compact Shuriken has the same spacing.

Installation Hardware
Installing multi-socket compatible heatsinks is often a royal pain. Manufacturers have to consider the different CPU dimensions and mounting points of each processor class, and unfortunately that can mean a box full of hardware as a result. With the Scythe Shuriken there is a system of three spring clips here that make installing a heatsink onto a variety of Intel or AMD processors uncomplicated.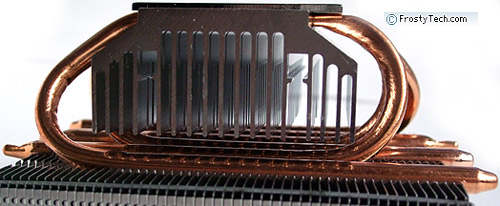 There are three pairs of clips, one pair for socket 775, another for socket 478, and the last for all AMD K8 processors (754/939/AM2). The clips click into the side of the base cap heatsink without the use of any tools, and are removable by the same means. For Intel processors the company relies on the standard Intel push-to-click retention mechanism. For older generation Intel CPUs, we even find a set of brackets for socket 478. All four generations of AMDs Athlon64 CPU are serviced by one cam lever clip that engages on the central lug of the AMD heatsink retention frame.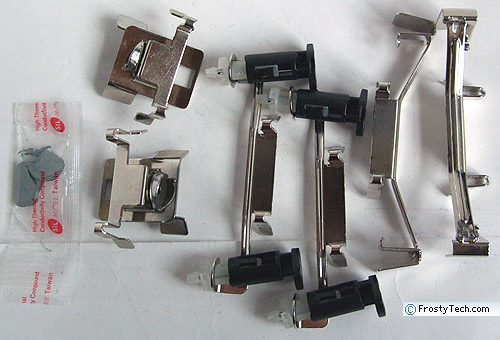 Of all the heatsinks FrostyTech has reviewed recently, this interchangeable clip system is the most convenient. The heatsink is held on firmly and the appropriate amount of clamping pressure is applied - what more could you ask for?
Base Finish and Flatness
Flipping a heatsink over to inspect the business end is often a simple indicator of overall cooler quality. More practically speaking, a heatsink is in many ways only as effective as the contact it makes with the processor - the flatter and smoother the better. Base finish is one of the criteria that Frostytech measure in the course of evaluating heatsinks, and it involves two distinct aspects. Surface Finish is the first; this is calculated with the aid of Surface Roughness Comparator that has a cross section of common machine surface finishes and their numerical surface roughness equivalents in microinches. The second is Surface Flatness. This is tested with an engineers straight edge or proven flat surface, in two axis.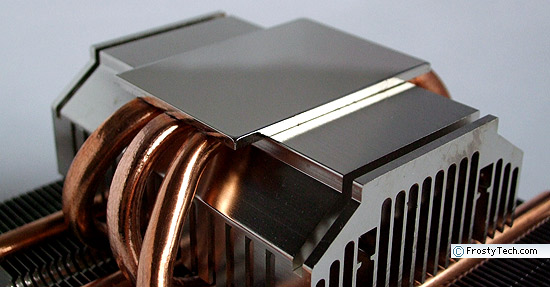 The base of the Scythe Shuriken heatsink has been stamped from a polished sheet of 2mm thick copper, and nickel plated. The base is smooth, with a surface roughness of ~8 microinches (considered excellent). It is flat in one axis and very slightly concave on the opposite because the outer edges are slightly raised.
FrostyTech's Test Methodologies are outlined in detail here if you care to know what equipment is used, and the parameters under which the tests are conducted. Now let's move forward and take a closer look at this heatsink, its acoustic characteristics, and of course its performance in the thermal tests!