The Auras SMF-660 heatsink is a compact Intel heatsink that weighs just over 400 grams, stands 108mm tall, and hides its lone fan quietly away. If you've been faced with the problem of an ill-fitting processor heatsink for a compact PC chassis, take comfort that sub-150mm tall CPU coolers do indeed exist.
Auras ship the SMF-660 heatsink with a 92mm PWM fan that scales in speed from 1200-2100RPM with compatible motherboards. At its fastest speed the fan is moderately audible. Pulse Width Modulation (PWM) fans are noted by their 4-pin power connectors, and what PWM does is enable the BIOS to directly control fan speed so the PC keeps itself cool under load, and decrease fan noise when it isn't. Auras' SMF-660 TwinW heatsink utilizes three heatpipes and special "W-shapped" aluminum fins that are intended to reduce noise as air is drawn in from one side of the heatsink and expelled out the other. The SMF-660 heatsink is estimated to retail for about $22USD.
Auras Technology Co. Ltd. are a ISO-9000 Taiwanese company which was established in 1998 to make OEM laptop thermal solutions for the major brands. The company has since diversified into desktop CPU heatsinks produced under its own brand name. In this review, Frostytech is testing out a prototype version of the Auras SMF-660 heatsink, you can expect the results from the retail version to not vary significantly.
Auras SMF-660 TwinW Heatsink

---

heatsink specsheet
manufacturer: auras
model no.: smf-660 twinw
materials: aluminum fins, copper base, copper heatpipes.
fan mfg: auras as7015mxb_bb
fan spec: 1200-2100rpm, 12v, 0.25a
fan dim: 25x92x92mm
heatsink & fan dim: 108x93x81mm
weight: 401 grams
includes: mounting hardware, thermal compound

---

Compatible with Sockets: LGA775
Est. Pricing: $22USD ($22CDN)
While compact in size, the Auras SMF-660 makes use of what space it occupies. The three U-shapped 6mm diameter copper heatpipes thread their way from the base up through the narrow towers of aluminum cooling fins. The heatsink is effectively spit into three parts; the outer towers of aluminum fins with the "W-shape fin design", the fan, and another tower of aluminum fins.
Air is put to work either side of the 92mm PWM fan, and because the fan is recessed behine the fins noise levels are diminishsed.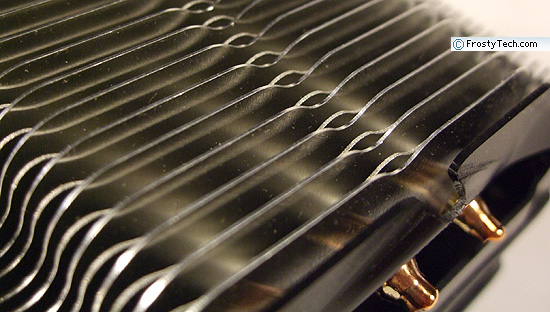 Base Finish and Flatness
Flipping a heatsink over to inspect the business end is often a simple indicator of overall cooler quality. More practically speaking, a heatsink is in many ways only as effective as the contact it makes with the processor - the flatter and smoother the better. Base finish is one of the criteria that Frostytech measure in the course of evaluating heatsinks, and it involves two distinct aspects. Surface Finish is the first; this is calculated with the aid of Surface Roughness Comparator that has a cross section of common machine surface finishes and their numerical surface roughness equivalents in microinches. The second is Surface Flatness. This is tested with an engineers straight edge or proven flat surface, in two axis.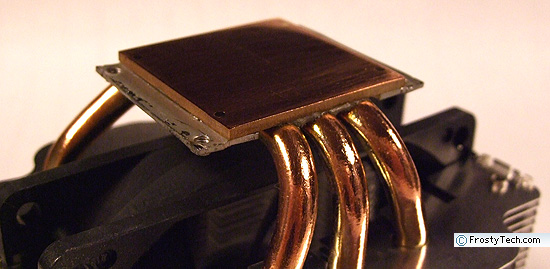 The base of the Auras SMF-660 heatsink is a flat slab of 2.5mm thick copper, to which the three heatpipes are soldered. The baseplate has been punched out, and steel tabs rivetted to either side for the LGA775 mounting bracket. The copper base measures 36x36mm in size and is flat in both axis. Surface roughness is ~16 microinches or better, which is considered excellent.
FrostyTech's Test Methodologies are outlined in detail here if you care to know what equipment is used, and the parameters under which the tests are conducted. Now let's move forward and take a closer look at this heatsink, its acoustic characteristics, and of course its performance in the thermal tests!