One of the problems with old motherboard chipset heatsinks, apart from their small size, is the little fans almost always seize up. Constant use, time, and dust bunnies conspire to stop impeller blades from spinning. If the fan stops on a postage size heatsink, there's a good chance the chipset will overheat - there's just not enough surface area to adequately release the heat from the chipset into the surrounding air.
For this problem Zalman have introduced a small chipset heatsink called the ZM-NB47J.
The Zalman ZM-NB47J is a compact passively cooled aluminum chipset cooler that measures 37x37mm in size. This extruded aluminum heatsink is compatible with through-hole attachment methods. The base of the aluminum heatsink is a mere 24.5x37mm in area.
Zalman ZM-NB47J Northbridge Chipset Heatsink

---

heatsink specsheet
manufacturer: zalman
model no.: zm-nb47j
materials: extruded anodized aluminum
fan mfg: none
fan spec: none
fan dim: none
heatsink & fan dim: 47x37x36mm
weight: 54 grams
includes: thermal compound, mounting hardware

---

Compatible with Chipsets having through-hole clip fixtures.
Est. Pricing: $9USD ($9CDN)
The ZM-NB47J heatsink comes with a mounting brackets that fit into channels in the side of the cooler. Each steel bracket swivels around in just about any direction so the little northbridge heatsink can accommodate different motherboards, and mounting points in any orientation.
The versatility of this system allows the Zalman ZM-NB47J to fit on a wide variety of motherboards with a minimum of fuss. After assembly, the ZM-NB47J is installed without the use of any tools.
Unlike our normal CPU heatsink reviews we won't be doing any temperature measurements. Here's a quick look at the Zalman ZM-NB47J from all sides.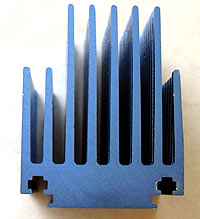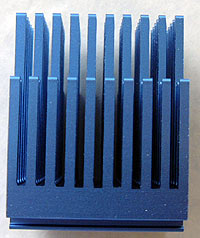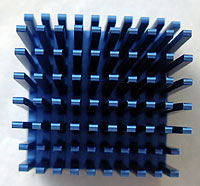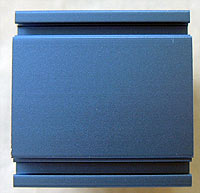 The Zalman ZM-NB47J heatsink is made from an aluminum extrusion, cut into fins 2x1.5mm in size. For a passive heatsink such as this, it's understood that the user will have some airflow directed towards the heatsink - a case fan, the CPU heatsink fan exhaust, whatever.
There's not much else to the Zalman ZM-NB47J really, and in that respect it makes a useful replacement for expired northbridge chipset heatsinks. There is no fan to break with time, and its' surface area should ensure adequate cooling with a moderate breeze moving over the aluminum fins.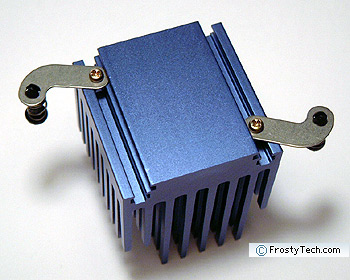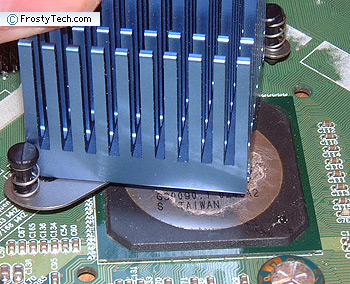 The only shortcoming we can see with the Zalman ZM-NBF47 is that it won't be of much use on modern Intel chipsets - the 975X, P35, X48 are all far too hot for a small aluminum heatsink such as this. It's hard to imagine a motherboard with a massive copper and heatpipe chipset cooling system being replaced by a cooler as compact as the Zalman ZM-NB47J, so don't try. As a general rule of thumb, we suggest you only replace failed motherboard chipset heatsinks of about the same size as the ZM-NB47J.
Related Articles:
For more reviews on the latest heatsinks and cooling solutions, rely on FrostyTech's inventory of 400+ heatsink reviews. Here are a few other articles that you might enjoy as well...
- Thermalright Ultra-90 Low Noise Heatsink Review
- 3RSystem Iceage 120 Exposed Heatpipe Base Heatsink Review
- Xigmatek HDT-S963 Exposed Heatpipe Base Heatsink Review
- nPowertek NPH-1000 Heatsink
- Intel Stock Core 2 Duo Radial Curved Bifurcated Fin Heatsink Review
- Zalman CNPS7500-Cu LED Low Noise Heatsink
- Evercool Buffalo HPFA-10025 AMD Heatsink Review
- Scythe Mine Rev.B SCMN-1100 Heatsink Review
- Akasa AK-876 AMD Athlon64 Heatsink Review
- Scythe Katana II SCKTN-2000 Heatsink Review
- Akasa Evo Blue AK-922 Heatsink Review
- Coolage Freezer Orb F0-Z924AL Intel Heatsink Review