Sometimes all you really need is an inexpensive heatsink for the job, admit it.
For example, if you're building a PC with one of the new generation 65W or 45W Intel energy efficient processors, a 700gram tower of heatpipes and aluminum is a luxury CPU cooling option you may not really require. Enter the Arctic Cooling Alpine 7 Pro socket 775 Intel heatsink; a value oriented low noise extruded aluminum heatsink for Intel processors (85W or less).
The Alpine 7 Pro retails for less than $15CDN ($15USD), and comes with a pre-installed patch of thermal compound. This is a no-frills heatsink, but it makes some concessions towards lower noise production. In tradition Arctic Cooling fashion, the Alpine 7 Pro is equipped with a fan suspended on rubber shock absorbing posts. The fan is suspended on Fluid Dynamic Bearings, is PWM controlled and rotates from a whisper quiet 500RPM to a moderately audible 2000RPM. Weighing it a 480 grams the Alpine 7 Pro is entirely aluminum, and covered by a 6 year warranty. The real question is whether the Alpine 7 Pro can stand up acoustically, and thermally.
Let's find out how a $15 heatsink stacks up against models costing 4x that.
Arctic Cooling Alpine 7 Pro

---

heatsink specsheet
manufacturer: arctic cooling
model no.: alpine 7 pro
materials: extruded aluminum
fan mfg: arctic cooling
fan spec: 500-2000rpm, 12v, 0.15a
fan dim: 32x92x92mm
heatsink & fan dim: 85x100x94mm
weight: 480 grams
includes: pre-applied thermal compound, instructions

---

Compatible with Sockets: LGA775
Est. Pricing: $12USD ($12CDN)
The Alpine 7 Pro heatsink suspends its 2000RPM fan on four dual axial rubber vibration absorbing posts. The general purpose of this rubber post is to prevent fan motor vibrations from transferring to other areas of the computer chassis which could cause noise.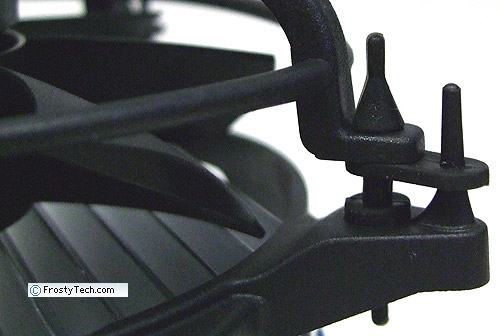 The 92mm fan also minimizes turbulence and noise by essentially floating the impeller alone above the aluminum component, there is no edge of the fan frame for air to flow over.
This is the most novel feature of the Arctic Cooling Alpine 7 Pro heatsink. Traditionally, fans are clipped or screwed firmly into place.
Screws will hold a fan firmly, but do nothing to prevent rattling sounds from developing elsewhere if there is a little vibration going on. The Alpine 7 Pro's rubber posts at each corner of the fan hold it in place firmly..
The rubber fan mounts reduce the chance of errant noises, and at the same time absorb or dampen some of the vibrations that are inevitably caused by minor imbalances in the impeller.
Arctic Cooling's 'dualaxial' rubber post hold the lightweight Alpine 7 Pro fan in position, in both axis. The long term stability of the rubber fixtures with respect to drying out and becoming brittle, is one that remains to be seen.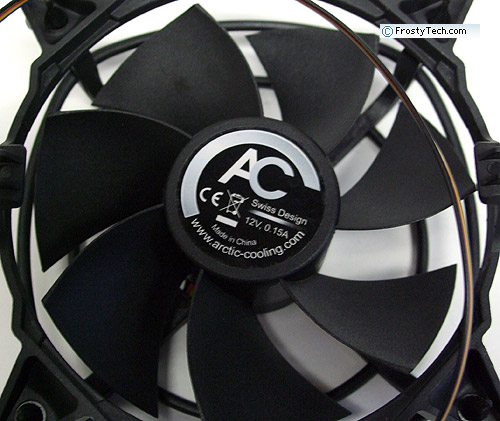 Base Finish and Flatness
Flipping a heatsink over to inspect the business end is often a simple indicator of overall cooler quality. More practically speaking, a heatsink is in many ways only as effective as the contact it makes with the processor - the flatter and smoother the better. Base finish is one of the criteria that Frostytech measure in the course of evaluating heatsinks, and it involves two distinct aspects. Surface Finish is the first; this is calculated with the aid of Surface Roughness Comparator that has a cross section of common machine surface finishes and their numerical surface roughness equivalents in microinches. The second is Surface Flatness. This is tested with an engineers straight edge or proven flat surface, in two axis.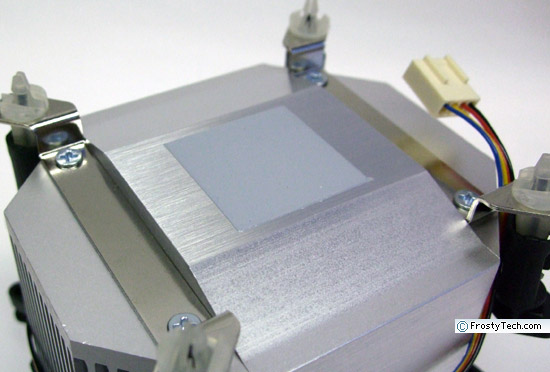 The extruded aluminum base of the Arctic Cooling Alpine 7 Pro heatsink has been sanded finish that is generally flat in the long axis, and very slight wavy in the opposite direction. Surface roughness is around 32 microinches, which is considered good. The Alpine 7 Pro ships with a patch of pre-applied thermal compound.
FrostyTech's Test Methodologies are outlined in detail here if you care to know what equipment is used, and the parameters under which the tests are conducted. Now let's move forward and take a closer look at this heatsink, its acoustic characteristics, and of course its performance in the thermal tests!