Only very recently has computer memory required heatsinks, and more often than not this is because users are overclocking and over-volting RAM into the stratosphere. It's curious because with each successive generation of DDR, the stock voltage it requires according to JDEC standards has actually decreased. Memory speeds have steadily risen, as have the transistor counts in each DRAM as memory density has increased, so the heatspreader has become standard window dressing.
Brands like Corsair and OCZ have invested a lot into fancy and flamboyant memory thermal solutions for their top of the line overclocker RAM, where some degree of memory cooling is necessary. Mainstream RAM, be it DDR/DDR2 or DDR3, doesn't require extensive cooling when run at stock speeds. Overclocked memory generally does fine with a fan pointed in its direction... yet memory temperatures are much less important than the quality of the DRAM.
In any event it's what consumers demand that ultimately matters. The memory heatspreader has all but become standard equipment - whether it's genuinely required or not. For those users who are unsatisfied by the stock heatspreaders on their performance memory, there are a handful of after market RAM heatspreaders like the Xigmatek MAC-S3501 Frostytech is checking out today on the market. The tricky bit is how to install these heatspreaders without destroying your RAM in the process.
Xigmatek's MAC-S3501 memory heatspreaders are intended for DDR, DDR2 and DDR3 memory modules, and assuming the sticks of memory you have are bare, installation is a quick affair. A thin strip of jelly silicon thermal interface is laid down on the DRAM, and then the anodized aluminum Xigmatek MAC-S3501 heatspreaders are set in place. If on the other hand your memory already has heatspreaders that are attached with adhesive or frag tape, there's a good chance you may destroy your memory if you attempt to remove the heatspreaders.
Our experience removing heatspreaders from old memory has been successful when the DRAM is the TSOP-II formfactor, and the adhesive isn't too sticky. Most early DDR2 DRAM was TSOP-II, and almost every DDR DRAM we've come across is. Later generation DDR-II, and DDR3 is packaged in a BGA IC formfactor. That kind of RAM package doesn't suffer flexing very well, and we've destroyed some very expensive memory attempting to remove heatspreaders.
Xigmatek MAC-S3501 RAM Heatsink

---

heatsink specsheet
manufacturer: xigmatek
model no.: mac-s2501
materials: stamped anodized aluminum
fan mfg: xigmatekad0312lx-k70
fan spec: 7500rpm, 12v, 0.06a
fan dim: 6.5x30x30mm
heatsink & fan dim: 9x68x122mm
weight: 45 grams
includes: thermal interface tape, mounting clips

---

Compatible with RAM: DDR, DDR2
Est. Pricing: $14USD ($14CDN)
In this article Frostytech is looking at Xigmatek's MAC-S3501 air cooled memory heatspreaders, but unlike our normal CPU heatsink reviews we won't be doing any temperature measurements.
The Xigmatek MAC-S3501 heatspreaders are made from 0.6mm thick anodized aluminum sheet. Two thin conductive silicon thermal interface strips are included in each package, which is good for one stick of memory. To encapsulate a dual channel pair of memory, you'll need to buy two Xigmatek MAC-S3501 heatspreader kits.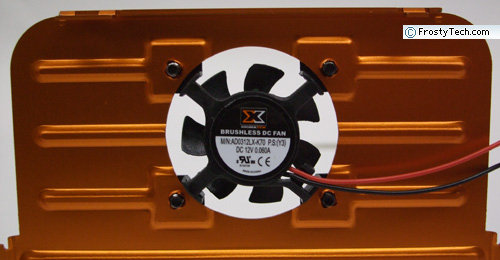 The design of the Xigmatek MAC-S3501 heatspreaders is nothing special, except for a small 30mm fan inset into a tab which rises 40mm above the top of the memory DIMM. Once installed, the heatspreaders widen the RAM to a thickness of 8mm. On some motherboards you will be able to install memory modules with the MAC-S3501 heatspreaders side by side, on others you will not.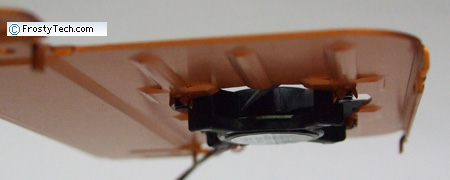 The 30mm fan is set within the body of the heatspreaders, and its 6.5mm thickness allows a 2.5CFM rate of airflow to pass through the two sheets of aluminum. A standard 3-pin power connector is supplied at the end of a 150mm long cable. The fan rotates at 7500RPM, and is barely audible, if at all. Compared to passive aluminum memory heatspreaders the Xigmatek MAC-S3501 modules will decrease temperatures by some degree.
360° View - Xigmatek MAC-S3501 RAM Heatsink

---

Information on Frostytech's test methodology is available here.

The Xigmatek MAC-S3501 RAM heatspreaders stand 69mm tall, with the upper tab above the RAM measuring 89mm across and 40mm tall. A 6.5mm thick 30mm fan is set into the 8mm space the heatspreaders occupy, power is supplied by a 3-pin motherboard fan header.

The rear of the orange Xigmatek MAC-S3501 RAM heatspreaders is solid. There are some indents to stiffen the metal, and at either edge are spaces for springy clips to lock the heatspreaders in place firmly. The aluminum is 0.6mm thick.

The silicon based thermal interface strips are 0.5mm thick, and slightly tacky.
Xigmatek's MAC-S3501 RAM heatspreaders are easy to install on bare DDR or DDR2 memory modules, and will likely improve memory cooling over passive heatspreaders by some degree. The 30mm fan is powerful enough to ensure moderate air movement between the two aluminum surfaces, noise isn't an issue.
Based on our experiences, we do NOT recommend removing heatspreaders from DDR2/DDR3 memory that use BGA DRAM packaging, it's just too easy to damage the RAM. Unfortunately, that difficulty removing pre-installed memory heatspreaders limits your options if you believe memory cooling is an issue inside your PC. Fragtape isn't as effective as true thermal interface material, mostly because fragtape isn't capable of filling the space appropriately.. but if that's what has been used you're basically stuck.
In our opinion, after market RAM heatspreaders are a luxury item with limited usefulness. A well positioned 120mm or 92mm fan will do wonders for memory temperatures in most situations. Xigmatek's MAC-S3501 RAM heatspreaders seem to be well thought out, but I suspect it's a bit of a catch-22. Modern DDR2 modules will most likely already have heatspreaders, and older generation bare sticks of memory generally don't require anything more than decent airflow. If you disagree with this point of view, take comfort in the fact that Xigmatek supply silicon-based thermal interface pads, not double sided tape.
Related Articles:
For more reviews on the latest heatsinks and cooling solutions, rely on FrostyTech's inventory of 400+ heatsink reviews. Here are a few other articles that you might enjoy as well...
- Thermalright Ultra-90 Low Noise Heatsink Review
- 3RSystem Iceage 120 Exposed Heatpipe Base Heatsink Review
- Xigmatek HDT-S963 Exposed Heatpipe Base Heatsink Review
- nPowertek NPH-1000 Heatsink
- Intel Stock Core 2 Duo Radial Curved Bifurcated Fin Heatsink Review
- Zalman CNPS7500-Cu LED Low Noise Heatsink
- Evercool Buffalo HPFA-10025 AMD Heatsink Review
- Scythe Mine Rev.B SCMN-1100 Heatsink Review
- Akasa AK-876 AMD Athlon64 Heatsink Review
- Scythe Katana II SCKTN-2000 Heatsink Review
- Akasa Evo Blue AK-922 Heatsink Review
- Coolage Freezer Orb F0-Z924AL Intel Heatsink Review