Frostytech has tested a number of heatsinks from the Korean manufacturer APACK. Of all its models to pass through our labs, the Zerotherm BTF92 "Overclockers Edition" heatsink was probably one of the best. In this review today, we're testing out a much lighter cooler geared towards the lower noise crowd called the Zerotherm Nirvana 120. It's also a substantially larger heatsink, measuring in at 150 x 128 x 90mm in size.
The Zerotherm Nirvana 120 heatsink is compatible with socket 775 Intel Core 2 Duo/Quad/Extreme and socket 754/939/940/AM2/AM2+ AMD Athlon64 processors. It ships with a manual fan speed controller that can bring sound levels down to whisper quiet, though we'd prefer to leave that aside and let the Nirvana 120 work at its best. You'll see exactly what we mean by that a little later in this review. A 120mm fan is set within the body of the heatsink, and it spins at a speed of 700-2600RPM (as manually controlled). A pair of blue LEDs illuminate the translucent impeller blades.
Made mostly of aluminum, with a small copper base connected by four heatpipes to the rest of the heatsink, the entire heatsink is dark nickel plated. It looks glossy and brilliant with the blue LEDs reflecting off its surface, but it's murder for picking up fingerprints. Apack's Nirvana 120 heatsink weighs 628grams and has a surface area of 6748 square centimeters. The heatsink is rated to 150W according to the manufacturer, and is priced in the region of $45USD.
Apack Zerotherm Nirvana 120

---

heatsink specsheet
manufacturer: apack zerotherm
model no.: nirvana 120
materials: dark nickel plated aluminum fins, copper heatpipes, copper base.
fan mfg: silentmatic sfa1225hu-120
fan spec: 800-2400rpm, 12v, 0.45a
fan dim: 25x120x120mm
heatsink & fan dim: 150x128x95mm
weight: 628 grams
includes: multi-socket mounting hardware, thermal compound, fan speed controller, instructions.

---

Compatible with Sockets: 754/939/940/AM2, LGA775
Est. Pricing: $44USD ($44CDN)
Printed instructions come with the Apack Zerotherm Nirvana 120 heatsink that detail the installation steps on both processor platforms. It's not complicated to install, which is a nice relief.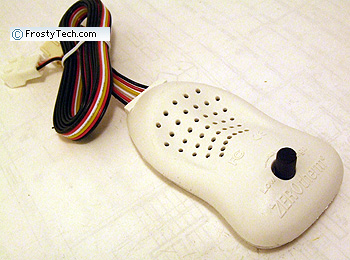 A manual fan speed controller with a nice 2 meter long fan power cable is useful for reducing noise levels to whisper quiet levels. Sticky rubber pads allow it to be stuck just about anywhere inside the PC chassis. The fan speed controller provides a voltage range of 11.20V - 4.94V according to a multimeter.
Installation Hardware
The Apack Zerotherm Zerotherm Nirvana 120 heatsink comes with clips for Intel and AMD processors. Depending on your computer, one clip or the other is attached to the die-cast aluminum base of the heatsink with a small machine screws.
The socket 775 clip uses four spring tensioned captive screws and a metal rear-support bracket to install. Users will have to remove the motherboard from the computer for installation, but once done swapping out CPUs isn't problematic. An adhesive on the support bracket holds it in place once installed. All that's required is a phillips screw driver.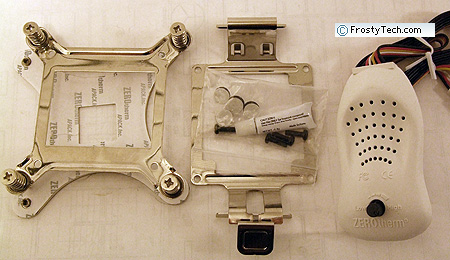 The AMD bracket works with the center lug on socket AM2 and socket 754/939/940 heatsink retention frames. The only step required is attaching it to the bottom of the Zerotherm Nirvana 120 heatsink. Regardless of the orientation of the AMD processor socket on the motherboard, the clip can be fixed to the heatsink so the Nirvana 120 heatsink exhausts towards the rear of the PC chassis.
Base Finish and Flatness
Flipping a heatsink over to inspect the business end is often a simple indicator of overall cooler quality. More practically speaking, a heatsink is in many ways only as effective as the contact it makes with the processor - the flatter and smoother the better. Base finish is one of the criteria that Frostytech measure in the course of evaluating heatsinks, and it involves two distinct aspects. Surface Finish is the first; this is calculated with the aid of Surface Roughness Comparator that has a cross section of common machine surface finishes and their numerical surface roughness equivalents in microinches. The second is Surface Flatness. This is tested with an engineers straight edge or proven flat surface, in two axis.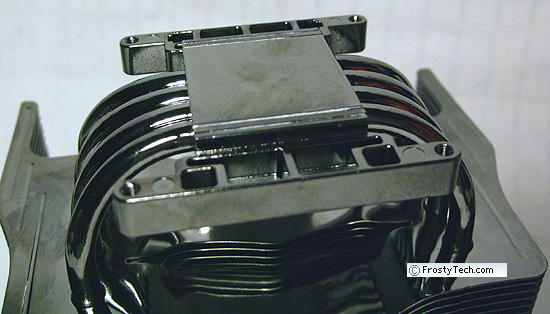 The copper base of the Apack Zerotherm Nirvana 120 heatsink is machined, and quite smooth because of the nickel plating. The surface roughness is ~8 microinches, which is considered excellent. It is generally quite flat in both axis, though some edges are raised a little. There are four screw holes around the outside of the base area to attach the Intel and AMD mounting brackets. Also take note of all the fingerprints... it's impossible to avoid this with glossy finishes.
FrostyTech's Test Methodologies are outlined in detail here if you care to know what equipment is used, and the parameters under which the tests are conducted. Now let's move forward and take a closer look at this heatsink, its acoustic characteristics, and of course its performance in the thermal tests!