The Auras LPT-700 is an Intel-only socket 775 heatsink designed for quiet cooling. The LPT-700 is equipped with a 92mm PWM fan that scales in speed from 700-2100RPM with compatible motherboards, and at its fastest speed is moderately audible. Pulse Width Modulation (PWM) compatible fans are noted by their 4-pin power connectors, and what PWM does is enable the BIOS to directly control fan speed. Versatility is the key to any good heatsink, and the PWM approach ensures you computer can keep itself cool when under load, yet decrease fan noise when it isn't. You don't have to fuss with a manual fan speed controller, or keep an eye out for fans that stall because too little voltage is being delivered to keep them spinning.
If the Auras LPT-700 heatsink is used with an Intel motherboard that pre-dates PWM, the fan spins at full speed. The LPT-700 is a pretty basic heatsink by most considerations, so it should appeal to System Integrators or the non-enthusiast crowd. The cooler weighs just 504 grams.
Auras Technology Co. Ltd. are a ISO-9000 Taiwanese company which was established in 1998 to make OEM laptop thermal solutions for the major brands. The company later diversified into desktop CPU heatsinks, and now produces heatsinks in its' Kunshan factory just outside of Shanghai.
Estimated retail price on the Auras LPT-700 is in the region of $30USD.
Auras LPT-700 Heatsink

---

heatsink specsheet
manufacturer: auras
model no.: lpt-700
materials: aluminum fins, copper heatpipes, copper base, injection molded aluminum mounting frame.
fan mfg: ys tech fd129225lb
fan spec: 700-2100rpm, 12v, 0.15a
fan dim: 25x92x92mm
heatsink & fan dim: 139x99x86mm
weight: 504 grams
includes: mounting hardware, thermal compound, instructions.

---

Compatible with Sockets: 754/939/940/AM2, 775
Est. Pricing: $30USD ($30CDN)
Auras' LPT-700 heatsink is assembled from about 52 thin aluminum fins stacked on the three 6mm diameter copper heatpipes. The copper base is a rather thin plate, but it's soldered to the flattened copper heatpipes. The aluminum fins aren't nickel plated, so heatpipe-to-aluminum fin joints are not soldered.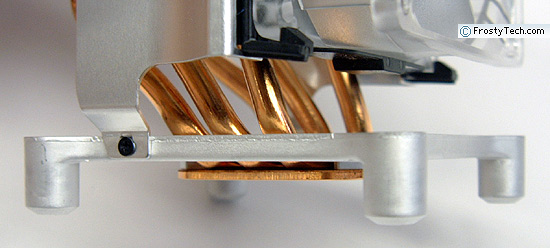 The Auras LPT-700 heatsink comes with an LGA775 rear motherboard support plate that allows it to be installed on Socket 775 Intel motherboards with a couple screws. Four spring tensioned screws slip into the injection moulded aluminum support bracket that also frames up part of the LPT-700 heatsink. These catch the rear support plate and firmly hold the 500gram heatsink in position.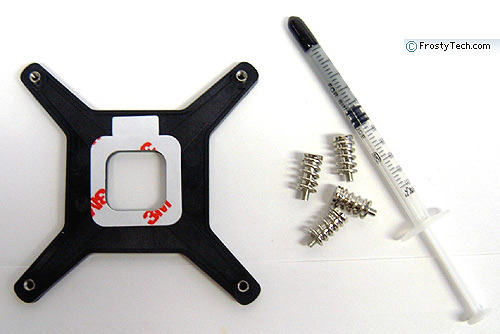 Printed instructions are provided, but the process is pretty simple. Users will need to remove the motherboard from the computer case to install the rear support plate first, but after that getting access to the CPU again isn't difficult.
Base Finish and Flatness
Flipping a heatsink over to inspect the business end is often a simple indicator of overall cooler quality. More practically speaking, a heatsink is in many ways only as effective as the contact it makes with the processor - the flatter and smoother the better. Base finish is one of the criteria that Frostytech measure in the course of evaluating heatsinks, and it involves two distinct aspects. Surface Finish is the first; this is calculated with the aid of Surface Roughness Comparator that has a cross section of common machine surface finishes and their numerical surface roughness equivalents in microinches. The second is Surface Flatness. This is tested with an engineers straight edge or proven flat surface, in two axis.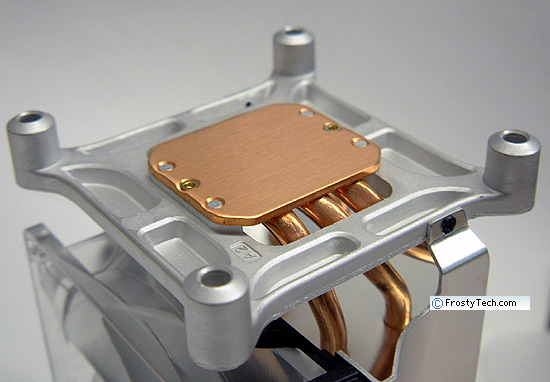 The base of the Auras LPT-700 has been stamped from a rolled sheet of copper, and is very slightly concave parallel to the direction of the heatpipes, and very slightly convex in the opposite axis. Surface roughness is ~16 microinches, which is considered excellent.
FrostyTech's Test Methodologies are outlined in detail here if you care to know what equipment is used, and the parameters under which the tests are conducted. Now let's move forward and take a closer look at this heatsink, its acoustic characteristics, and of course its performance in the thermal tests!