Scythe are back at it with another low noise, 120mm fan packing heatsink that looks like small brick. The Scythe Andy Samurai Master (SCASM-1000) heatsink may be big and voluminous, but it proves to be an effective and most importantly, quiet, heatsink to operate. The Andy Samurai Master stands 126mm tall, and the upper body a shocking 120mm square, but Scythe float much of this becometh over a relatively compact lower body (78x80mm in general shape). In other words, Scythe have built a heatsink to hover over the motherboard like a Vogon mother ship.
Design wise, the Andy Samurai Master heatsink weighs in at 685grams and comes packing no less than six 6mm diameter copper heatpipes and a 120mm 1200RPM fan.
On top of that, Scythe employ a rather novel fin technique it terms the "Infinity Interleave Fin Structure". What that basically describes is a heatsink built with two different sizes of aluminum fins. There are small fins which extend just 26mm and full-size fins that extend the full 125mm width of the body. The IIFS technique keeps fin density around the six heatpipes high, while allowing a wider fin pitch in the areas which receive less airflow.
Springy wire clips are used to hold the 25mm thick 120mm fan in position, so that means other fan sizes or thickness are out of the question. The heatsink is compatible with both Socket 478 & 775 Intel CPU, and the entire AMD K8 processor family.
Scythe Andy Samurai Master Heatsink

---

heatsink specsheet
manufacturer: scythe
model no.: andy samurai master (scasm-1000)
materials: aluminum fins, nickel-plated copper heatpipes, copper base, nickel plated extruded aluminum heatsink.
fan mfg: dfs122512l
fan spec: 1200rpm, 12v, 0.18a
fan dim: 25x120x120mm
heatsink & fan dim: 125x102x82mm
weight: 685 grams
includes: mounting clips, thermal compound, instructions

---

Compatible with Sockets: 754/939/940/AM2, 775, 478
Est. Pricing: $45USD ($45CDN)
Installing multi-socket compatible heatsinks can be easy, and it can be a like building a back yard BBQ. Manufacturers have to consider the different CPU dimensions and mounting points of each processor class, and unfortunately many heatsinks come with a box full of hardware as a result. With the Andy Samurai Master, Scythe rely on a system of three spring clips here that make installing a heatsink onto a variety of Intel or AMD processors uncomplicated.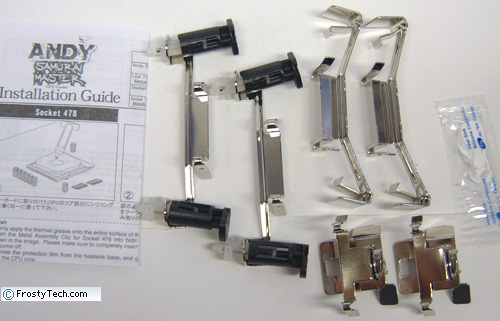 There are three pairs of clips, one pair for socket 775, another for socket 478, and the last for all AMD K8 processors (754/939/AM2). The clips click into the side of the heatsink without the use of any tools, and are removable by the same means. For Intel processors the company relies on the standard Intel push-to-click retention mechanism. For older generation Intel CPUs, we even find a set of brackets for socket 478. All four generations of AMDs Athlon64 CPU are serviced by one cam lever clip that engages on the central lug of the AMD heatsink retention frame.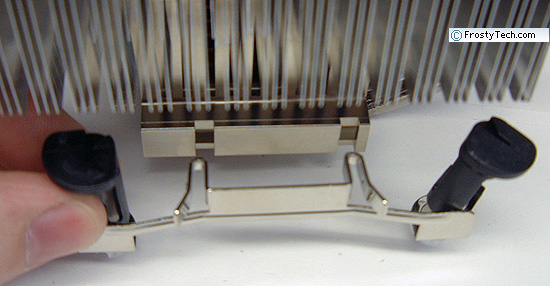 Of all the heatsinks FrostyTech has reviewed recently, this interchangeable clip system is the most convenient. The heatsink is held on firmly and the appropriate amount of clamping pressure is applied - what more could you ask for?
Base Finish and Flatness
Flipping a heatsink over to inspect the business end is often a simple indicator of overall cooler quality. More practically speaking, a heatsink is in many ways only as effective as the contact it makes with the processor - the flatter and smoother the better. Base finish is one of the criteria that Frostytech measure in the course of evaluating heatsinks, and it involves two distinct aspects.
Surface Finish is the first; this is calculated with the aid of Surface Roughness Comparator that has a cross section of common machine surface finishes and their numerical surface roughness equivalents in microinches. The second is Surface Flatness. This is tested with an engineers straight edge or proven flat surface, in two axis.
The base of the Scythe Andy Samurai Master heatsink has been stamped from a polished sheet of copper, and is largely flat in both axis. Surface roughness is ~8 microinches, which is considered excellent.
FrostyTech's Test Methodologies are outlined in detail here if you care to know what equipment is used, and the parameters under which the tests are conducted. Now let's move forward and take a closer look at this heatsink, its acoustic characteristics, and of course its performance in the thermal tests!