The Zalman CNPS9700NT follows in the footsteps of the popular CNPS9700 LED heatsink, and it's just as big as the latter. What sets the CNPS9700NT apart is a 100mm Pulse Width Modulation (PWM) compliant fan - making this heatsink a more attractive choice for Intel platforms than the pervious version and its manual fan speed controller. Oh, and did we mention it's chrome plated an evil Terminator-grey shade of silver? Blame nVidia for that one, personally we prefer our heatsinks in bare aluminum or copper.
As you probably already know, Zalman has made a name for itself in the processor cooling industry by creating thermal solutions that get the job done quietly, and effectively. Zalman's CNPS9700NT is made from many 0.2mm thin copper fins, three 6mm diameter copper heatpipes formed into a figure-8, and then everything is deep fried in the dark nickel-plating vat. The entire heatsink is cooled by one ~100mm diameter fan which is internally illuminated with a couple green LEDs. Noise levels range from 52 - 28 dBA according to our real world sound measurements. Fan speed scales automatically on PWM compatible motherboards from 2800-1250RPM. On legacy motherboards, the CNPS9700NT heatsink automatically scales up to a default operating speed of 2800RPM after an initial lull of 5 seconds.
Zalman's CNPS9700NT heatsink weighs in at 764 grams and is compatible with Intel socket 775 and AMD socket 754/939/940/AM2+ processors. The non-curing low viscosity ZM-STG1 thermal compound is included along with the cooler too. The Zalman CNPS9700NT retails for about $65USD ($65CDN).
Zalman CNPS9700NT Heatsink

---

heatsink specsheet
manufacturer: zalman
model no.: cnps9700nt
materials: dark nickel-plated copper fins and heatpipes, die-cast aluminum and copper base.

fan mfg: zalman zf1125bth

fan spec: 1250-2800rpm, 12v, 0.40a, pwm
fan dim: 25x100x100mm
heatsink & fan dim: 142x124x90mm
weight: 764 grams
includes: zm-stg1 thermal compound, multi-socket mounting hardware, instructions.

---

Compatible with Sockets: 754/939/940/AM2/AM2+, 775
Est. Pricing: $65USD ($65CDN)
The complex shape of the Zalman CNPS9700NT heatsink requires a special LGA775 mounting harness for Intel motherboards.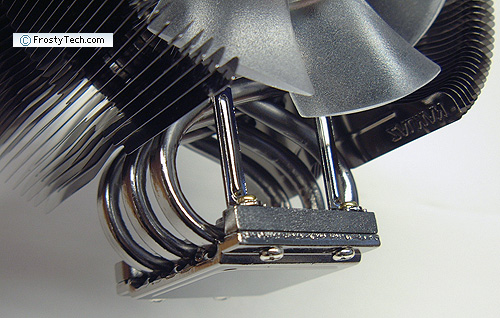 For this you'll need to remove the entire motherboard from the case and attach a bracket to the PCB. Instructions are detailed and the process isn't complicated.
After that's done, the heatsink can be installed or removed with just two screws - so getting back at the Core 2 Duo processor below is not an impossible task.
The CNPS9700NT heatsink installs onto socket 754/939/940 and AM2 processors with a simple metal clip that works with either the socket AM2 or socket 939 style heatsink retention frame.
As a general rule, there shouldn't be any interfering components within 62mm of the center of the CPU (in top to bottom directions), and nothing within 48mm of the center of the CPU towards the front or rear of the case.
The Zalman CNPS9700NT heatsink stands 142mm tall, so you need to have at least 150mm space directly above the CPU socket as well. Since this is a pretty big heatsink, make a few quick measurements first to ensure it will fit your PC case.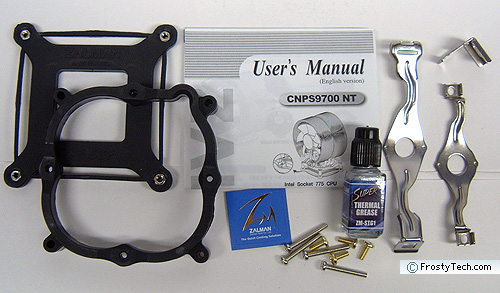 The stainless steel mounting clip that holds the CNPS9700NT heatsink in position may need to be threaded perpendicularly through the six copper heatpipes. The CNPS9700NT heatsink should always exhaust hot air towards the rear of the PC chassis, and on some AMD motherboards the socket is all flipped around. It can be a tricky manoeuvrer, so pay close attention to the instructions.
Base Finish and Flatness
Flipping a heatsink over to inspect the business end is often a simple indicator of overall cooler quality. More practically speaking, a heatsink is in many ways only as effective as the contact it makes with the processor - the flatter and smoother the better. Base finish is one of the criteria that Frostytech measure in the course of evaluating heatsinks, and it involves two distinct aspects.
Surface Finish is the first; this is calculated with the aid of Surface Roughness Comparator that has a cross section of common machine surface finishes and their numerical surface roughness equivalents in microinches. The second is Surface Flatness. This is tested with an engineers straight edge or proven flat surface, in two axis.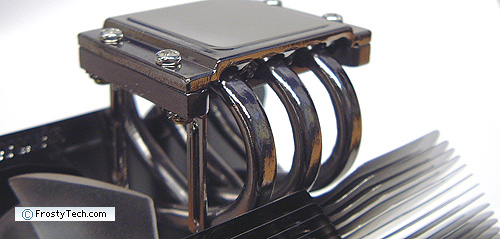 The base of the Zalman CNPS9700NT heatsink has been machined perfectly flat and is very smooth. The entire heatsink has been plated, so surface roughness is at or better than ~8 microinches, which is considered excellent. The base is flat in both axis.
FrostyTech's Test Methodologies are outlined in detail here if you care to know what equipment is used, and the parameters under which the tests are conducted. Now let's move forward and take a closer look at this heatsink, its acoustic characteristics, and of course its performance in the thermal tests!