If you're looking to replace the stock AMD or Intel heatsink, you've come to the right place - FrostyTech. Processor manufacturers ship their CPUs with good coolers generally, so you'll have to look carefully to find a heatsink that boasts lower temperatures and less noise. Finding those qualities amongst the sea of after market CPU coolers is a tricky task. It doesn't help that PC hardware review sites rely on different heatsink benchmarking standards; some test on a single old CPU, others on just an AMD or Intel CPU, while a select few use custom synthetic thermal test platforms. What you might not realize is that heatsinks perform differently on AMD and Intel processors, due to the difference in heat outputs, and the larger integrated heat spreader AMD utilizes. Whether synthetically tested or not, heatsinks should always be tested on both CPU platforms for the best indication of performance.
In this review Frostytech is testing out Xigmatek's new HDT-S983 heatsink, an innovative thermal solution that employs sculpted & textured aluminum fins, and large copper heatpipes that make direct contact with the CPU.
If you take the Xigmatek HDT-S983 and look at the bottom you'll see an aluminum base with three 8.5mm wide grooves cut deeply into it. Set snugly within each groove is an 8mm diameter copper heat pipe, which has been flattened so everything is flush. Instead of using a bulky copper plate, Xigmatek use the superior heat conducting capabilities of heat pipes to conduct heat away from the core of an AMD or Intel processor. Three 8mm diameter copper heatpipes transfer that heat rapidly to a large array of sculpted and textured thin aluminum fins above.
In addition, Xigmatek make certain concessions to noise reduction, like rubberized fan supports and a fan whose speed varies in response to processor heat output. We'll tell you if the HDT-S983 succeeds as a lower noise heatsink, but first let's examine some of the techniques in play here.
Xigmatek HDT-S983 Heatsink

---

heatsink specsheet
manufacturer: xigmatek
model no.: hdt-s983
materials: aluminum fins, copper heatpipes, aluminum base.
fan mfg: ad0912hx-a7bglfs(12)
fan spec: 2100-2800rpm, 12v, 0.30a
fan dim: 25x92x92mm
heatsink & fan dim: 136x97x92mm
weight: 410 grams
includes: thermal compound, multi-socket mounting hardware, instructions, power adaptor.

---

Compatible with Sockets: 754/939/940/AM2/AM2+, 775
Est. Pricing: $45USD ($45CDN)
First of all, Xigmatek Co. Ltd. is a two year old manufacturer that is quickly making a name for itself through innovation and advancement of thermal techniques. The Xigmatek HDT-S983 heatsink FrostyTech is reviewing today is equipped with soft rubber vibration absorbing fan posts, and a 92mm PWM fan that scales from 1200-2800RPM.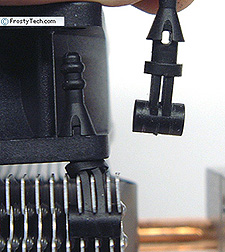 The heatsink is compatible with socket 775 Intel Pentium and Core 2 Duo CPUs, and all socket 754/939/940/AM2+ AMD Athlon64 processors. The HDT-S983 stands 136mm tall and retails for somewhere in the region of $45CDN ($45USD).
The Xigmatek HDT-S983 heatsink ships with brackets for LGA775 and AMD K8 processors (754/939/940/AM2 respectively). The Intel socket 775 clips use the standard push-to-lock plastic clips that insert into the four motherboard holes around the processor socket.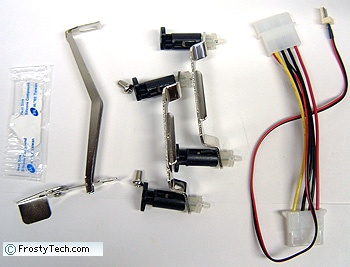 AMD Athlon64 processors on 754/939/940/AM2+ work with a modified spring clip that attaches to the central lugs on the AMD heatsink retention frame. A cam lever at one end of the clip applies pressure to the heatsink base directly. The AMD clips works, but we find it a little flimsy and prone to lateral bending.
A molex-to-3pin fan power adaptor is also included for motherboards which cannot accommodate 4-pin PWM style power connectors.
Base Finish and Flatness
Flipping a heatsink over to inspect the business end is often a simple indicator of overall cooler quality. More practically speaking, a heatsink is in many ways only as effective as the contact it makes with the processor - the flatter and smoother the better. Base finish is one of the criteria that Frostytech measure in the course of evaluating heatsinks, and it involves two distinct aspects. Surface Finish is the first; this is calculated with the aid of Surface Roughness Comparator that has a cross section of common machine surface finishes and their numerical surface roughness equivalents in microinches. The second is Surface Flatness. This is tested with an engineers straight edge or proven flat surface, in two axis.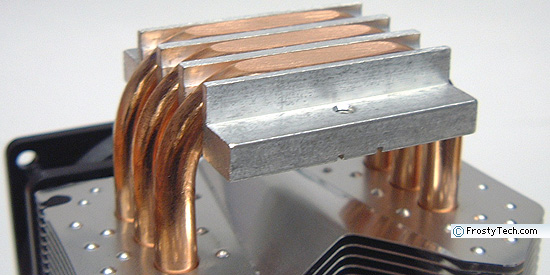 The base of the Xigmatek HDT-S983 heatsink has a surface roughness of ~32 microinches, which is considered good. The aluminum and copper portions of the base have a smooth sanded finish, and are perfectly flat in the axis parallel to the heatpipes. In the other axis the surface is generally quite flat, but the four components are not entirely flush across the entire 34mm long interface area. In some places a heatpipe stands a sliver higher. There are six small voids created where the copper heatpipe interfaces with the aluminum block, these allow excess thermal compound to evacuate itself from between the heatsink and processor.
There are three aspects of the Xigmatek HDT-S983 heatsink's design which are very innovative, let's have a look at them next...