In this review Frostytech is testing out Glacialtech's new Igloo 5750 PWM heatsink - a versatile CPU cooler with twin Pulse Width Modulation controlled 92mm fans and a single power cord for the sake of convenience. The Igloo 5750 PWM heatsink and previously reviewed Igloo 5750 Silent are identical models, except for the fans used. If you read that review, feel free to jump ahead to the acoustic and thermal test results for the full low down. Glacialtech's Igloo 5750 PWM heatsink accomodates both socket 775 Intel and AMD K8 processors (socket 754/939/940/AM2/AM2+).
Made by Taiwanese heatsink manufacturer Glacialtech, the Igloo 5750 PWM is capable of low noise cooling when its dual 92mm PWM fans are rotating at the slowest speeds, and able to handle higher heat loads when they are rotating at the full 2500RPM. The two PWM fans sandwich a 31mm thick section of aluminum cooling fin, and the fans are arranged in a push-pull manner. The bulk of the heatsink is suspended over the base of the Igloo 5750 PWM heatsink by four copper heatpipes, so exhaust airflow is directed downwards towards a small extruded aluminum heatsink and any adjacent motherboard components.
The idea behind the stacked fans is that one relatively low RPM fan is going to have a hard time maintaining a good volume of airflow through the heatsinks' fins, so the second helps alleviate any loss in air velocity. Of course this applies primarily when the fans are spinning at a reduced speed, at full RPM one fan really ought to be sufficient. The Igloo 5750 PWM ships with a pre-applied patch of high viscosity thermal compound applied to its base, and weighs 507 grams.
Glacialtech Igloo 5750 PWM Heatsink

---

heatsink specsheet
manufacturer: glacialtech
model no.: igloo 5750 pwm
materials: aluminum fins, copper heatpipes, extruded aluminum, copper base.
fan mfg: superred chb9212bbs-p
fan spec: 800-2500rpm, 12v, 0.16a
fan dim: 20x92x92mm (x2)
heatsink & fan dim: 122x100x116mm
weight: 507 grams
includes: pre-applied thermal compound, multi-socket mounting hardware, instructions.

---

Compatible with Sockets: 754/939/940/AM2/AM2+, 775
Est. Pricing: $29USD ($29CDN)
Double fan heatsinks have traditionally been a mixed bag for us. Some heatsinks with double fans work really well at keeping the processor running cool, others fail thermally, acoustically, or on both fronts.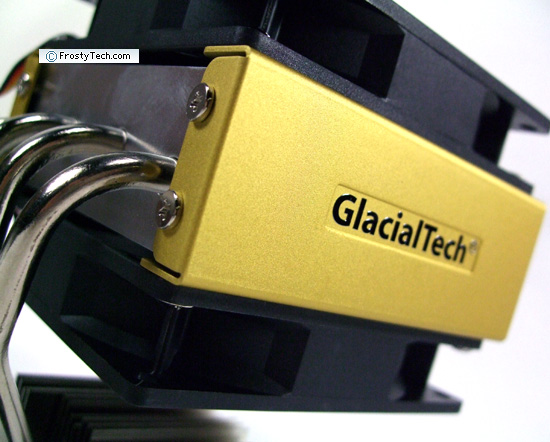 It's hard to make a heatsink work well with dual fans because the airflow from each can sometimes interfere with the other. In this case, Glacialtech's approach works... just how well, you'll soon see. It is however, far from an elegant thermal solution design.
What the Glacialtech Igloo 5750 PWM lacks in innovation it makes up in low cost and ease of installation. This heatsink retails for about $30 bucks and installs with standard Intel and AMD mounting hardware.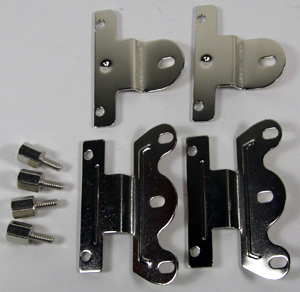 In the face of a half-dozen heatsinks Frostytech has just tested that use complicated custom mounting brackets, we appreciate the simplicity here. You'll appreciate not having to remove the motherboard from the case, or fiddle around with the Igloo 5750 PWM heatsink before slapping it onto your CPU.
The mounting hardware for Intel processors comes attached to the heatsink, so if you're running an Intel Core 2 Duo processor installation is a breeze. For AMD processors, Glacialtech supply both socket 939 and socket AM2+ mounting brackets. These replace the clips on the base of the heatsink, and attach to the motherboard using the existing AMD support plate. For that you'll need a small phillips screwdriver.
Base Finish and Flatness
Flipping a heatsink over to inspect the business end is often a simple indicator of overall cooler quality. More practically speaking, a heatsink is in many ways only as effective as the contact it makes with the processor - the flatter and smoother the better. Base finish is one of the criteria that Frostytech measure in the course of evaluating heatsinks, and it involves two distinct aspects. Surface Finish is the first; this is calculated with the aid of Surface Roughness Comparator that has a cross section of common machine surface finishes and their numerical surface roughness equivalents in microinches. The second is Surface Flatness. This is tested with an engineers straight edge or proven flat surface, in two axis.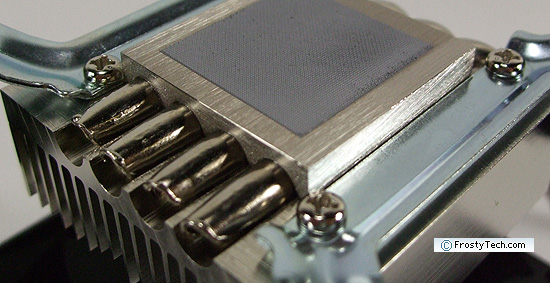 The base of the Glacialtech Igloo 5750 PWM heatsink has a surface roughness of ~48 microinches, which is considered good. The nickel-plated copper base itself has a sanded finish that is just about perfectly flat in both axis.
FrostyTech's Test Methodologies are outlined in detail here if you care to know what equipment is used, and the parameters under which the tests are conducted. Now let's move forward and take a closer look at this heatsink, its acoustic characteristics, and of course its performance in the thermal tests!