Thermalright have a reputation for manufacturing high performance low noise heatsinks for Intel and AMD processors. The company has seen great success with its Ultra-120 heatsink series, but in this review Frostytech is testing a different model. Geared towards low noise computers, the Thermalright SI-128SE ships without a fan - but that doesn't mean it's intended to be used in an entirely passive manner. Rather, Thermalright expect you to install your own 120mm fan on the SI-128SE heatsink... call it BYOF.
The SI-128SE cooler itself is big, a 120x120mm fin array hovering like SkyCity over a compact base connected via four 8mm diameter heatpipes. The Thermalright SI-128SE's many fins are perforated with lots of little vents, a technique borrowed from Thermalright's HR-series. Accommodating AMD K8 754/939/940/AM2/AM2+ and Intel socket 775 processors, the heatsink weighs in at 510 grams. Thermalright sell the SI-128SE heatsink for $50 through sites like Xoxide.com.
If you've been following the heatsink industry you'll already know there is a bit of controversy surrounding this heatsink, and a few other coolers recently introduced by Thermalright. It has to do with the base of the heatsink, and how it has been machined from the factory.
Thermalright SI-128SE Heatsink

---

heatsink specsheet
manufacturer: thermalright
model no.: si-128se
materials: aluminum, nickel plated copper base, copper heatpipes
fan mfg: mechatronics g1225s12b
fan spec: 1500rpm, 12v, 0.13a (as tested, fan not included)
fan dim: 25x120x120mm
heatsink & fan dim: 117x148x125mm
weight: 510 grams
includes: multi-socket mounting hardware, instructions, thermal compound

---

Compatible with Sockets: 754/939/940/AM2+ and 775
Est. Pricing: $45USD ($45CDN)
As most enthusiasts will tell you, the key to any good heatsink is a nice flat base. The flatter it is, the better the contact surface area between the heatsink and CPU. This assumes of course that the processors' integrated heatspreader is perfectly flat, which isn't always correct. Yet a recent check of Intel Core 2 Duo processors has shown nice flat integrated heatspreaders, so we're left a little puzzled why Thermalright would produce anything other than a razor flat base on its heatsinks.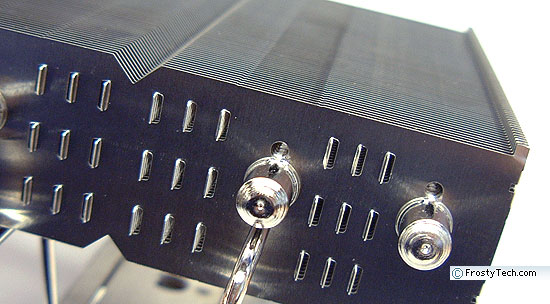 Compared to an engineers straight edge, the Thermalright SI-128SE has a very very slight convex shape to its base. Not enough to really cause problems, but enough that you may want to invest in a little one-on-one lapping time.
Mounting Brackets
The Thermalright SI-128SE heatsink comes with mounting brackets that allow it to be installed on socket 775 or socket 939/940/AM2/AM2+ AMD motherboards. A rear mounted bracket will have to be installed behind the motherboard first, and then the heatsink can be locked into place using spring-tensioned screws. Each mounting bracket makes use of a central bar that clicks into a hole in the base, this keeps the SI-128SE securely in place.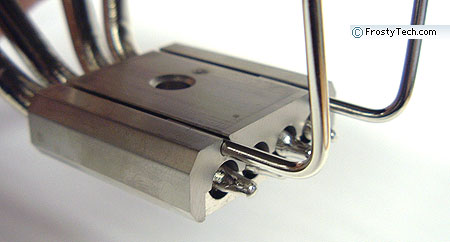 It's a bit complicated, but printed instructions are provided to explain the steps. The two wire clips are for 120mm fans only.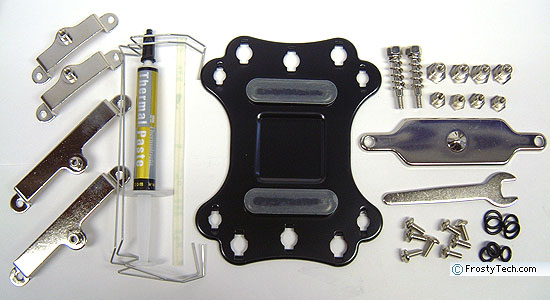 FrostyTech's Test Methodologies are outlined in detail here if you care to know what equipment is used, and the parameters under which the tests are conducted. Now let's move forward and take a closer look at this heatsink, its acoustic characteristics, and of course its performance in the thermal tests!