The Scythe Ninja Mini SCMNJ-1000 is a compact lower-noise heatsink ideally suited to compact PC chassis. These diminutive PCs have until now not had much in the way to choose from for reduced noise CPU cooling. The Ninja Mini itself looks like a cube, and comes with a small 80mm fan that operates relatively quietly. Among the flurry of 120mm fan packing low noise heatsinks being released, the Scythe Ninja Mini stands just 110mm tall. It accomodates AMD K8 754/939/940/AM2/AM2+ and Intel socket 478/775 processors and weighs in at a relatively light light 580 grams.Scythe sell the Ninja Mini SCMNJ-1000 CPU cooler for about $32 USD through sites like NCIX.com or CrazyPC.com.
The first thing anyone looking at this heatsink will notice are its very widely spaced aluminum fins. This design facet seems to work well at making the Scythe Mini Ninja pretty quiet under power. The fan rotates at a fixed speed of 2300 RPM, there are no thermal throttling or PWM speed controls. In typical Scythe fashion, the Ninja Mini has been designed with an eye towards thermal efficiency and user-friendliness.
Scythe's Ninja Mini (SMNJ-1000) heatsink is assembled from just 16 widely spaced thin aluminum fins, intersected in twelve places by 6mm diameter copper heatpipes. All that is connected to a thick copper base block and an additional, smaller extruded base heatsink. The aluminum fins are punched in a sort of a cross shape, and the 80mm fan hung on any of the four sides. The wide fin spacing, which is near 4mm, is ideal for slow moving air to pass easily through.
Scythe Ninja Mini Heatsink

---

heatsink specsheet
manufacturer: scythe
model no.: ninja-mini (scmnj-1000)
materials: aluminum, nickel plated copper base, copper heatpipes
fan mfg: dfs802512l
fan spec: 2300rpm, 12v, 0.09a
fan dim: 25x80x80mm
heatsink & fan dim: 110x134x110mm
weight: 580 grams
includes: multi-socket mounting hardware, instructions, thermal compound

---

Compatible with Sockets: 754/939/940/AM2+ and 478, 775
Est. Pricing: $32USD ($32CDN)
Mounting Brackets
The Scythe Ninja Mini heatsink comes with mounting brackets that allow it to be installed on socket 775 & socket 478 Intel and socket 939/940/AM2/AM2+ AMD motherboards. The brackets screw onto the base of the Scythe Ninja Mini with four screws, and after that the installation steps are tool-free.
Printed instructions are provided. Each mounting bracket makes use of the standard AMD/Intel method or heatsink attachment, so it will not be necessary to remove the motherboard from the case and install support bracket, or any of that nonsense. The two wire fan clips are suitable for 80mm fans only.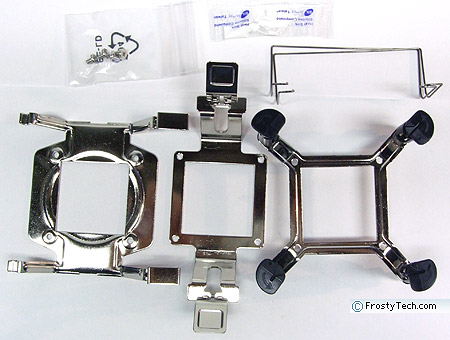 FrostyTech's Test Methodologies are outlined in detail here if you care to know what equipment is used, and the parameters under which the tests are conducted. Now let's move forward and take a closer look at this heatsink, its acoustic characteristics, and of course its performance in the thermal tests!