Glacialtech's Igloo 5710 Silent heatsink is built to be a cost effective and low noise thermal solution for socket 775 Intel Core 2 Duo and AMD Athlon64 (socket 939/AM2) processors. Made by Taiwanese heatsink manufacturer Glacialtech, the Igloo 5710 Silent is a straightforward CPU cooler built around a thin copper base, some heatpipes and a large collection of aluminum fins.
The Igloo 5710 Silent is shipped with a low noise 1600RPM 92mm fan and a pre-applied patch of thermal compound on its base. A nice touch given its suitability for generic office PCs where non-experts may be tasked with the heatsink's installation. It's moderately paced fan is good for maintaining noise control, while an economical price tag will certainly keep it within any department's budget. This is not an enthusiast grade low noise heatsink with all the bells and whistles, instead the Glacialtech Igloo 5710 is more like a budget minded work horse that just hast to work, and not make a racket.
Given its relatively compact size, the Igloo 5710 Silent will fit in mid-tower and compact PC cases easily enough, and the versatility of mounting hardware allows it to be used with either Intel or AMD processors. As needs change, the Igloo 5710 can be migrated along with the processor platform, thus saving costs down the road.
Glacialtech Igloo 5710 Silent Heatsink

---

heatsink specsheet
manufacturer: glacialtech
model no.: igloo 5710 silent
materials: aluminum fins, nickel-plated copper heatpipes and base, nickel plated extruded aluminum heatsink.
fan mfg: power logic pla09225d12l
fan spec: 1600rpm, 12v, 0.13a
fan dim: 25x92x92mm
heatsink & fan dim: 125x102x82mm
weight: 485 grams
includes: mounting clips, pre-applied thermal compound, instructions

---

Compatible with Sockets: 754/939/940/AM2, 775
Est. Pricing: $32USD ($32CDN)
The Glacialtech Igloo 5710 Silent is shown with its LGA775 Intel mounting brackets installed, and comes this way out of the box. Four screws will release the LGA775 brackets, wherein users can attach socket 754/939 or socket AM2 mounting brackets on the base of the Igloo 5710 Silent heatsink. Printed instructions cover the basic steps so the process is not difficult. At most a small phillips screw driver is required.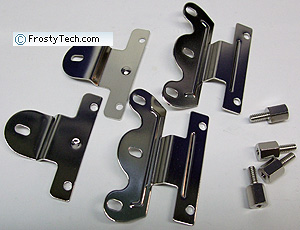 Like several other recent Glacialtech Igloo heatsinks, the Igloo 5710 Silent has scalloped leading and trailing edges on its aluminum fins. Seen from the top down in the picture below, the wavy pattern helps break up laminar air flow and decrease back pressure as the air enters. The aluminum fins are press-fit over the three 6mm diameter nickel-plated heatpipes, not soldered. The heatpipes are soldered to the copper base however.

FrostyTech's Test Methodologies are outlined in detail here if you care to know what equipment is used, and the parameters under which the tests are conducted. Now let's move forward and take a closer look at this heatsink, its acoustic characteristics, and of course its performance in the thermal tests!