The Noctua NH-U12P is a slightly refined take on the companies previously successful NH-U12 heatsink. This time around, Noctua bundle in the NF-P12 fan, and it's not your average 120mm vaneaxial fan either. It's flesh tone coloured plastic draws attention away from its three key innovations; SSO bearings, vortex-control notches, and textured leading impeller surfaces. That translates into a fan which is very quiet at a speed of 1300RPM, and with two in-line resistors its rotational speed can be further reduced without impacting temperatures much.
Noctua's NH-U12P heatsink in one of the few models to breakthrough the low noise handicap and actually perform like a high performance heatsink. Cooling well without generating significant noise requires a large slow fan, and lots and lots of cooling surface area. The NH-U12P has that. The heatsink stands 150mm tall, 125mm across and can accommodate one or two 120mm fans. We found a single 120mm fan more than sufficient for the job. It ships with a single pink and brown NF-P12 120mm fan, mounted to the heatsink with wire clips and insulated from direct contact by a couple thin elastomer strips. These rubbery strips help reduce vibrations, if any, from generating sound.
All the necessary mounting hardware is included for all current Intel and AMD processors. The 38 nickel-plated aluminum cooling fins are connected by four nickel-plated copper heat pipes to a nickel-plated copper base. Weight is upwards of 770 grams.
Noctua NH-U12P Heatsink

---

heatsink specsheet
manufacturer: noctua
model no.: nh-u12p
materials: aluminum fins, nickel plated copper heatpipes and base
fan mfg: noctua nf-p12
fan spec: 900-1300rpm, 12v, 0.09a
fan dim: 25x120x120mm
heatsink & fan dim: 149x126x94mm
weight: 770 grams
includes: mounting clips, thermal compound, fan speed reducers, screwdriver, instructions

---

Compatible with Sockets: 754/939/940/AM2/ &775
Est. Pricing: $41USD ($41CDN)
MOUNTING KIT UPGRADEABLE TO SUPPORT AMD SOCKET AM4?

Manufacturer Provided Mounting Kit Required to Support AMD Socket AM4 Motherboards? YES

Manufacturer AM4 Kit Request Form Link:
https://noctua.at/en/nm-am4-mounting-kit-order-form

Noctua state: "Owners of Noctua CPU coolers can obtain the Noctua NM-AM4 SecuFirm2 Mounting-Kit free of charge via this form. A proof of purchase (electronic version, photo or scan of the invoice) of both a Noctua CPU cooler and either a socket AM4 mainboard or socket AM4 CPU are required. There is a dedicated upgrade kit (NM-AM4-UxS) available for NH-U14S, NH-U12S and NH-U9S"

For more details, heatsink exceptions and a complete list of incompatible coolers, see here.


Noctua NM-AM4 SecuFirm2 Mounting-Kit supported on following Noctua heatsinks Frostytech has tested: NH-C12P , NH-C14 , NH-D14 , NH-D15 , NH-D9L, NH-L12, NH-L9x65, NH-U12 , NH-U12P , NH-U9, NH-U9B . Noctua NM-AM4-UxS Mounting-Kit: NH-U14S, NH-U12S and NH-U9S.
Compared to the previous model of the same name, the Noctua NH-U12P heatsink incorporates a few cosmetic improvements. The heatpipes and copper base in this model are all nickel plated now, and every metal joint is soldered. Soldering decrease thermal joint resistance between the fins and heatpipes, or heatpipes and base.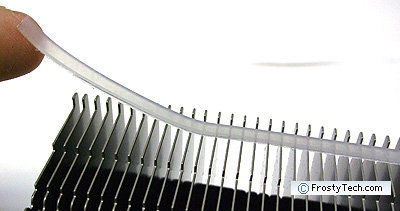 Four thin elastomeric rubber strips are included with the Noctua NH-U12P heatsink. Attach them as shown above if you are installing a 120mm fan. The NH-U12P will also accommodate 92mm and 70mm fans if you wish, although the wire clips are only made for 120mm fans.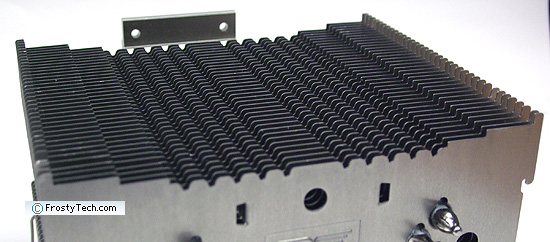 The double notches you see below on the trailing edges of each impeller are Noctua's pride and joy - vortex-control notches. These break up trailing edge vortices into several smaller vortices which ultimately cause noise to be spread over a wider range of frequencies and less perceptible. Special SSO bearings are used in the motor housing. Furthermore, the upper surface of the fan blades has a textured finish while the rear surface is smooth. To be frank, it also helps that the NF-P12 120mm fan only rotates at 1300RPM...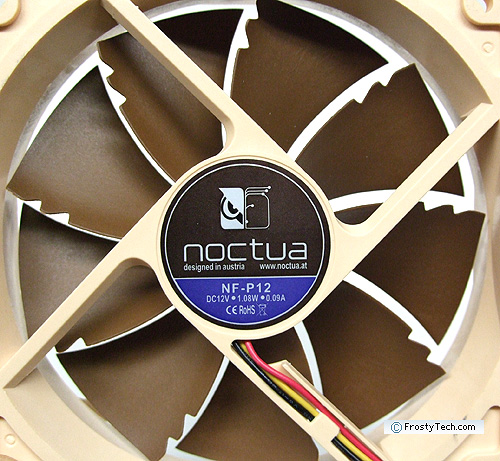 Two in-line resistors are provided which you can add between the NF-P12 fan and the motherboard; denoted by a blue and a black 3-pin connector. The blue connector reduces fan speed the most making the NH-U12P heatsink the quietest. The black connector reduces fan speed about half way. When assembled the Noctua NH-U12P heatsink looks like this.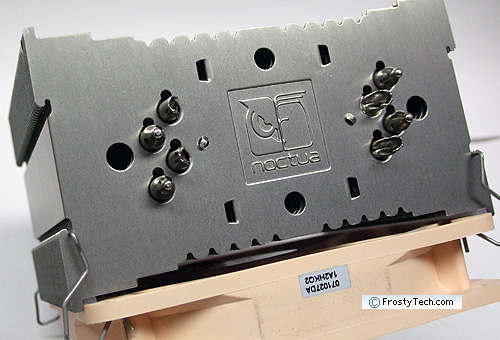 Retroactive Socket 1366 Intel Core i7 Processor Compatibility
One of the nice aspects of this heatsink is that Noctua has released a new mounting kit to make it compatible with Intel's Core i7 socket 1366 processor! The Noctua SecuFirm2 mounting kit works with any Noctua CPU heatsink going back to 2005, and best of all it's available for free from Noctua's website. Socket 1366 processors use slightly wider spaced motherboard mounting holes for heatsinks to attach to - 80mm vs. 72mm for LGA775 chips - so existing socket 775 brackets are not compatible with this new Intel CPU in spite of the fact the heatsink is probably still well suited.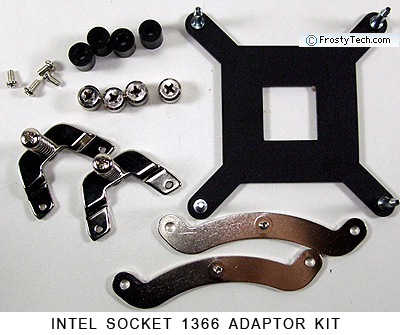 The Noctua SecuFirm2 bracket (shown above) uses spring tensioned screws to securely mount the Noctua heatsink on the new Core i7 processors, and ensures optimal contact pressure thanks to identical Z-height between LGA775 and LGA1366 CPU formfactors. Frostytech will be testing this Noctua heatsink shortly to see how it performs with socket 1366 processor thermal demands... stay tuned!
Installation Hardware
Noctua's NH-U12P heatsink is compatible with Intel socket 775 and AMD socket 754/939/940/AM2 processors. The Noctua NH-U12P comes with a variety of brackets, but the gist is that a set of small metal tabs are attached to the heatsink base, a backplate positioned behind the motherboard, then everything fixed in place with spring-tensioned screws.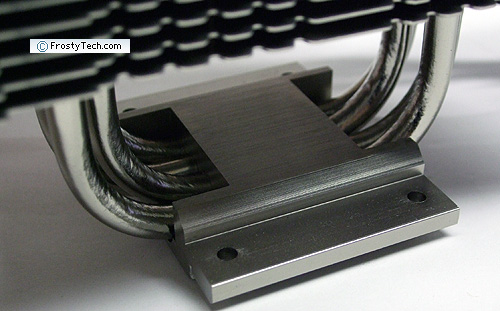 The fan is the last component to be attached, and you'll quickly discover that it blocks the screws for the heatsink mounting hardware so it must go on last.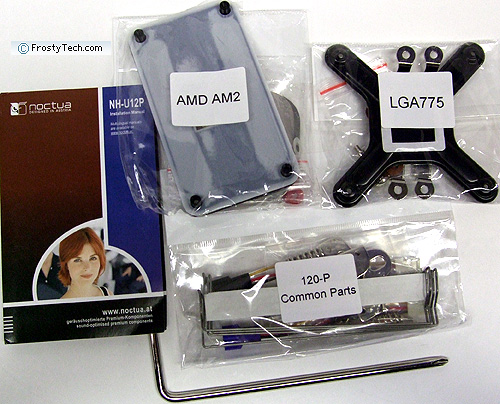 The multi-language manual makes installation pretty straightforward, and a special screwdriver is even included for hard to reach screws. Then it's just a matter of attaching the clear rubber anti-vibration strips to the edges of the heatsink, positioning the 120mm fan, and locking that into place with the included wire clips. Leaving the strips out is not advisable unless you like the sound of rattling metal bits. The fan is oriented such that air blows through the fins of the Noctua NH-U12P heatsink, towards the rear or top of the PC case.
FrostyTech's Test Methodologies are outlined in detail here if you care to know what equipment is used, and the parameters under which the tests are conducted. Now let's move forward and take a closer look at this heatsink, its acoustic characteristics, and of course its performance in the thermal tests!