The Tuniq Tower 120 is one of those heatsinks Frostytech really doesn't need to test. Everyone reading this review already has some pre-conceived notion of how it performs thermally. What's your opinion based on? Hearsay from a forum, a couple flattering news posts from some website sponsored by a web-store, a guy at the computer store?
Hype can be fun to pass along, but let's put all that aside for the moment and take a good look at the Tuniq Tower 120 heatsink. For good measure, Frostytech will even compare this CPU cooler against 57 Intel and 92 AMD heatsinks for you. The final outcome for the Tuniq Tower 120 entirely depends on how it performs thermally and acoustically, so let's begin.
Tuniq is a small Taiwanese division of Sunbeamtech set up in 2005, and the Tower 120 is basically that companies only heatsink. There are two versions being manufactured in Dong Guan China, the vanilla Tower 120 and the Tower 120-LF with its LED illuminated fan. The 153mm high Tower 120 heatsink has a fitting name; it's tall and it looks like a brick. The heatsink is compatible with all current Intel and AMD processors which is a plus. Although, one has to wonder if there's a chip designer out there loosing sleep over the thought of a 798gram heatsink resting on a CPU?
The Tower 120's main claim to fame is an integrated 120mm fan, set uniquely within the body of a densely packed array of aluminum cooling fins. You can't see the fan from the outside, and when dialed down to 1000RPM it is pretty hard to hear the fan either. In that regard, the Tuniq Tower 120 has the making of a good low noise CPU heatsink. The fan spins at a healthy 2000RPM, and is hard wired to a PCI bracket fan speed controller. CrazyPC.com sell the Tuniq Tower 120 heatsink for about $46 USD, and the boys in purple also have a good collection of other CPU coolers too.
Tuniq Tower 120 Heatsink

---

heatsink specsheet
manufacturer: tuniq
model no.: tower 120 (t-120-lfb)
materials: aluminum fins, copper heatpipes and base
fan mfg: tuniq dfs122512m
fan spec: 1000-2000rpm, 12v
fan dim: 25x120x120mm
heatsink & fan dim: 153x106x130mm
weight: 798 grams
includes: mounting clips, thermal compound, fan speed controller, instructions

---

Compatible with Sockets: 754/939/940/AM2 & 478/775
Est. Pricing: $46USD ($45CDN)
The 120mm internally illuminated fan slides out of its space in between the sculpted aluminum fins easily enough, and given the close fin density here you'll want to do this every now and then to clean dust.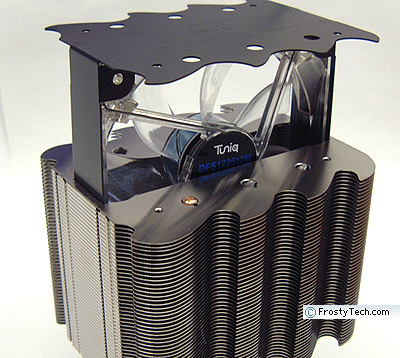 Link many current generation CPU heatsinks, the Tuniq Tower 120 relies on a collection of 6mm diameter copper heatpipes to transfer heat from its CPU base block to the cooling fins. The bulk of the heatsink is elevated 60mm above the base, that's enough clearance to pass over capacitors or chipset heatsinks positioned close to the CPU socket.
Installation Hardware
The Tuniq Tower 120 heatsink ships with a pile of brackets, metal support plates and brass spring-tensioned thumbscrews. The installation procedure is okay, but not the most straightforward Frostytech has come across.
For AM2 heatsinks, Tuniq has adopted the Zalman K8 heatsink spring clip which connects toolessly to the central lugs of the plastic AM2 heatsink retention frame. Other CPU platforms require the motherboard be removed from the case to install a rear metal support plate.
With large heatsinks this is most often the case, regrettably, so remember to peal off the sticker on the support brackets and line of the holes before you put everything back into the chassis. The stickers will keep these support plates in position the next time you need to get at the CPU and have to uninstall this 798 gram monster. The Tower 120 is compatible with Intel socket 775 and AMD socket 754/939/940/AM2 processors, and as you'll shortly see excels on both CPU platforms.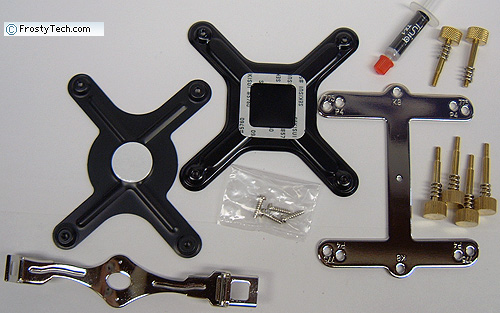 A small tube of Tuniq TX-1 thermal compound is also rather thoughtfully provided. The socket 775 clip uses four spring tensioned brass screws, and top and bottom metal brackets. There are two different kinds of brass screw, each with different markings on the thumb bit so it's not hard to tell them apart. AMD uses a coarse thread, Intel the fine thread pitch.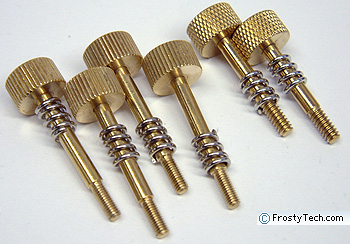 The AMD AM2 bracket works with the center lug on socket AM2, but unfortunately the little tab on the top of the Tower 120's base is too small for the hole in the Zalman spring clip. This can lead to the heatsink sliding away as you try and install the thing, and being off center when force is applied is not a good situation. Basically, Tuniq are using three different kinds of mounting systems here, so the company should put thought into streamlining how future models are attached to the CPU. Be sure to glace at the printed instructions before attempting to install the Tower 120 heatsink. Moving on...
FrostyTech's Test Methodologies are outlined in detail here if you care to know what equipment is used, and the parameters under which the tests are conducted. Now let's move forward and take a closer look at this heatsink, its acoustic characteristics, and of course its performance in the thermal tests!