The Glacialtech Igloo 5062 Cu Light is a socket 775 cooler for Intel Pentium D, Core 2 Duo and Celeron processors. Unlike the Igloo 5057 E model Frostytech tested recently, this heatsink has a copper insert at the base which may give it an extra edge. Made by Taiwanese heatsink manufacturer Glacialtech, the Igloo 5062 Cu Light is otherwise a low noise heatsink patterned after the stock Intel radial fin solution.
Yet where the stock Intel LGA775 heatsink has a bigger fan, the Igloo 5062 Cu Light is equipped with an 80mm vaneaxial fan that spins at a fixed 2000RPM. This allows the Igloo 5062 Cu to operate quietly under power, generating about 45 dBA according to Frostytech's sound meter. The heatsink is compact in size, and weighs a feathery 341 grams. The Igloo 5062 Cu Light ships with a pre-applied patch of high viscosity thermal compound applied to its base which is a nice touch.
The real question of the day is whether a 28mm diameter copper slug at the bottom of this Glacialtech heatsink can actually improve it. If done right, the copper insert will conduct heat from the processor up the surrounding aluminum fins and on towards the surrounding air mass more efficiently than the solid-aluminum Igloo 5057 E model.
Glacialtech Igloo 5062 Cu Light Heatsink

---

heatsink specsheet
manufacturer: glacialtech
model no.: igloo 5062 cu light
materials: extruded aluminum, cu insert
fan mfg: power logic pla08025s12h
fan spec: 2000rpm, 12v, 0.17a
fan dim: 25x80x80mm
heatsink & fan dim: 78x90x90mm
weight: 341 grams
includes: pre-applied thermal compound

---

Compatible with Sockets: 775
Est. Pricing: $18USD ($17CDN)
If you've been reading Frostytech in search of your next quieter/cooler Intel heatsink, you've no doubt read our reviews of the stock Pentium D and Core 2 Duo heatsinks.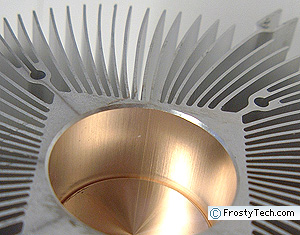 Looking at the Glacialtech Igloo 5062 Cu Light we notice one glaring difference in how this heatsink is built, compared to those Intel models. It's the copper slug you see.
In Intel's iterations, the copper slug is solid at the base, and formed like a cup up towards the top. This allows heat to be conducted towards the upper edge of the aluminum section without suffering from excess metal unnecessary storing heat energy behind the fan motor. Glacialtech has taken a different route, opting for a solid cylindrical block about 25mm thick.
That leaves 16.5mm of aluminum not in direct contact with the copper, whose job is to quickly conduct heat from the CPU to a larger surface area. Since this isn't happening, heat is conducted up along the aluminum fins, and around the copper cylinder in areas that vary from 1.7mm thick to 7mm thick. There's more to it than this, but let's wait until the synthetic thermal test results are in.
FrostyTech's Test Methodologies are outlined in detail here if you care to know what equipment is used, and the parameters under which the tests are conducted. Now let's move forward and take a closer look at this heatsink, its acoustic characteristics, and of course its performance in the thermal tests!