The rule of thumb for CPU heatsinks is that you can never tell how a cooler will perform just by looking at it. The Spire Fourier IV SP607B3-C is one of those heatsinks where that saying really rings true. It's a hefty Intel/AMD heatsink made entirely out of copper, it has four heatpipes and a fan that spins at 3500RPM.
The Spire Fourier IV SP607B3-C is a heavy heatsink, so it installs with very secure mounting hardware that is quite inconvenient. The heatsink is compatible with socket 754/939/940/AM2 AMD Athlon64 processors and socket 775 Intel CPUs. In each case, the motherboard must be removed from the computer case and a metal rear-PCB support bracket installed. The Fourier IV's mounting screws go in from the back of the motherboard to the front where the heatsink support bracket is. It takes at least two hands to do this, and the rear metal support plate doesn't have an adhesive patch to keep it in place so it's tricky.
Each turn of the mounting screws compressed the heatsink against the processor, which means if you over tighten on one side, or too much, you could potentially damage the CPU or motherboard. Most heatsink companies use spring tensioned screws with collared stand-offs to prevent over tightening.
Once installed, if you want to swap CPUs out... out comes the motherboard, then all the mounting screws while being carefull to support upwards of 650 grams of copper so it doesn't go sliding off into the back of a videocard or board mounted component. In terms of ease of installation, the mounting hardware used with the Spire Fourier IV SP607B3-C heatsink is just too rudimentary given the many well engineered CPU bracket systems available.
Spire Fourier IV Heatsink

---

heatsink specsheet
manufacturer: spire

model no.: sp607b3-c fourier iv

materials: copper fins, base, heatpipes
fan mfg: n/a
fan spec: 2000-3500rpm, 12v, 0.40a
fan dim: 25x92x92mm
heatsink & fan dim: 97x125x113mm
weight: est. 680 grams
includes: multi-socket mounting hardware, screws, thermal compound

---

Compatible with Sockets: 754/939/940/AM2, 775, 478
Est. Pricing: $40USD ($48CDN / £20 GBP)
The Spire Fourier IV SP607B3-C heatsink uses four 6mm diameter copper heatpipes to conduct heat from the copper base plate to copper fins above. The 92mm fan is mounted below the fins, with airflow directed up and out. This leaves the copper base below out of direct airflow, but does keep the hight of the cooler to 97mm.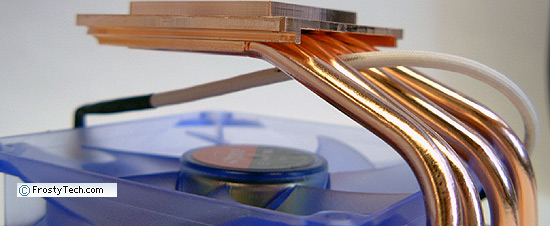 Springy wire clips hold the fan in place, so it isn't difficult to swap fans out, or change the direction of the translucent blue 92mm fan so it points down.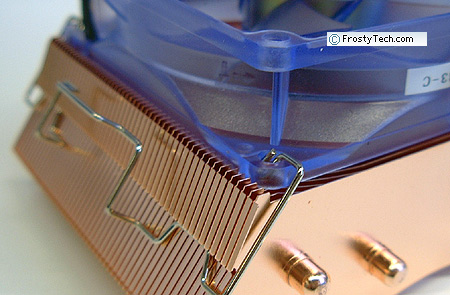 Brackets for Intel and AMD Processors
The Spire Fourier IV SP607B3-C heatsink ships with three sets of mounting brackets; one for socket 754/939/940/AM2 AMD Athlon64 processors, one for socket 775 Intel CPUs, and one for Intel socket 478 processors. Different metallic side brackets attach to the heatsink base, and in each case a rear-motherboard metal support plate is utilized. Screws are tightened from the back of the motherboard, rather than the top which is always accessible.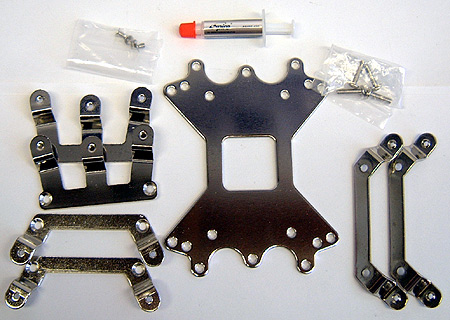 The heatsink is installed onto the motherboard in the complicated way we've already mentioned. Although we don't particularly like this approach, it holds the cooler very firmly in place.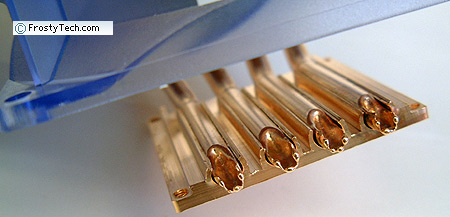 The Spire Fourier IV heatsink will be tested on FrostyTech's Intel LGA775 and K8 version of the Mk.II synthetic thermal temperature test platform, and compared against several reference LGA775 and K8 heatsinks. The whole test methodology is outlined in detail here if you'd like to know what equipment is used, and the parameters under which the tests are conducted. Now let's move forward and take a closer look at this heatsink, its acoustic characteristics, and of course its thermal performance!