If you aren't running your computer system with a heatsink that has an exposed copper heatpipe base, you are so missing out on the hot trend of 2007. LOL. If there were such a thing as trends in heatsink design, this would be it. But seriously, if you think about it, it's no surprise thermal engineers have gone this route. After all, the integrated heatspreader of modern day Intel and AMD processors makes a heatsink-based heatspreader pretty much pointless. In the old days of exposed silicon cores, Athlon XP or Pentium III CPUs, the base of a heatsink served a very vital heat spreading role. Back then, thicker was better. Nowadays though, all desktop processors have their own integrated heatspreader built right on. Furthermore, given that heatpipes serve the role of conduction pathways for heat, a thick base plate just doesn't have a place on a heatsink like the 3RSystem Iceage 120.
So there you have it. One key point to remember though, don't install a heatsink with a "Heatpipe Direct Touch" (HDT) base (or as we call it - an exposed heatpipe base) on a processor with a bare silicon die. This design works because modern Intel Core 2 Duo and AMD Athlon64 chips have a pre-formed integrated heatspreader. Without that key component, you'd be looking at 80W-100W of heat going directly into two heatpipes.
3RSystem Inc. are a Korean based manufacturer of thermal solutions and enclosures. The company has some water cooling kits and two heatsinks on the street based around the HDT technique. Both of these puppies are geared towards lower noise operation, which is always a welcome attribute.
The 3RSystem Iceage 120 heatsink FrostyTech is reviewing today is equipped with four exposed copper heatpipes at its base, vibration absorbing foam pads behind the fan, a 120mm low speed fan and a fan speed controller. The heatsink is compatible with socket 775 Intel Pentium D/4 and Core 2 Duo CPUs, and socket 754/939/940/AM2 AMD Athlon64 processors. The Iceage 120 stands 148mm tall, so it's a good idea to double check that you PC case can accommodate it.
We're estimating it to retail for in the region of $55USD ($58CDN), and at that price it will be a steal. I'm going to do away with any suspense and just tell you that it performs in the top 10 on both AMD and Intel test platforms.
3RSystem Iceage 120 Heatsink

---

heatsink specsheet
manufacturer: 3rsystem
model no.: iceage 120
materials: nickel plated aluminum fins, copper heatpipes, aluminum base with exposed heatpipes
fan mfg: n/a
fan spec: 1000-2200rpm, 12v, 0.38a, hydraulic bearing
fan dim: 25x120x120mm
heatsink dim: 150x74x125mm
weight: 590 grams
includes: lga775 and k8 socket mounting hardware, thermal compound, fan speed controller, instructions

---

Compatible with Sockets: LGA775, 754/939/940/AM2
Est. Pricing: $55USD ($58CDN / £30GBP)
Other than the large size of the 3RSystem Iceage 120 heatsink, there are two facets which we'd consider important to its thermal performance capabilities. The first is most obviously the exposed heatpipe base, the second is a little more subtle. The leading and trailing edges of the aluminum fins are scalloped, or in other words they have a small wavy curve.

This is a technique generally used to prevent a wall of thin metal strips from acting like... well... a wall. As each fin is punched out of a large roll of thin aluminum stock in the factory, it leaves with a square edge. Stacked closely, one above the next, individually thin fins can create significant resistance to airflow. To diminish problems with back pressure that might otherwise require a stronger fan with a higher CFM rating, fins can be given a geometry on their leading edge to help break things up and allow air to more easily pass through.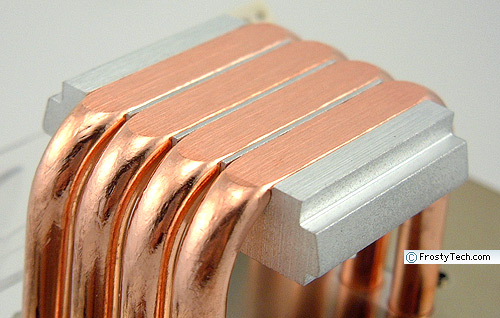 At the other end of the 3RSystem Iceage 120 heatsink is where all the fun stuff happens. Swaged into an aluminum block are four 6mm diameter copper heatpipes, spaced no more than 0.8mm apart. The heatpipes make direct contact with the CPU, so the conduction path is about as direct as it gets. 3RSystem term this technique "Heatpipe Direct Touch", but it's hardly a new innovation... a new trend, yes.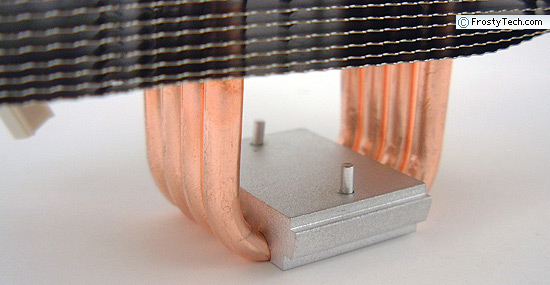 The 3RSystem Iceage 120 heatsink ships with one bracket that accomodates both LGA775 and AMD K8 processors (754/939/940/AM2 respectively). On Intel socket 775 processors, a special heatsink retention cage is first installed on the motherboard using push-to-lock plastic clips. The nice part about them is that you needn't remove the motherboard from the chassis. For AMD Athlon64 processors on sockets 754/939/940/AM2, the spring clip attaches right to the lugs on the AMD heatsink retention frame.
The only annoyance is that it's a bit tricky to keep the spring clip on both of the little metal pegs set into the Iceage 120's base, so take it slowly. If anything, 3RSystem really ought to make these pegs taller, or just use one. A PCI bracket fan speed controller with alarm, and printed instructions are also included.

The 3RSystem Iceage 120 heatsink will be tested on FrostyTech's Intel LGA775 and K8 version of the Mk.II synthetic thermal temperature test platform, and compared against several reference LGA775 and K8 heatsinks. The test methodology is outlined in detail here if you'd like to know what equipment is used, and the parameters under which the tests are conducted.
Now let's move forward and take a closer look at this heatsink, its acoustic characteristics, and of course its thermal performance!