The TTIC nPowertek NPH-1000 heatsink reminds us of the behemoth Zalman CNPS-9700LED cooler, in shape if nothing else. Given how the last heatsink from the nPowertek stables performed (the aptly named NPH-K8 Big ) we're anticipating an exciting review process over the next three pages. Will the NPH-1000 kick butt or rise in temperature like a runaway nuclear reactor? Who knows, at Frostytech we rely on hard numbers.
nPowertek's NPH-1000 heatsink is a predominantly copper heatsink with an aluminum base, four heatpipes and a 95mm fan. The heatsink is compatible with AMD Athlon64 socket 754/939/940 & AM2 sockets, and Intel Core 2 Duo socket LGA775 CPUs. A small pile of metal mounting brackets and screws attach in different ways to the motherboard, but curiously enough just two screws hold the clips onto the NPH-1000 heatsink itself.
The retail price on this heatsink is unknown at this time, but we'd expect it be in the range of $25-$35USD. Along with the shiny brackets a rather large fan speed controller is also included.
nPowertek NPH-1000 Heatsink

---

heatsink specsheet
manufacturer: ttic npowertek
model no.: nph-1000
materials: copper fins, heatpipes, aluminum and copper base
fan mfg: n/a
fan spec: 2200rpm, 12v, 0.35a
fan dim: 25x95x95mm
heatsink & fan dim: 122x100x72mm
weight: est. 550 grams
includes: multi-socket mounting hardware, thermal compound, fan speed alarm

---

Compatible with Sockets: 754/939/940/AM2, 775

Est. Pricing: $44USD ($49CDN)
nPowertek have taken steps to build an efficient heatsink here, but we're a bit puzzled why the heatpipes that rise up from the base do not wrap all the way around the outside of the heatsink's copper fins? Were they a bit longer there is clearly enough of a groove to accommodate the heatpipes, but instead nPowertek engineers only extended the pipes about half-way around.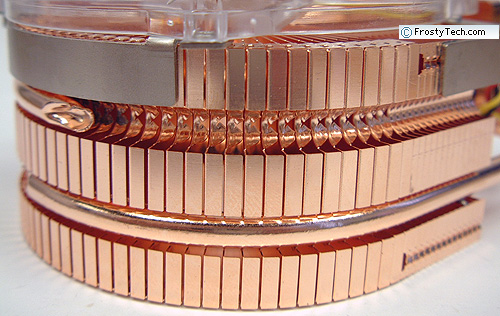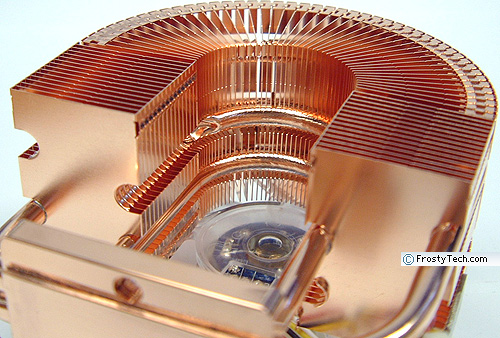 It's the same situation on the inside of the nPowertek NPH-1000 heatsink. Grooves punched into the edges of the fins are vacant for at least half the circumference of the copper cooling fins. The end result is that two heatpipes do transfer heat at all times to each side of the NPH-1000's fins... but no further. Curious.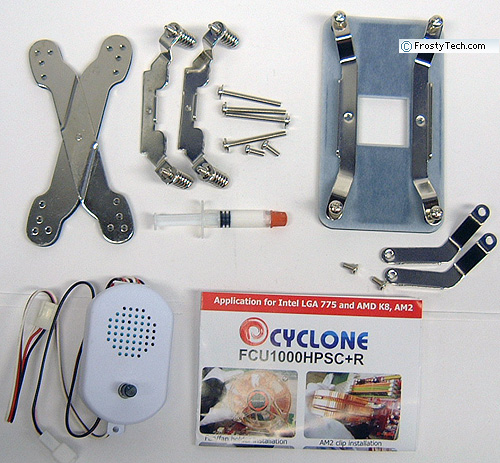 The nPowertek NPH-1000 heatsink will be tested on FrostyTech's Intel AMD K8 version of the Mk.II synthetic thermal temperature test platform, and compared against several reference AMD heatsinks. The whole test methodology is outlined in detail here if you'd like to know what equipment is used, and the parameters under which the tests are conducted. Let's begin.