Have you got the best heatsink? That's a question we're all faced with at one time or another, but the answer isn't always obvious. Luckily you have Frostytech on your side, and hundreds of direct heatsink-to-heatsink comparisons to rely on.
This week FrostyTech is testing out the Scythe Kama Cross (SCKC-1000) heatsink. This puppy takes on a unique shape, a little clever fin geometry, and the ubiquitous copper heatpipe to get the job done. At first glance the Scythe Kama Cross has everything it should need to be successful, but as always we'll wait until the thermal results are in...
Scythe's Kama Cross heatsink is compatible with socket 754/939/940/AM2 AMD Athlon64 and socket 478/775 Intel Core 2 Duo/Quad processors. It comes with a 100mm fan that runs at a quiet 40dB, but it can also accept a 120mm fan if you wish. The heatsink stands 128mm tall, and weighs roughly 530 grams. You can find the Scythe Kama Cross for about $39 USD at most places, or for a couple bucks less at Coolerguys.com.
Scythe Kama Cross Heatsink

---

heatsink specsheet
manufacturer: scythe
model no.: kama cross (sckc-1000)
materials: aluminum fins, copper heatpipes, nickel plated copper base plate
fan mfg: sy1025sl12m
fan spec: 1500rpm, 12v, 0.11a
fan dim: 25x100x100mm
heatsink & fan dim: 127x141x120mm
weight: 530 grams
includes: multi-socket mounting hardware, screws, thermal compound, printed instructions

---

Compatible with Sockets: 754/939/940/AM2, 478/775
Est. Pricing: $39USD ($59CDN / £32 GBP)
All-righty, let's get into the stuff you need to know. The Kama Cross stands out because it has three wildly bent copper heatpipes connecting a copper base plate to cooling fins set at a 30 angle, sort of like the V-block of an engine.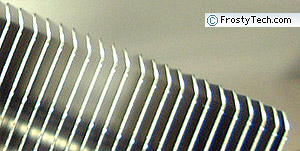 The very tip of each aluminum fin is bent straight up, corralling airflow into the fins and then out towards either side of the cooler. This angled approach has been done by a few heatsink companies in the past... Zalman, Cooljag, EKL, Sibak, Vantec and Tocools come to mind. The odd angles of the cooling fins actually allow it to branch out over nearby motherboard components, so there is less chance of interference than you'd think.
In true Scythe fashion, the Kama Cross comes with mounting hardware for all recent processor platforms - AMD / Intel. Each of the three brackets is attached to the base of the heatsink with four screws - and this is the part we really like - and the clip all use existing heatsink retention frames or motherboard mounting holes. There are not complicated packages of screws, no need to remove the motherboard to install a special support plate, nothing like that. Scythe's method is a refreshingly uncomplicated way to make one heatsink multi-platform compliant.
The supported formfactors are Intel socket 478 and LGA775, and AMD socket 754/939/940/AM2. The Kama Cross ships with a small pack of silicon thermal compound too.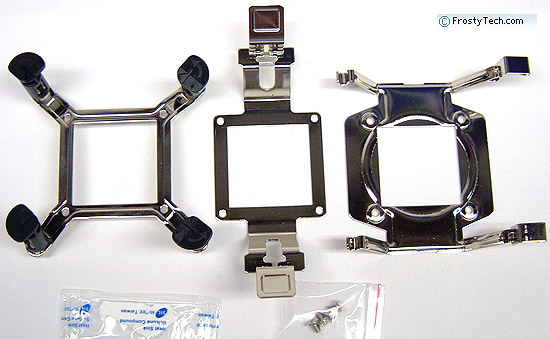 The Scythe Kama Cross SCKC-1000 heatsink will be tested on FrostyTech's Intel LGA775 and K8 version of the Mk.II synthetic thermal temperature test platform, and compared against several reference LGA775 and K8 heatsinks. The whole test methodology is outlined in detail here if you'd like to know what equipment is used, and the parameters under which the tests are conducted. Now let's move forward and take a closer look at this heatsink, its acoustic characteristics, and of course its thermal performance!