Akasa's model AK-876 heatsink is identical to the AK-965, save for the AMD K8 mounting hardware where the latter was all Intel. Rather than ship one heatsink with both style of clips, Akasa are keeping things either/or this time around. Not that it matters much, the AK-965 was a very nice heatsink, so you can pretty much assume the AK-876 Frostytech is testing here will follow suit. As you might expect, the Akasa AK-876 is a lower noise AMD processor heatsink that is both easy to install and fairly lightweight. A thermally controlled fan was abandoned for a PWM compliant one instead, which makes sense as it's better to allow the computer direct control over impeller speed anyhow.
Akasa's AK-876 heatsink utilizes three "U" shaped copper heatpipes to connect a compact copper base block with widely spaced aluminum fins. It's 95mm PWM fan spins only as fast as needed to achieve good temperature control, and works well at moving air relatively quietly through the aluminum fins. Copper heatpipes are positioned close to the processor, and in the direct path of airflow at the other end. All good thermal design criteria in fact.
The whole package weighs around ~520 grams, and is compatible all AMD Athlon64 processor heatsink retention frames - 754/939/940 & AM2 - because it relies on the center lug only. Akasa have made it so the clip is non-removable, which may cause problems on some motherboards with oddly oriented CPU sockets... It's always best to have the heatsink blowing towards the rear of the PC chassis, but I suppose 'up' is almost as good.
Akasa AK-876 Heatsink

---

heatsink specsheet
manufacturer: akasa
model no.: ak-876
materials: aluminum fins, copper heatpipes, aluminum and copper base
fan mfg: akasa dfc922512m
fan spec: 600-2500rpm, 12v, 0.21a
fan dim: 25x95x95mm
heatsink & fan dim: 138x92x109mm
weight: est. 520 grams
includes: amd k8 universal mounting clip

---

Compatible with Sockets: 754/939/940/AM2

Est. Pricing: $48USD ($52CDN)
The base of Akasa's AK-876 heatsink was clearly made for Intel chips, as it doesn't covering the whole surface of a 38mm square Athlon64 integrated heatspreader. The copper base of the AK-876 is 35mm square in size, so it will be interesting to see what kind of effect this has on the final temperature results.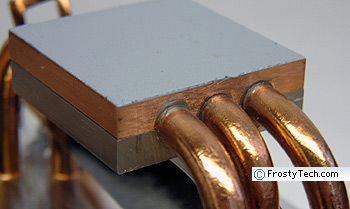 Behind the fan, which is mounted slightly off-center, is a special geometry on the leading edge of the aluminum fins. This wave pattern helps to add turbulence in the airflow and decrease laminar airflow over the flat aluminum fin surfaces.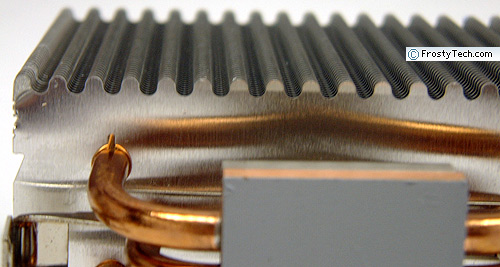 The Akasa AK-876 heatsink will be tested on FrostyTech's Intel AMD K8 version of the Mk.II synthetic thermal temperature test platform, and compared against several reference AMD heatsinks. The whole test methodology is outlined in detail here if you'd like to know what equipment is used, and the parameters under which the tests are conducted. Now let's move forward and take a closer look at this heatsink, its acoustic characteristics, and of course its thermal performance!