This is not your average aluminum heatsink with copper heatpipes, but it looks innocent enough from the outside. The Xigmatek HDT-S963 heatsink is a unique thermal solution because the German thermal engineers who designed it, made its three copper heatpipes come in direct contact with the CPU itself.
If you take the Xigmatek HDT-S963 in hand and flip it over, you'll see an aluminum base with three long grooves cut into it. Set snugly in these grooves are three copper strips which are the heat pipes. There is no bulky copper base plate, no heavy copper heat spreader, instead heat is conducted directly from the core of an AMD or Intel processor to three 6mm diameter copper heatpipes. The heatpipes in turn transfer that heat directly to a large aluminum fin cooling tower above.
If the approach Xigmatek has taken here works, and Frostytech will be able to give a definitive answer on that in two pages time, expect to see this technique expropriated by every heatsink vendor from Thermaltake to Coolermaster come fall. Already, Frostytech has seen prototypes from a company attempting something similar, but as they say... the devil is in the details.
Xigmatek Co., Ltd. is a two year old heatsink vendor, but one you should be keeping an eye on. Thus far the company has four models; the Xigmatek AIO-S80DP self-contained watercooling heatsink Frostytech reviewed previously, and the upcoming monster HDT-D1264, HDT-983 and XP-S964 heatsinks. All of these are geared towards low noise operation, so it's clear Xigmatek is bringing something new to the market rather than recycling old ideas and chrome plating everything in sight.
The Xigmatek HDT-S963 heatsink FrostyTech is reviewing today is equipped with vibration absorbing rubber posts, and a 92mm PWM fan scales from 1200-2800RPM. The heatsink is compatible with socket 775 Intel Pentium and Core 2 Duo CPUs, and all socket 754/939/940/AM2 AMD Athlon64 processors. The HDT-S963 stands 134mm high and retails for somewhere in the region of an estimated $52CDN ($48USD). Over the next few pages Frostytech will tell you if its worth that. Let's begin.
Xigmatek HDTS963 Heatsink

---

heatsink specsheet
manufacturer: xigmatek
model no.: hdt-s963
materials: aluminum fins, copper heatpipes, aluminum base with exposed heatpipes.
fan mfg: xigmatek
fan spec: 1200-2800rpm, 12v, 0.4a
fan dim: 25x92x92mm
heatsink dim: 134x76x92mm
weight: 410 grams
includes: lga775 and k8 socket mounting hardware, spoiler fin, thermal compound, instructions

---

Compatible with Sockets: LGA775, 754/939/940/AM2
Est. Pricing: $48USD ($52CDN / £24GBP)
First off we have what Xigmatek term "Heat-pipe Direct Touch". Essentially this means that all three 6mm diameter copper heatpipes come in direct contact with the top of the processor. This arrangement minimizes thermal resistance as heat energy is conducted directly to the heatpipes. They in turn thread their way up through the many aluminum cooling fins where heat can dissipated into the surrounding air mass.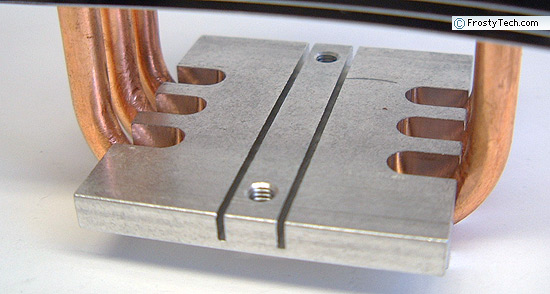 Xigmatek have built the HDT-S963 heatsink with widely spaced aluminum fins so that lower velocity air can pass through the heatsink with less resistance. A removable aluminum spoiler has also been included with the heatsink, and it can be slotted into the back of any of the fins to direct some airflow up or down. This is useful if you have certain motherboard components nearby that require a little cooling.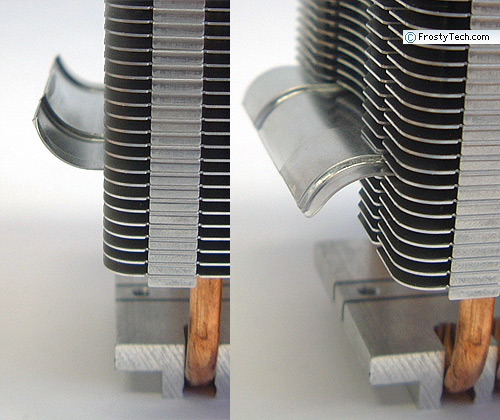 The aluminum spoiler is an innovative idea, but if you end up running the HDT-S963 heatsink with a nice quiet slow rotating fan.... well, its usefulness is certainly entered into question then.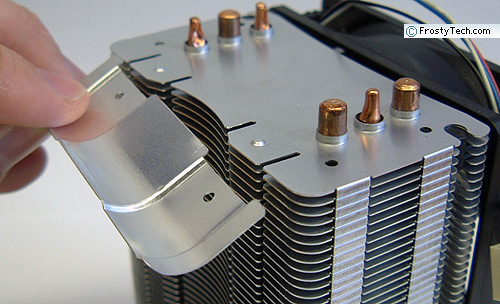 The 92mm PWM fan is held in place on the aluminum fins of the Xigmatek HDT-S963 heatsink with four vibration absorbing rubber mounting posts. These fit through the standard screw holes in a vaneaxial fan frame, and keep the fan elevated 2.0mm off of the metal. If the fan motor happens to develop vibrations down the road, the rubber 'shock absorbers' can reduce that from becoming noise.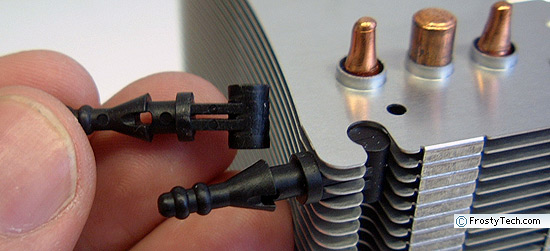 The Xigmatek HDT-S963 heatsink ships with brackets for LGA775 and AMD K8 processors (754/939/940/AM2 respectively). The Intel socket 775 clips use the standard push-to-lock plastic clips that insert into the four motherboard holes around the processor socket. AMD Athlon64 processors on 754/939/940/AM2 work with a modified spring clip that attaches to the lugs on the AMD heatsink retention frame. A cam lever at one end of the clip applies pressure to the heatsink base directly.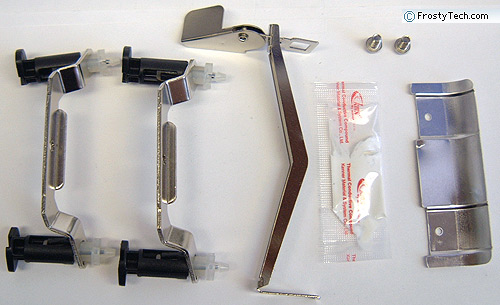 The Xigmatek HDT-S963 heatsink will be tested on FrostyTech's Intel LGA775 and K8 version of the Mk.II synthetic thermal temperature test platform, and compared against several reference LGA775 and K8 heatsinks. The whole test methodology is outlined in detail here if you'd like to know what equipment is used, and the parameters under which the tests are conducted.
Now let's move forward and take a closer look at this heatsink, its acoustic characteristics, and of course its thermal performance!