The Evercool Buffalo HPFA-10025 is a lower-noise AMD Athlon64 heatsink for socket 754, 939, 940 and AM2 processors. A fan resembling the kind used with the Arctic Cooling Freezer 64 Pro heatsink is employed to move air relatively quietly through the aluminum fins. The Buffalo's fan rotates at a fixed speed of 1800RPM, and is supported from the aluminum fins by four hidden rubber pads. The idea being that the pads will prevent fan motor vibrations from transferring to other areas of the heatsink and causing additional noise. The 100mm fan is suspended from the motor to reduce airflow turbulence and noise.
Evercool's Buffalo HPFA-10025 heatsink is made from a simple mix of "U" shaped copper heatpipes and 60 stacked aluminum fins. A very thin copper sheet is soldered to the heatpipes at the base, so there is not a lot of distance for heat to be conducted away from the processor either - making for one very compact and down-to-business heatsink.
The whole package weighs 500 grams, and is only AMD Athlon 64 compatible (only AMD mounting hardware supplied). This goes against the grain with what most other heatsink vendors offer, but I suppose this allows Evercool to sell the Buffalo heatsink for less... which is always a positive for consumers.
Evercool Buffalo Heatsink

---

heatsink specsheet
manufacturer: evercool
model no.: hpfa-10025 buffalo
materials: aluminum fins, copper heatpipes, aluminum and copper base
fan mfg: evercool ec10025l12ea-n
fan spec: 1800pm (est.), 12v, 0.18a
fan dim: 25x100x100mm
heatsink & fan dim: 128x110x71mm
weight: 500 grams
includes: amd mounting clip

---

Compatible with Sockets: 754/939/940/AM2
Est. Pricing: $30USD ($33CDN)
As you can see quite clearly from the image below, the AMD mounting clip for the Evercool Buffalo heatsink is held in position by a small brass peg attached to the top of the aluminum base block.
The CPU mounting clip uses one, or all three prongs on the two different styles of AMD heatsink retention frames in use. Clamping pressure is applied by a small cam at one end, and the clip installs without the use of any tools whatsoever. There are holes for the Intel mounting hardware to attach to, but Evercool has cut costs pretty seriously and only included the AMD clip show here. Another Intel only version of the Evercool Buffalo heatsink is available, it is the HPFI-10025.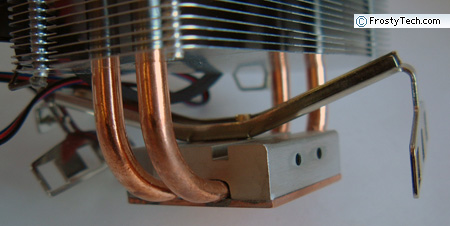 Personally, I think Evercool should have included both Intel and AMD mounting hardware with the heatsink so consumers can use it on either platform. Marks lost for excessive cost cutting on that front...
The Evercool Buffalo HPFA-10025 heatsink will be tested on FrostyTech's Intel LGA775 version of the Mk.II synthetic thermal temperature test platform, and compared against several reference LGA775 heatsinks. The whole test methodology is outlined in detail here if you'd like to know what equipment is used, and the parameters under which the tests are conducted.
Now let's move forward and take a closer look at this heatsink, its acoustic characteristics, and of course its thermal performance!