The nice thing about buying a retail Intel Core 2 Duo processor from the computer store is that it comes with a heatsink guaranteed to work. It may not be the coolest running heatsink out there, but at least Intel have ensured it runs quietly, maintains the appropriate thermal range for the CPU, and installs without much fuss or any danger to the CPU or motherboard.
If you have been reading Frostytech for a while, you'll know that the reference Intel heatsink for the Core 2 Duo CPU family is based on Intel's Radial Curved Bifurcated Fin Heatsink (RCBFH) design. In all likelyhood this heatsink that Frostytech is testing today was manufactured by AVC - a large thermal solutions manufacturer which has made several Intel and AMD reference heatsinks.
The Intel RCBFH design is engineered to be cheap to produce, easy to install, and thermally efficient. This is the stock Core 2 Duo heatsink, and it is generally speaking a well designed mass-produced cooler. The heatsink uses a suspended 4-pin PWM 84mm diameter Nidec F09A-12B1S2 fan, it conforms to ATX motherboard keep-out and high recommendations, and LGA775 weight restrictions.
As we'll show you, this stock Core 2 Duo heatsink relies on a unique central copper heatspreader pressed into a high aspect ratio extruded radially curved bifurcated aluminum fin. Per Intel's own requirements, the stock Core 2 Duo heatsink installs and can be removed from any LGA775 motherboard using tool free snap clips.
Intel stock Core 2 Duo Heatsink

---

heatsink specsheet
manufacturer: intel
model no.: stock core 2 duo
materials: extruded aluminum, copper insert.
fan mfg: nidec f09a-12b1s2
fan spec: 1500pm (est.), 12v, 0.20a
fan dim: 25x84x84mm
heatsink & fan dim: 61x90x90mm
weight: est. 380 grams
includes: pre-applied thermal compound.

---

Compatible with Sockets: LGA775
Est. Pricing: $25USD ($30CDN)
In this review, Frostytech is going to evaluate the stock heatsink that accompanies the majority of Intel Core 2 Duo processors. It closely resembles many other Intel and third party RCBFH-based heatsinks.
The stock Intel Core 2 Duo heatsink is composed of two sections - the first an outer ring of extruded aluminum with 24mm long curved cooling fins, the second an internal 32mm diameter cylindrical copper heat spreader. The copper heat spreader makes direct contact with the processor integrated heat spreader, conducting the heat it absorbs out to a larger surface area in direct contact with the aluminum. The copper makes direct contact with the aluminum fin via a toleranced interference fit, so no thermal compound is used here.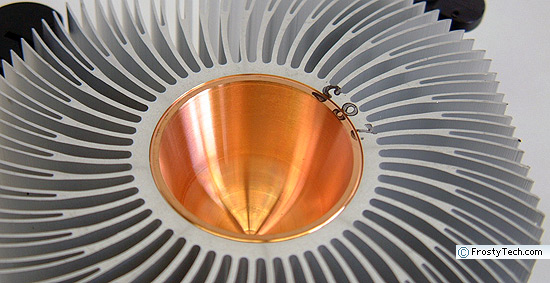 Aluminum has a thermal conductivity of 247 W/mK, whereas copper (which is heavier and more costly) has a thermal conductivity of 398 W/mK. The technique of building heatsinks with copper centers and outer aluminum cooling fins has long been used to conduct heat energy quickly away from the CPU. The copper component quickly conducts that heat to a larger surface area which is in direct contact with the specially shaped aluminum cooling fins. From there, increased surface area and airflow disperse the heat into the surrounding environment.
Please note that within this review the stock Intel Core 2 Duo heatsink will be tested with a 3-pin power source. As such, the fan RPM it defaults to may not represent the upper limit it's capable of with a 4-pin PWM fan power source.
The Intel Core 2 Duo heatsink will be tested on FrostyTech's Intel LGA775 version of the Mk.II synthetic thermal temperature test platform, and compared against several reference LGA775 heatsinks. The whole test methodology is outlined in detail here if you'd like to know what equipment is used, and the parameters under which the tests are conducted. Now let's move forward and take a closer look at this heatsink, its acoustic characteristics, and of course its thermal performance!