I'm always slightly amused when two manufacturers release the exact same heatsink, although one is obviously the producer and the other has just licensed the design. Somehow the exact same model can be manufactured in exact same factory in China, yet the two heatsinks will retail for slightly different price points... This is the case with the Akasa AK-922 heatsink. Or more exactly another not very well known company by the name of Rosewill that have released what they called the 'Z3,' which is exactly same cooler as the AK-922 Frostytech is reviewing today.
In any case, the Akasa AK-922 is a hefty heatsink designed for all current AMD and Intel processor families so it should appeal to all users. The AK-922 'Evo Blue' features no less than six copper heat pipes, a very thick copper base, 52 thin aluminum fins, a small extruded aluminum heatsink, and four strategically placed blue LEDs for internal illumination. Three interchangeable base plates allow the Akasa Ak-922 heatsink to be installed on a variety of motherboards, while a 92mm PWM fan spins at speeds of 600 to 3000 rpm. According to our real world sound measurements that translates into noise levels of approximately 60.3 dBA to 42.1 dBA.
Standing in at just over 138mm tall, the AK-922 'Evo Blue' heatsink weighs an astounding 852 grams. The Akasa AK-922 'Evo Blue' heatsink heatsink is compatible with socket 754/939/940/AM2 AMD Athlon64 and socket 775 Intel Pentium 4/D, Core 2 Duo/Quad processors. It retails for about $65 USD through online stores like Dabs or Newegg.
Akasa Evo Blue / AK-922 Heatsink

---

heatsink specsheet
manufacturer: akasa
model no.: ak-922 'Evo Blue'
Materials: aluminum fins, copper heatpipes, copper/extruded aluminum base
Fan Mfg: MH9225H12B
Fan Spec: 600-3000RPM, 12V, 0.25A
Fan Dim: 25x92x92mm
Heatsink & Fan Dim: 138x112x75mm
Weight: 852 grams
Includes: multi-socket mounting hardware, screws, thermal compound, fan speed controller, printed instructions.

---

Compatible with Sockets: 754/939/940/AM2, 775
Est. Pricing: $65USD ($70CDN / £36 GBP)
Akasa ship this cooler with a fan speed controller that adapts to the PWM fan, allowing the user to manually dial in the fan RPM best suited to their situation. Unfortunately an impeller speed of 600 RPM is wholly unrealistic, so for purposes of Frostytech's thermal testing we will limit ourselves to 1200 to 1500 RPM.
While ultra low fan speeds do ensure the AK-922 operates quietly, in this particular case it doesn't generate enough air pressure to move enough air through the body of the heatsink to remove heat effectively.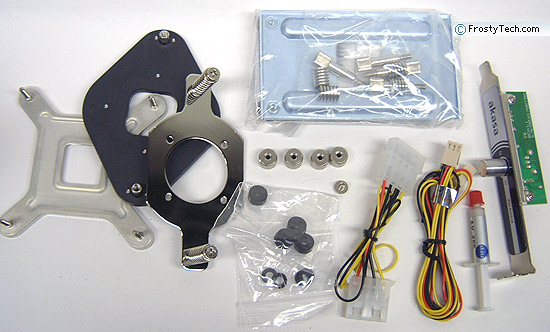 The 4-pin PWM fan can be plugged directly into the motherboard fan header on PWM compliant boards, or used with the fan speed controller.
The Akasa Evo Blue AK-922 heatsink will be tested on FrostyTech's Intel LGA775 and K8 version of the Mk.II synthetic thermal temperature test platform, and compared against several reference LGA775 and K8 heatsinks. The whole test methodology is outlined in detail here if you'd like to know what equipment is used, and the parameters under which the tests are conducted. Now let's move forward and take a closer look at this heatsink, its acoustic characteristics and thermal performance!