The Scythe Katana II heatsink boasts four rather unique technologies to its name; OFCS, VFMS, wide range RPM, and four way mounting. The first of these acronyms essentially describes how the copper heat pipe comes in contact with the aluminum fins of the heatsink. Oval Fin Contact Structure (OFCS) increases the surface area between the aluminum fins and heat pipes by a small degree, which apparently improves heat transfer. Additionally, the slanted orientation of the fins reduces the overall volume of the heatsink, and works to direct exhaust airflow down towards adjacent motherboard components.
The Versatile Fan Mount System (VFMS) simply means that a user can install any 25 mm thick fan they wish. Last but not least is four-way mounting - essentially that the heatsink can be installed with the fan pointing up, down, to the rear or forward.
Like many of the heatsinks coming out of Scythe's Japanese headquarters, the Katana II heatsink (model no. SCKTN-2000) makes use of one large slow rotating fan to push air through an array of slanted aluminum cooling fins. The fans' low speed of 1500RPM makes the Katana II a very quiet heatsink under operation. The heatsink weighs in at 535grams, and stands about 144mm tall. If you have an AMD Athlon64 processors in socket 754/939/940/AM2 or socket /478/775 Intel Pentium 4/D, Core 2 Duo/Quad processor you'll find the Scythe Katana II SCKTN-2000 heatsink compatible. It is available through most this online retailer for around $32 USD.
Scythe Katana II Heatsink

---

heatsink specsheet
manufacturer: scythe
model no.: katana ii (scktn-2000)
materials: aluminum fins, copper heatpipes, copper base plate
fan mfg: sy1025sl12m
fan spec: 1500rpm, 12v, 0.11a
fan dim: 25x100x100mm
heatsink & fan dim: 144x75x105mm
weight: 535 grams
includes: multi-socket mounting hardware, screws, thermal compound, printed instructions

---

Compatible with Sockets: 754/939/940/AM2, 478/775
Est. Pricing: $32USD ($45CDN / £16 GBP)
The Katana II heatsink uses three 6mm diameter copper heatpipes to conduct heat from a thin 4mm thick copper base plate to the 51 slanted aluminum fins above. Since the aluminum fins are slanted about 10° downwards, exhaust airflow is directed right at motherboard power circuitry, or northbridge chipset. The added airflow simply helps to further reduce board level component temperatures.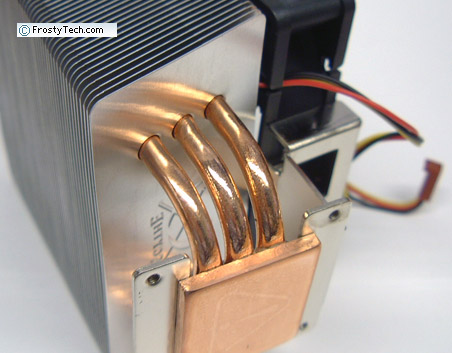 Installing the Scythe Katana II heatsink onto LGA775, Socket 478 Intel processors, or AMD Athlon64 K8 motherboards each requires one different metal mounting bracket be used. The heatsink ships with three separate mounting brackets, each of which is attached with a couple of screws. It's an uncomplicated way to make one heatsink multi-platform compliant. Thankfully each of the clips interface with existing heatsink retention mechanisms, or use through-PCB holes, and no proprietary or complicated mechanisms are used.
The Scythe Katana II heatsink is compatible with socket 754/939/940/AM2 AMD Athlon64 processors, and socket 478/775 Intel CPUs. The heatsink ships with printed instructions and a small packet of silicon-based thermal compound.
The Scythe Katana II SCKTN-2000 heatsink will be tested on FrostyTech's Intel LGA775 and K8 version of the Mk.II synthetic thermal temperature test platform, and compared against several reference LGA775 and K8 heatsinks. The whole test methodology is outlined in detail here if you'd like to know what equipment is used, and the parameters under which the tests are conducted. Now let's move forward and take a closer look at this heatsink, its acoustic characteristics, and of course its thermal performance!