The Scythe Mine Rev.B is a funny looking cooler, with a 100mm fan at the center and two separate columns of aluminum cooling fins on either side. Like the Asus Arctic Square Frostytech reviewed previously, this Scythe heatsink (model no. SCMN-1100) makes use of one large fan to pull air into the heatsink and then expel it. The aluminum fins have a shape oddly resembling the geometry of a stealth fighter, and that seems to work just as well at making the Scythe Mine Rev.B a very quiet heatsink under power. The fan rotates at a fixed speed of 1500 RPM, yet there are no thermal throttling or PWM speed controls. In typical Scythe fashion, this heatsink has been designed with an eye towards thermal efficiency and user-friendliness, leaving entirely cosmetic attributes to the wayside.
In fact if we jump ahead and reveal that the Scythe Mine heatsink places just out of the FrostyTech top 10, and operates with less than 37 dBA, it should hardly be surprising. In the course of evaluating this heatsink FrostyTech was also pleased to discover a rarity in the world of heatsinks, but we'll touch upon that in a moment...
Scythe's Mine Rev.B SCMN-1100 heatsink installs onto any AMD K8 754/939/940/AM2 or Intel socket 478/775 processor. The heatsink weighs in at a nice light 560 grams, and stands about 150mm tall. The ScytheMine Rev.B SCMN-1100 retails for about $40 USD through sites like Newegg.com.
Scythe Mine Rev.B Heatsink

---

heatsink specsheet
manufacturer: scythe
model no.: mine rev.b (scmn-1100)
materials: aluminum fins, copper heatpipes, copper base plate
fan mfg: sy1025sl12m
fan spec: 1500rpm, 12v, 0.11a
fan dim: 25x100x100mm
heatsink & fan dim: 150x104x109mm
weight: 560 grams
includes: multi-socket mounting hardware, screws, thermal compound, printed instructions

---

Compatible with Sockets: 754/939/940/AM2, 478/775
Est. Pricing: $40USD ($59CDN / £32 GBP)
Based in Japan, Scythe has steadily worked towards earning itself a reputation for producing lower noise and thermally efficient heatsinks, while too many other companies opt for pointless flash and visual show. Scythe thermal engineers have constructed a unique cooler here, allowing the Mine Rev.B to pack in sufficient surface area to get the job done yet without being too unwieldy in size.
As you can see, the three copper heat pipes on either side of the cooler connect a very thin copper base to the 95mm tall aluminum fin towers. The aluminum fins have a sort of zig-zagged geometry, which we can assume breaks up pressure ridges, diminishes noise generation and distrupts unwelcome laminar air flow.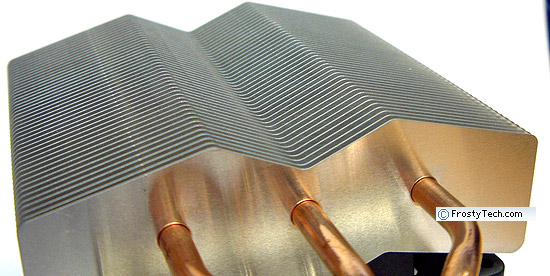 On a further note, the fan is actually mounted to the base of the heatsink to prevent potential vibrations or rattling sounds from occuring. The entire heatsink uses the minimum amounts of materials to achieve the maximum result, and that's something we're always happy to encounter at Frostytech.
Brackets for Intel and AMD Processors
Installing multi-socket compatible heatsinks is never an easy feat. Manufacturers have to consider the different CPU dimensions and mounting points of each processor class, so most heatsinks that are AMD and Intel compatible come with a box full of hardware. Scythe has introduced a system of clips here that make installing this heatsink onto a variety of Intel or AMD processor form factors refreshingly straightforward.
There are three pairs of clips that click into the side of the heatsink without the use of any tools, and are removable by the same means. Standard LGA775 push to connect clips are used for current generation Intel chips, while another set of brackets accommodates older socket 478 processors. All four generations of AMDs Athlon64 CPU are serviced by one cam lever clip that engages on the central lug of the AMD heatsink retention frame.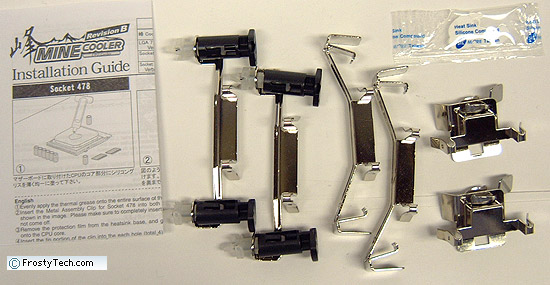 I have to say that of a all the heatsinks FrostyTech has reviewed recently, the method Scythe use for the Mine Rev.B cooler is probably one of the easiest, and most effective. The heatsink is held on firmly and the appropriate amount of clamping pressure is applied. The heatsink ships with a small pack of thermal compound and printed instructions.
The Scythe Mine Rev.B SCMN-1100 heatsink will be tested on FrostyTech's Intel LGA775 and K8 version of the Mk.II synthetic thermal temperature test platform, and compared against several reference LGA775 and K8 heatsinks. The whole test methodology is outlined in detail here if you'd like to know what equipment is used, and the parameters under which the tests are conducted. Now let's move forward and take a closer look at this heatsink, its acoustic characteristics, and of course its thermal performance!