The surface finish of the base is an important factor that we always look for when first examining a new heatsink. Flipping a cooler over to see how well the base has been machined is a quick way to judge the attention to detail that was put into making it. The following test involves the use of a Surface Roughness Comparator, which offers a concise cross section common machine surface finishes. The Scythe Mine Rev.B SCMN-1100 heatsink has a surface roughness of approximately 8 microinches, which is excellent.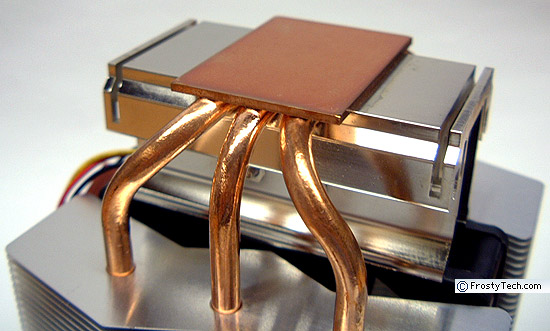 If you look at the picture below you will see the sign of a perfect heatsink base. It's not often we see this coming from a heatsink straight out of the box, without lapping or any other tweaking... so remember it well. The "X" pattern you see below occurs when the thermal compound has been squeezed out from between two surfaces evenly. This pattern was left after the heatsink is removed from the CPU test die.
While a lot of companies add flashy fans, chrome plated metal and swanky names, it's the base of a heatsink that has the most dramatic effect on how it performs. Poor base finish, either in flatness or surface quality can be just as much a hindrance as a dead fan.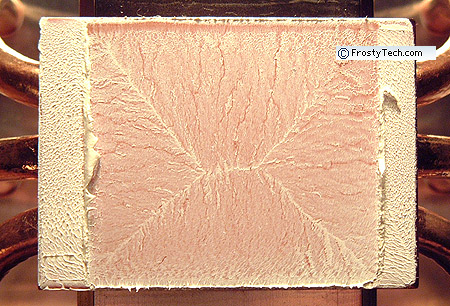 Along with the flatness of a base, how evenly a heatsinks' mounting clips apply force is also critical. Too much force on one side or the other may lead to an overheated CPU. Even though the copper base plate on the Scythe Mine Rev.B SCMN-1100 is only 2mm thick, the company has managed to keep things flat. That is indeed a rarity these days!
Next, let's see how this heatsink handles the heat compared to a selection of top of the line AMD and Intel heatsinks!