The Asus Arctic Square heatsink marks the companies' return to quiet upper-level cooling solutions. Looking back at the last Asus heatsink Frostytech tested, the Star Ice model, we're pleased to see that Asus has embraced effective thermal design and abandoned purely cosmetic design choices. If you recall from that review, the Star Ice fared quite poorly in one aspect of the thermal tests.
The new Arctic Square heatsink Frostytech is testing out for you today consists of an array of nickel plated aluminum fins wrapped around a 92 mm fan that is set within the body of the heatsink. It's a simple arrangement of fan and cooling fins, but one that draws cool air into the heatsink and expels warmed air out the other side. Noise never becomes much of an issue with this heatsink because the fan impeller does not rotate more than 2300RPM. A blue LED illuminated fan motor gives the heatsink a subtle visual effect to boot. To further minimize noise production the fan is also PWM controlled.
Asus's Arctic Square incorporates four nickel plated 6mm diameter copper heatpipes that conduct heat from a copper base to an array of aluminum fins above; a fairly standard orientation these days. The heatsink weighs in at 667grams, and stands 152 mm tall so it is rather a bulky solution that may not fit into all compact microATX computer cases. The Arctic Square installs onto any AMD K8 754 /939/940/AM2 or Intel socket 775 processor with the aid of a custom metal mounting frame. You can find Asus' Arctic Square heatsink at most online retailers for $54 USD.
Asus Arctic Square Heatsink

---

heatsink specsheet
manufacturer: asus
model no.: arctic square
materials: nickel plated aluminum fins, copper heatpipes & copper base
fan mfg: sunon kde1209ptvx
fan spec: 2300rpm, 12v, 0.35a, pwm
fan dim: 25x92x92mm
heatsink & fan dim: 132x108x106mm
weight: 667 grams
includes: multi-socket mounting hardware, screws, thermal compound and spreading tool, printed instructions

---

Compatible with Sockets: 754/939/940/AM2, 775
Est. Pricing: $54USD ($59CDN / £32 GBP)
From the outside it is difficult to see exactly how the Asus Arctic Square heatsink works, all the user can see are the aluminum cooling fins and no fan is immediately visible. From the bottom all we really see are the four heatpipes snaking up into the cooling fins, and the edge of a 92mm fan. Removing the top cap of the heatsink reveals a carriage for the internal fan, a special LED bracket, and power connections for the PWM and cord.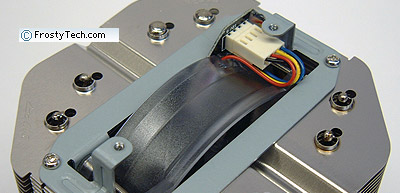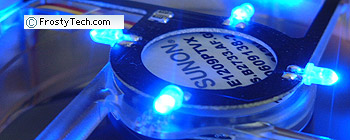 Brackets for Intel and AMD Processors
Mounting the Asus Arctic Square heatsink onto the CPU requires the use of special metal mounting frame, regardless of processor type. The system looks a little complex, but is well designed and easy to configure. Metric or imperial screws pass through a couple of plastic standoffs and attach to the rear motherboard support plate to keep the metal frame elevated above the CPU socket.
The Arctic Square heatsink then mounts onto the processor using what looks like a standard K8 mounting clip. Given its weight is nearly 700 grams, we're happy to see Asus utilize a sturdy frame and simplified mounting fixture. I'd still recommend removing the heatsink if you plan on taking your PC out to a LAN party, but otherwise it seems unlikely the Arctic Square will work itself loose.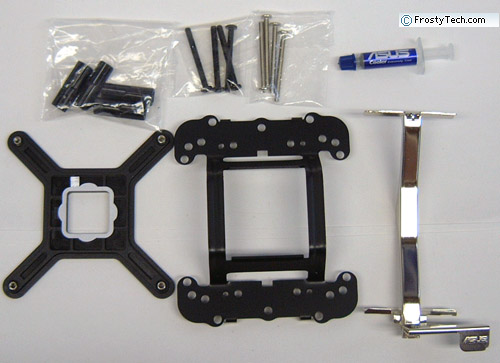 The Asus Arctic Square heatsink ships with two mounting brackets; one for socket 754/939/940/AM2/LGA775, and one rear support plate for socket 775 Intel CPUs. The heatsink installs quickly and the only tool required is a screwdriver. The spring clip runs over the top of the heatsink base to firmly lock it into position. AMD users will be able to install the Asus Arctic Square heatsink without removing the motherboard from the case, Intel motherboards will need the rear support plate installed first.
The Asus Arctic Square heatsink will be tested on FrostyTech's Intel LGA775 and K8 version of the Mk.II synthetic thermal temperature test platform, and compared against several reference LGA775 and K8 heatsinks. The whole test methodology is outlined in detail here if you'd like to know what equipment is used, and the parameters under which the tests are conducted. Now let's move forward and take a closer look at this heatsink, its acoustic characteristics, and of course its thermal performance!