The Cooljag Falcon 92-Cu is identical to the Falcon 92-AL heatsink, except that it uses all copper fins where the later has fins of aluminum. Both versions use a 92mm fan that is internally illuminated with a couple green LEDs. To minimize the noise produced by the fan spinning unnecessarily fast, it is thermally controlled by a small thermistor that senses case air temperature. Cooljag's Falcon 92-Cu is built with four 6mm diameter copper heatpipes that conduct heat from the copper plate up through to the array of stacked copper fins above.
The Falcon 92-Cu weighs in at 840 grams, making it a somewhat bulky and heavy thermal solution. It installs easily onto AMD K8 processors via the common central lug of the heatsink retention frame, and by a slightly more complicated manner on LGA775 Intel processors. We'll touch upon all that momentarily.
If you have an AMD Athlon64 processors in socket 754/939/940/AM2 or socket 775 Intel Pentium 4/D, Core 2 Duo/Quad processor you'll find the Cooljag Falcon 92-Cu heatsink compatible. It is available through most these online retailers for around $54 USD.
Cooljag Falcon 92-Cu Heatsink

---

heatsink specsheet
manufacturer: cooljag
model no.: falcon 92-cu (jyc8a02c)
materials: copper fins, copper heatpipes, skived aluminum & copper base plate
fan mfg: everflow t128025butc
fan spec: 1200-2500rpm, 12v, 0.40a
fan dim: 25x92x92mm
heatsink & fan dim: 112x118x106mm
weight: 840 grams
includes: multi-socket mounting hardware, screws, thermal compound and spreading tool, printed instructions

---

Compatible with Sockets: 754/939/940/AM2, 775
Est. Pricing: $54USD ($59CDN / £32 GBP)
The Cooljag Falcon 92-AL heatsink uses four 6mm diameter copper heatpipes to conduct heat from the copper base plate to copper cooling fins above. On top of the heatsink base is a small skived aluminum heatsink. Since exhaust airflow is directed down towards this area anyway, the skived heatsink works to further reduce temperatures.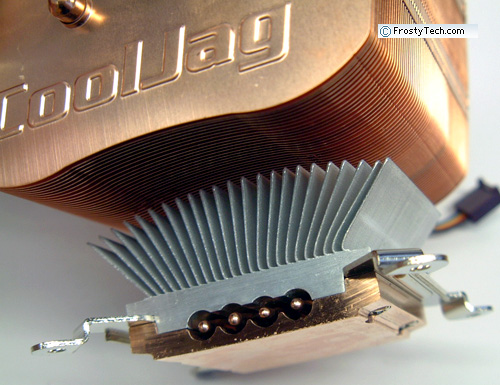 Mounting the Falcon 92-Cu to LGA775 processors requires one set of metal mounting brackets, K8 motherboards another. Cooljag use an innovative approach, slotting the brackets into a recess in the copper base of the heatsink with a couple screws to hold things in place. It's an uncomplicated way to make one heatsink multi-platform compliant.
Temperature Responsive Fan
Another tool used to reduce noise from the Cooljag Falcon 92-Cu heatsink is a small green thermistor located off the fan motor. The thermistor reacts to the temperature of the ambient internal case air temperature.
In the right computer enclosure this can certainly reduce fan speed, and hence heatsink noise. Positioned along the side of the fan motor the thermistor cannot directly react to the temperature of the metal.
That can at times lead towards reduced fan speeds when a higher RPM is called for. The 92mm diameter fan speed varies from 1200-2500RPM, and is PWM compliant (4-pin power connector). For the purposes of testing in the Frostytech labs, we will short out the thermistor connection on the Falcon 92-Cu fan to induce the maximum speed.
Brackets for Intel and AMD Processors
The Cooljag Falcon 92-Cu heatsink ships with two sets of mounting brackets; one for socket 754/939/940/AM2 AMD Athlon64 processors, and one for socket 775 Intel CPUs. Different metallic side brackets attach to the heatsink itself, and in the case of the LGA775 processors a rear-motherboard support bracket and four brass stands are also utilized.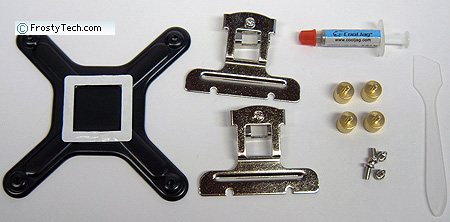 AMD users will be able to install the Cooljag Falcon 92-Cu heatsink without removing the motherboard from the case, Intel users will have to in order to install this heatsink. One nice part included with the heatsink is a plastic spatula for spreading an even coat of silicon thermal compound over the surface of the CPU heatspreader, and heatsink base. Nice touch that.
The Cooljag Falcon 92-Cu heatsink will be tested on FrostyTech's Intel LGA775 and K8 version of the Mk.II synthetic thermal temperature test platform, and compared against several reference LGA775 and K8 heatsinks. The whole test methodology is outlined in detail here if you'd like to know what equipment is used, and the parameters under which the tests are conducted. Now let's move forward and take a closer look at this heatsink, its acoustic characteristics, and of course its thermal performance!