The Arctic Cooling Freezer 64 LP is a low profile AMD Athlon64 heatsink for media centers, or any situation where the compact size of the computer case limits the vertical profile of the thermal solution. The heatsink is compatible with both socket 754/939/940 and socket AM2 AMD processors, and due to the low profile design constraints it features a rather unique "sandwich" design.
The Freezer 64 LP stands no taller than 65mm, with two low noise 60mm fans mounted at either side of the heatsink providing all the cooling airflow. The heatsink itself is a combination of two simple extruded aluminum heatsinks, bonded together where three copper heatpipes meet.
The heatpipes weave in an out of the space between each aluminum heatsink, and mesh with a small 36mm square block of copper that forms the base. A nickel plating on the aluminum enables the copper, heatpipes, and aluminum cooling fins to be soldered together for a strong joint with little thermal resistance.
As the copper base block is only in contact with one edge of each aluminum heatsink, the Arctic Cooling Freezer 64 LP design relies upon three 6mm diameter copper heatpipes to conduct the majority of heat throughout the rest of the unit. It's a better approach than simply relying upon conductive forces in the aluminum to transfer the heat energy from the CPU throughout. That design shortcut leads to pretty miserable heatsinks, case in point here, here, here, and here. Arctic Cooling's Freezer 64 LP heatsink comes with a 6 year warranty and retails for about $24SD ($28CDN / £11 GBP) through most online retailers.
Arctic Cooling Freezer 64 LP Heatsink

---

heatsink specsheet
manufacturer: arctic cooling
model no.: freezer 64 lp
materials: nickel plated extruded aluminum, copper heatpipes, copper base
fan mfg: arctic cooling
fan spec: (2x) 3000rpm, 12v, 0.12a
fan dim: 15x60x60mm
heatsink & fan dim: 65x124x85mm
weight: 520 grams
includes: socket back plate, screws, printed instructions

---

Compatible with Sockets: 754/939/940/AM2
Est. Pricing: $24SD ($28CDN / £11 GBP)
When Frostytech set about testing the Arctic Cooling Freezer 64 LP heatsink we anticipated it would have fairly average thermal performance - it is after all a compact cooler with dual 60mm fans. Compact and quiet cooling is the main attribute here after all. Arctic Cooling are a Swiss company, and the emphasis on the "Swiss art of engineering" is clearly advertised by the firm. Past examples to cross our test bench have been well constructed.... and the Arctic Cooling Freezer 64 LP heatsink looked good from the outset, but the copper base block that is the lynch pin to this thermal solution was a mixed bag.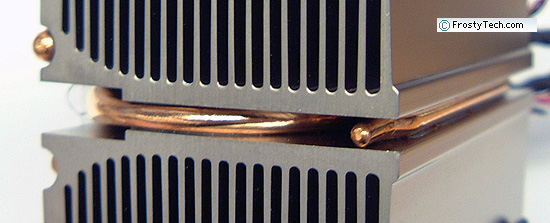 How Good Heatsinks Can Go Bad
Now, there are two extremely important aspects to any base of any heatsink, whether it's copper or aluminum; they are surface roughness and surface flatness. Both attributes directly impact how well a heatsink can conduct heat away from a hot processor. Too rough and not enough metal is in close contact with the CPU core. Too uneven and even a very smooth base could have less than 20% of its surface area actually in contact with the processor.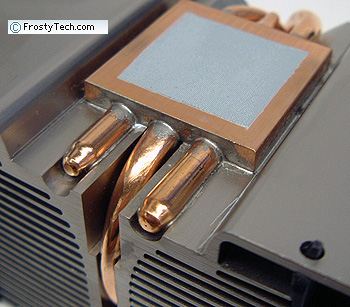 After the first round of thermal testing with the Arctic Cooling Freezer 64 LP, we noticed a good deal of thermal compound was still on the FrostyTech Synthetic Mk.II Test Platform K8 CPU die after the heatsink was pulled off. As part of our test parameters, thermal compound is applied evenly with a small roller to both the synthetic CPU die and base of the test heatsink. The Mk.II CPU die is perfectly flat in both axis, so after a test heatsink is clamped down most of the thermal compound normally gets squeezed out to the edges. Only a minimal amount remains between CPU die and test heatsink base to fill in voids.
Not so with the Freezer 64 LP, the base while extremely smooth was far too uneven to work effectively. In fact, only when Frostytech broke out the straight edge to conduct our regular assessment of surface finish and flatness was it apparent that the base of the Arctic Cooling Freezer 64 LP heatsink was quite uneven. The 36x36mm copper base was sufficiently concave in profile that only the four outer corners, and one leading edge made direct contact with the Mk.II K8 synthetic CPU die!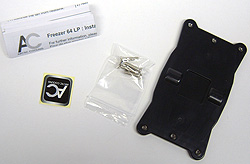 Thermal compound is only intended to fill small voids, so as it stood the Arctic Cooling Freezer 64 LP heatsink produced a rather underwhelming (official) temperature result. The void between each copper surface was large enough to negatively impact the heatsink's ability to cool.
We'll get to the Freezer 64 LP's true thermal performance capability in a moment, but first let's finish off the rest of this review.
The Arctic Cooling Freezer 64 LP heatsink will be tested on FrostyTech's K8 version of the Mk.II synthetic thermal temperature test platform, and compared against several reference K8 heatsinks. The whole test methodology is outlined in detail here if you'd like to know what equipment is used, and the parameters under which the tests are conducted. Now let's move forward and take a closer look at this heatsink, its acoustic characteristics, and of course its thermal performance!