The Rosewill RCX-Z1 is an economical socket AM2 or 939 AMD Athlon64 heatsink in the most basic sense. In fact, it has been quite a while since FrostyTech has tested an extruded aluminum cooler for a modern processor. Apart from its copper heat spreader base plate, this is a very simple heatsink that is cheap and simple to install. It's thermal performance is satisfactory for AMD Sempron or any of the new lower wattage Athlon64 CPUs.
Rosewill ship the RCX-Z1 with a patch of pre-applied thermal compound and a PCI bracket fan speed controller. The 92mm spins at between 1700-310RPM, which generates as much as 54 dBA, according to our real world sound measurements. Given the recent advancements in Pulse Width Modulation (PWM) controlled fans, or even thermally responsive fans, it seems remarkable to move back to standard fans that run at constant speeds. The fan speed controller is a good way to dial the noise levels down, but we can't help but think a thermally responsive fan would have been more effective option in the long run.
The Rosewill RCX-Z1 is compatible with both socket AM2 and socket 754/939/940 retention frames, and retails for around $20 online.
Rosewill RCX-Z1 Heatsink

---

heatsink specsheet
manufacturer: rosewill
model no.: rcx-z1
materials: extruded aluminum, copper base heat spreader.
fan mfg: rosewill mh9225h12b
fan spec: 1700-3100rpm, 12v, 0.26a
fan dim: 25x92x92mm
heatsink & fan dim: 74x92x92mm
weight: est. 450 grams
includes: fan speed controller, thermal compound

---

Compatible with Sockets: 754/939/940/AM2
Est. Pricing: $20USD ($24CDN / £10GBP)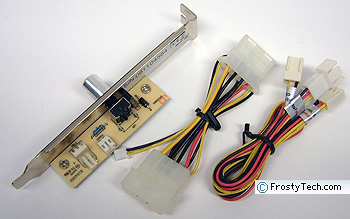 The Rosewill RCX-Z2-EX heatsink ships a PCI bracket fan speed controller and a couple pairs of jumper cables. The fan speed controller draws power from any standard molex connection, and the fan plugs directly into it.
Alternatively, another set of jumper wires can be used to deliver an RPM signal directly to the motherboard fan header. Some PC systems need to detect a CPU fan speed signal or they will automatically shut down. The power cables are long enough to reach around videocards or other peripherals which may be located near by.
FrostyTech's K8 Test Methodology is outlined in detail here if you care to know what equipment is used, and the parameters under which the tests are conducted.
Now let's move forward and take a closer look at this heatsink, its acoustic characteristics, and of course it performance in the thermal tests!