The Rosewill RCX-Z2-EX is pegged as a low noise heatsink, and with its PWM fan able to scale between 800-2400RPM this is quite an asset. The RCX-Z2-EX is assembled by rather standard means; aluminum fins, four copper heatpipes and a copper base, all of which have been dark nickel plated. A 92mm fan in a surprisingly open frame spins at the center of it all. The open frame design reduces turbulance and allows exhaust airflow to cool adjacent components on the motherboard.
Rosewill's RCX-Z2-EX heatsink is compatible with all current AMD Athlon64 processors (754/939/940/AM2) and socket 775 Intel Pentium D/ Core 2 Duo processor. The heatsink relies upon interchangeable metal mounting clips which screw onto the base of the cooler for its broad socket compatibility. The clips screw onto the copper base, with four tiny metric threaded screws that Rosewill neglected to include in the package FrostyTech received for testing.
On the whole, the heatsink is a compact unit that will fit easily into most computer systems that require a lower noise cooling solution with some flexibility. The Rosewill RCX-Z2-EX heatsink retails for about $38USD ($44CDN / £20GBP) through most major online stores.
Rosewill RCX-Z2-EX Heatsink

---

heatsink specsheet
manufacturer: rosewill
model no.: rcx-z2-ex
materials: dark nickel plated aluminum fins, (4) copper heatpipes and copper base.
fan mfg: ys tech yd129025lb
fan spec: 800-2400rpm, 12v, 0.42a
fan dim: 25x92x92mm
heatsink & fan dim: 69x104x109mm
weight: 380 grams
includes: thermal compound, multi-socket mounting hardware

---

Compatible with Sockets: 754/939/940/AM2 & 775
Est. Pricing: $38USD ($44CDN / £20GBP)
In terms of accessories, the Rosewill RCX-Z2-EX just ships with two sets of stamped steel mounting clips for either Intel socket 775 or AMD socket 754/939/940/AM2 processors. The clips fit around the copper base, and are screwed in position at four points. The clips provide a firm basis to hold the RCX-Z2-EX cooler on the CPU below. A thin syringe of thermal compound is also provided.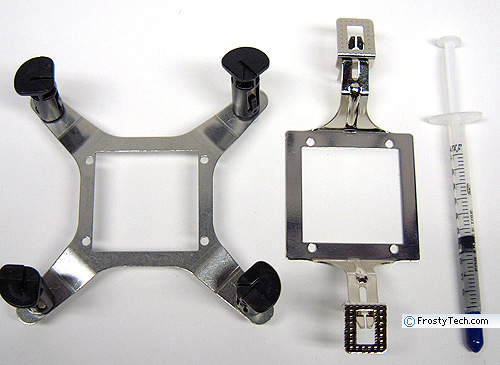 The socket 775 bracket comes utilizes the standard Intel plastic push-to-click retention mechanisms, so the heatsink installs without having to remove the motherboard or install any rear support brackets. The AMD K8 heatsink clip attaches to the center tab on both types of K8 heatsink retention frames (939 and AM2), and can be installed without any tools although it is a bit stiff.
FrostyTech's K8 Test Methodology is outlined in detail here if you care to know what equipment is used, and the parameters under which the tests are conducted. Now let's move forward and take a closer look at this heatsink, its acoustic characteristics, and of course it performance in the thermal tests!