LS Cable is the retail side of an subsidiary of conglomerate LG (which if you're old enough is the abbreviated name of Lucky Goldstar) known as LG Cable. The name is a bit of an odd duck, since LS Cable / LG Cable heatsinks are... well, heatsinks. In any case, the majority of the LS Cable heatsinks are based on the same underlying heatsink design, with different mounting clips, fans and a few other small items to differentiate each "model." That framework is a simple combination of heatpipes, copper fins, and a fan.
Simple stuff, but used in the right way it can provide really impressive thermal results. Of note on the LS Cable SHS-T700 heatsink is the 95mm NoNoise Pulse Width Modulation (PWM) fan. It runs at 2100RPM and produces little more than 48 dBA noise under power. On PWM compliant motherboards, the fan can scale in speed down to 700RPM, but when connected to a standard 3-pin fan header defaults to its maximum RPM automatically.
The LS Cable SHS-T700 heatsink is compatible with socket 775 Intel Pentium 4/D, Core 2 Duo and Core 2 Quad processors. It uses the standard Intel push-to-clip retention clips, and retails for an estimated $22USD ($28CDN / £10GBP).
LS Cable SHS-T700 Heatsink

---

heatsink specsheet
manufacturer: ls cool / lg cable
model no.: shs-t700
materials: copper fins, (3) copper heatpipes, nickel plated aluminum base
fan mfg: dong yan fan 'NoNoise' G9225M12D1+6BG
Fan Spec: 2100RPM, 12V, 0.2A
Fan Dim: 25x95x95mm
Heatsink & Fan Dim: 72x110x114mm
Weight: 390 grams
Includes: printed instructions, plastic Intel LGA775 clips, pre-applied thermal compound

---

Compatible with Sockets: 775
Est. Pricing: $22USD ($28CDN / £10GBP)
The LS Cable SHS-T700 heatsink is pretty compact as far as LGA775 thermal solutions go, and with just a small base block we're hoping that its compact size is efficient. The aluminum base block is nickel plated, and this allows the copper heatpipes to be soldered directly to it, and to each of the copper fins as well. the direct thermal connection ensures heat flows as smoothly as possible from the CPU to the heatspreader, heat pipes and cooling fins.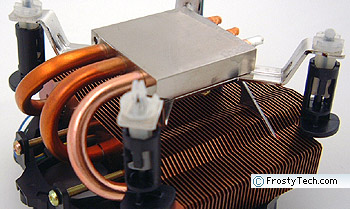 Heatpipes Explained
Heat pipes are the foundation of the LS Cable SHS-T700 heatsink, but do you really know much about how they work?
Heat pipes are pretty simple devices that move heat from one area to another. As heat energy from the processor reaches the three heatpipes - which are sealed off at both ends to contain a small amount of "working" fluid under a vacuum - a reaction occurs.
The working fluid inside each heatpipe absorbs the latent heat from the processor, causing the fluid to undergo a phase change into water vapour (ie. it converts to steam). In our daily lives, water boils at 100°C, but as pressure is decreased the temperature gradient required to make water convert to vapour also drops.
The small amount of working fluid inside each heatpipe quickly converts to vapour, as the temperature of the evaporator end (hot side) of tube increases. The liquid vapour inside the heatpipe is subsequently drawn to the cooler end of the heatpipe where it condenses. As the hot vapour cools back into a liquid, the heat energy that was previously stored is transferred to the metal, and then surrounding copper fins of the LS Cable SHS-T700 heatsink.
The condensed vapour, now working fluid once again, is drawn back towards the hot evaporator end of the tube by capillary action along an internal wick structure. As the liquid reaches the hot end once more, the entire process repeats itself.
The LS Cable SHS-T700 heatsink will be tested on FrostyTech's Intel LGA775 version of the Mk.II synthetic thermal temperature test platform, and compared against several reference LGA775 heatsinks. The whole test methodology is outlined in detail here if you'd like to know what equipment is used, and the parameters under which the tests are conducted. Now let's move forward and take a closer look at this heatsink, its acoustic characteristics, and of course its thermal performance!