When Alpha Novatech produce a new heatsink model the company tends to only produce one or two variations to get it right. On the other hand, companies like Thermaltake produce dozens of heatsinks for each new CPU platform, and six months down the road there is always an entirely new collection of thermal solutions to choose from.... Did you ever wonder why it takes a high end heatsink manufacturer a handful of thermal solutions to cover an entire processor series, and other brands dozens and dozens?
Barring changes to CPU thermal output, heatsinks can indeed be built right from the start, it's just that few companies do this on a regular basis. Alpha Novatech do, and other manufacturers like Arctic Cooling, Zalman, Thermalright and AVC have also established a reliable standing in this regard.
In this review, Frostytech will be testing out the Alpha Novatech PRE9060M92P heatsink; a large socket 775 solution ideally suited for Intel Pentium D, Core 2 Duo/Quad processors.
Alpha tend to introduce one or two models a quarter, and this means it's been a long time since we last tested parts from this Japanese manufacturer. As we begin our look at the latest Alpha Novatech heatsink, we hope to be able to answer the question - does Alpha still have what it takes to build a high performance heatsink? The Alpha Novatech PRE9060M92P is currently available in the fanless version via FrozenCPU for about $50USD, and directly from Alpha with the ORIX fan used in this review for $55 USD.
Alpha Novatech PRE9060M92P Heatsink

---

heatsink specsheet
manufacturer: alpha novatech inc.
model no.: pre9060m92p
materials: microforged aluminum pin fins and body, copper base insert
fan mfg: oriental motor orix md925a-12s
fan spec: 3400rpm, 12v, 0.24a
fan dim: 25x92x92mm
heatsink & fan dim: 92x90x90mm
weight: 990 grams
includes: pre-applied thermal compound

---

Compatible with Sockets: LGA775
Est. Pricing: $55USD ($62CDN / £30 GBP)
The Alpha Novatech PRE9060M92P heatsink is entirely built with round, 3.5mm diameter pins. The anodized aluminum microforged cooling pins stand 47mm tall and number at about 375 in all. This heatsink is intended for use on socket 775 processors, and is not built to accommodate AMD chips, older socket 478 CPUs, or anything else. Rather than approach things from a one-size fits all angle, Alpha engineers its thermal solutions to the task.
The heatsink weighs substantially more than Intel's guidelines provide for (990grams in total), and the Alpha PRE9060M92P is actually a bit larger than standard socket 775 heatsinks as well. It uses a proprietory metal mounting bracket and set of spring clips to install onto an Intel Core 2 Duo processor, or the like. The spring clips keep the PRE9060M92P firmly in place, and apply the correct amount of clamping pressure for the job.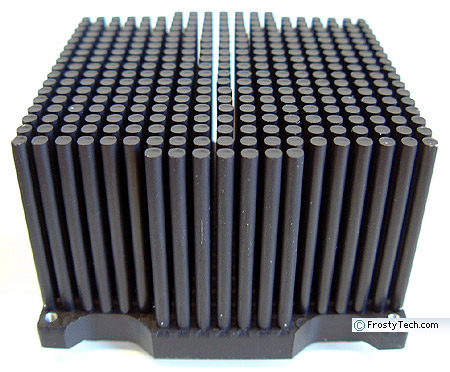 An Oriental Motor ORIX MD925A-12S fan ships with this heatsink (measures 92x92x25mm). The impeller on this ORIX fan spins at 3400RPM, and has five blades. The fan is a high quality unit, and the impeller has a nice glossy finish which is somewhat of a rarity. Under power, this fan creates a little over 51 dBA noise.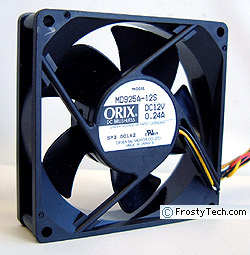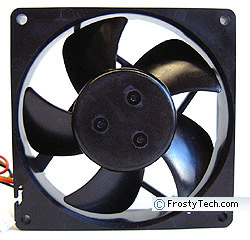 How Alpha Hold Back 990 grams of Heatsink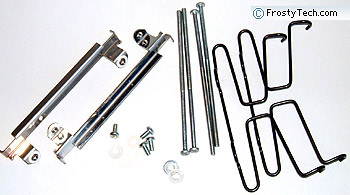 The Alpha Novatech PRE9060M92P heatsink ships with small pile of brackets, screws, washers, and spring clips. The heatsink installs onto any socket 775 motherboard via its custom stainless steel hardware, so you will first need to remove the motherboard from the chassis.
The two steel brackets install into the existing holes around the socket 775 mechanism, and screws with nylon washers are used to hold them firmly in place. It is crucial to get install them tight, these two small bits of metal are all that holds 990grams of metal in position.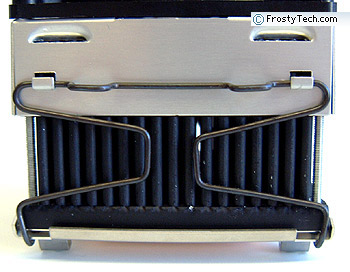 Alpha ship all heatsinks unassembled, so the next step in the installation process is to get the Alpha Novatech PRE9060M92P ready. The fan shroud goes on first, taking care to remove the white plastic protective cover as well.
The ORIX fan should then be installed up side down, so air is exhausted up, not blown down into the body of the heatsink. There are four long metric screws and washers for this task, and it's a good idea to use the washers as they help prevent the screws from vibrating loose over time.
After applying a thin even layer of thermal compound to the base of the PRE9060M92P heatsink, it is ready to be installed on the CPU. This you already know, but it is the two odd looking wire clips that actually hold the entire cooler onto its steel mounting brackets. The springy wire clips lock into two small tabs in the aluminum fan shroud, and that's it.
The Alpha Novatech PRE9060M92P heatsink will be tested on FrostyTech's Intel LGA775 version of the Mk.II synthetic thermal temperature test platform, and compared against several reference LGA775 heatsinks. The whole test methodology is outlined in detail here if you'd like to know what equipment is used, and the parameters under which the tests are conducted. Now let's move forward and take a closer look at this heatsink, its acoustic characteristics, and of course its thermal performance!