The nPowertek SF 775-2 heatsink features a body made of copper fins which have been wrapped around a central copper slug. The copper column makes contact with the actual CPU core, and the heatsinks' 136 copper fins radiate the heat out into the surrounding air. Anyway you slice it, there is a lot of copper in this puppy. Does a half kilo of guarantee amazing thermal performance? Nope, not by any stretch; it's how that copper is used, not how much is crammed in there. Of course, we'll reserve judgement until the thermal test results come in... a little later in FrostyTech's review.
The nPowertek SF 775-2 heatsink uses a 92mm diameter Pulse Width Modulation (PWM) fan that rotates at up to 4200 RPM. This socket 775 heatsink weighs in at upwards of 440 grams, so it is attached to the motherboard with four solid spring-tensioned screws to a metal support plate. The motherboard will need to be removed from the chassis for installation of nPowertek's SF775-2 heatsink. The speed of the Martech fan is controlled by the BIOS on PWM compatible motherboards, and unfortunately with legacy boards it rattles away at full tilt... This produces just over 65 dBA noise according to our sound measurements.
nPowertek SF775-2 Heatsink

---

heatsink specsheet
manufacturer: npowertek
model no.: sf 775-2
materials: copper fins, copper base.
fan mfg: martech df0922512seufm
fan spec: 0-4200rpm, 12v, 0.60a
fan dim: 25x92x92mm
heatsink & fan dim: 64x95x95mm
weight: est. 440 grams
includes: mounting hardware, thermal compound, rear support bracket

---

Compatible with Sockets: LGA775
Est. Pricing: $39USD ($44CDN)
The heatsinks 136 fins are all soldered to the main copper column which effectively forms the backbone of this heatsink. Each fin has a slight curve to it, and a 1mm tab at the very bottom secures everything in place... hopefully.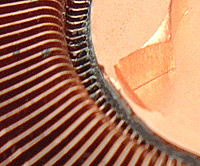 Soldering this many individual fins of copper to the outside of a cylinder is a tricky affair, and any solder gaps will affect how well the nPowerteck SF775-2 heatsink performs.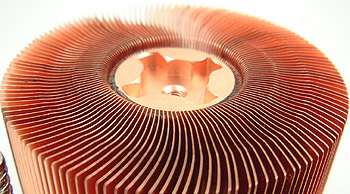 On top of this big hunk of copper is a thin translucent plastic support frame for the 92mm fan. There's a potential problem here though, the fan support frame screws into the center of the large copper column, insulating it from any airflow. Many heatsinks of similar design utilize hollowed out columns, to reduce the degree of heat energy retained in the one area where airflow can't reach. Since this isn't the case with the nPowerTek SF775-2 heatsink it will be interesting to see how it handles when we stress it with 150W and 85W of heat!
The nPowerTek SF775-2 heatsink will be tested on FrostyTech's new Intel LGA775 version of the Mk.II synthetic thermal temperature test platform, and compared against several reference LGA775 heatsinks.
Frostytech's test methodology is outlined in detail here if you care to know what equipment is used, and the parameters under which the tests are conducted. Now let's move forward and take a closer look at this heatsink, its acoustic characteristics, and of course it performance in the thermal tests!