The Zalman CNPS9700 LED is a supersized version of the CNPS9500-series heatsinks we've all come to know so well. Now, there's no point in dancing around the fact that Zalman's CNPS9700 LED is just about the best socket 775 heatsink FrostyTech has tested to date, and among the very best ever on the socket 939/AM2 platform. It's been a while since Zalman produced a heatsink that displayed such admirable thermal qualities, and even more impressive considering the low noise levels... but more on that in a moment.
The Zalman CNPS9700 LED is a big copper heatsink, made up of about a hundred 0.2mm copper fins attached at regular intervals to three copper heatpipes that form a figure-eight. The entire heatsink is cooled by one 110mm diameter fan which is internally illuminated with blue LEDs. Noise levels range from about 57 dBA with the fan spinning at 2800RPM, to as low as 37 dBA with the fan spinning at 1250RPM (according to our real world sound measurements).
Zalman's CNPS9700 LED is identical in materials to the previous CNPS9500-series, but this heatsink is bigger in every way that matters. The CNPS9700 LED stands 142mm tall, up from a height of 125mm for the previous generation. It is 124mm wide and 90mm deep, up slightly from the 112 x 85mm size of the '9500 series. The surface area available for cooling has increased from 3698 cm2to 5490 cm2 , and its weight has increased to 764 grams from 530g.
At the center of the CNPS9700 LED is a 110mm diameter fan where the previous generation had a 92mm diameter unit. Like all heatsinks produced by Zalman, the CNPS9700 LED is intended to operate quietly and efficiently without much noise. The FanMate2 is included with it to control fan speeds, and Zalman even bundle in a new non-curing low viscosity ZM-STG1 thermal compound.
Zalman CNPS9700 LED Heatsink

---

heatsink specsheet
manufacturer: zalman
model no.: cnps9700 led
materials: copper base, heatpipes and fins.
fan mfg: zalman zf1125bth
fan spec: 1250-2800rpm, 12v, 0.4a
fan dim: 25x110x110mm
heatsink & fan dim: 142x124x90mm
weight: 764 grams
includes: multi-socket mounting clips, zm-stg1 thermal compound, fanmate 2, instructions

---

Compatible with Sockets: 754/939/940 & AM2, 775
Est. Pricing: $59USD ($66CDN)
As you'll soon see in FrostyTech's thermal and acoustic tests, the Zalman CNPS9700 LED heatsink easily gives the stock Intel Pentium D socket 775 heatsink a run for its money. It also outperforms the stock socket AM2 AVC Z7U7414001 heatsink by a fair margin when operating in its near-silent mode. If you have a nice new quad core or Core 2 Duo processor, or even a Intel Pentium D/4/EE you'll want to see what the CNPS9700 LED is capable of.
Changes to Zalman's Supersized Heatsink

CNPS9700 LED
CNPS9500 LED
Height:
142 mm
125 mm
Width:
124 mm
112 mm
Depth:
90 mm
85 mm
Weight:
764 grams
530 grams
Surface Area:
5490 cm2
3698 cm2
Fan Size:
102 mm dia.
92 mm dia.
Fan Speeds:
1250-2800 RPM
1350-2600 RPM
Installation and Hardware
The complex shape of the Zalman CNPS9700 LED heatsink makes installing it a bit of a challenge. For this, Zalman have come up with a special LGA775 mounting harness which first attaches to the Intel socket 775 motherboard; you'll need to remove the entire motherboard from the case first to install this bracket.
After that's done the heatsink can be installed or removed with just two screws. The heatsink installs onto socket 754/939/940 and AM2 processors with a simple metal clip that works with either the socket AM2 or socket 939 style heatsink retention frame tabs.
The manufacturer recommends that the warm exhaust from the Zalman CNPS9700 LED be directed towards the rear of the chassis, so make sure to do that.
For the large CNPS9700 LED heatsink to fit in your computer, there shouldn't be no interfering components within 62mm of the center of the CPU (top and bottom directions), and none within 48mm of the center of the CPU towards the front or rear of the case. The Zalman CNPS9700 LED stands 142mm tall, so you need to have at least 150mm space directly above the CPU socket.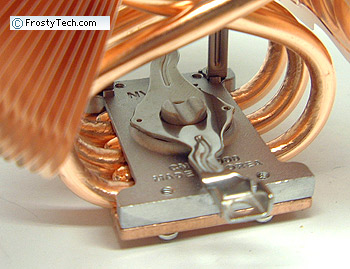 Installation hardware for the Zalman CNPS9700 LED is the same as is used with the CNPS9500 series. The Fanmate 2 fan speed controller really works wonders with this cooler. A bottle of Zalman's ZM-STG1 spreadable grey thermal interface material is included in place of the standard tube of white silicon thermal compound. We haven't extensively tested the new thermal compound, but I like the fact that it spreads on easier because it is such a low viscosity.
Since this is a pretty big heatsink, you'll want to do a few quick measurements first to ensure it will fit your application.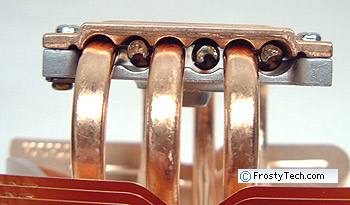 The stainless steel mounting clipsthat hold the CNPS9700 LED heatsink in position may need to be threaded perpendicularly through the six copper heatpipes so the center hole rests on the aluminum base cap of the heatsink.
This particularly the case if the AMD CPU is oriented in the wrong way. It's kind of a tricky manoeuvrer, so pay close attention to the illustrations in the manual and take your time. After that, a screwdriver quickly allows you to attach the Zalman CNPS9700 LED heatsink to the socket 939/AM2 or 775 retention frame.
FrostyTech's K8 Test Methodology is outlined in detail here if you care to know what equipment is used, and the parameters under which the tests are conducted. Now let's move forward and take a closer look at this heatsink, its acoustic characteristics, and of course it performance in the thermal tests!