Over the years we've seen aluminum heatsinks migrate to copper, and then heat pipes slowly began appearing here and there. The first heat pipes were added on as afterthoughts, and then thermal designs caught up with the technology. Now, what we're seeing is a shift from multiple 6mm diameter heatpipes to a reduced number of larger, 8mm diameter heatpipes. There will be more coolers arriving on the market place with this method of enhanced heat transport, but the Akasa AK-873 is clearly one of the first to cross our test bench. The Akasa AK-873 is a socket AM2 or 754/939/940 AMD Athlon64 heatsink, and it comes with its own fan speed controller which enables it to shift from high speed operation to whisper quiet. The 80mm suspended fan is internally illuminated with four blue LEDs, and rotates at up to 3400RPM to cool the aluminum cooling fins below.
The Akasa AK-873 ships with a pre-applied patch of AK-455 thermal interface compound, instructions and three tab cam-lever mounting brackets which are compatible with socket AM2 heatsink retention frames and as well as the previous socket 939 generations.
Akasa AK-873 Heatsink

---

heatsink specsheet
manufacturer: akasa
model no.: ak-873
materials: nickel plated aluminum fins, copper base and heatpipes
fan mfg: everflow f129025du
fan spec: 1500-3400rpm, 12v, 0.38a
fan dim: 25x80x80mm
heatsink & fan dim: 75x95x74mm
weight: est. 320 grams
includes: pre-applied thermal compound

---

Compatible with Sockets: 754/939/940 and AM2
Est. Pricing: $36USD ($39CDN)
Two stubby 8mm diameter hi-capacity copper heatpipes connect the thick nickel plated copper base to the outer tips of a series of thin aluminum fins. By selecting a fewer number of heatpipes for the AK-873 heatsink, Akasa engineers are able to move similar amounts of heat without creating excess resistance to airflow. Heatsinks which rely on three or more heat pipes can often suffer from increased resistance to airflow because of all the objects passing through cooling fins. Whether or not this design choice enables the Akasa AK-873 heatsink to excel will depend on how this cooler handles itself on the synthetic temperature test platform...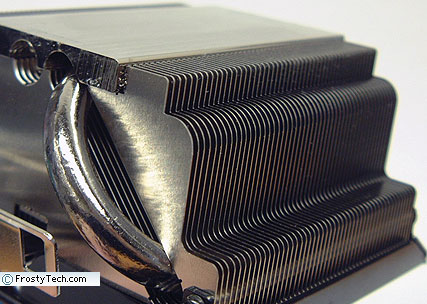 The AK-873 heatsink weighs in at around 300 grams, but two cam locking mounting clips are used to securely lock onto all three tabs of the AMD K8 heatsink retention frame (AM2 and 939). The Akasa AK-873 also comes with its own fan speed controller that installs into a free PCI bracket space. The controller draws power from a molex power connector, and has additional cabling to deliver the correct RPM signal to the motherboard's CPU fan header.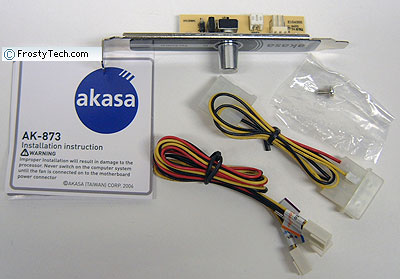 FrostyTech's K8 Test Methodology is outlined in detail here if you care to know what equipment is used, and the parameters under which the tests are conducted. Now let's move forward and take a closer look at this heatsink, its acoustic characteristics, and of course it performance in the thermal tests!