The Akasa AK-961 heatsink is designed for socket 775 Intel Pentium 4/D and Core 2 Duo processors, and as with most heatsinks vying to push the stock thermal solution out of the PC, it comes equipped with a Pulse Width Modulation fan. The AK-961 is essentially identical to the AK-960E heatsink FrostyTech previously reviewed, apart from the fans that is. The AK-961 heatsink's fan spins at speeds of 500-3400RPM, which is slightly more than the AK-960E can muster. Also, the fan on the AK-961 is internally illuminated with blue LEDs and the motor is suspended from the frame; an open fan frame style which yields quieter operation and better airflow at really low impeller speeds.
While Akasa markets the AK-961 heatsink as a 'low noise' cooler, this is really only true when it is used with a PWM compliant motherboard. Pulse Width Modulation compatible fans are noted by their 4-pin power connectors, and what PWM does is enable the BIOS to directly control fan speed. The impeller speed increases or decreases relative to the processor's temperature at any given moment.
However, when the Akasa AK-961 heatsink is used with a motherboard that does not support PWM the fan rotates at full speed. At full tilt (3400RPM) the heatsink produces 60.7 dBA noise - which is loud. Thankfully, the lower end of the noise scale for this heatsink is about 36 dBA, and that is very quiet.
Akasa AK-961 Heatsink

---

heatsink specsheet
manufacturer: akasa
model no.: ak-961
materials: aluminum fins, copper heat pipes, copper base
fan mfg: everflow f129025du
fan spec: 500-3400rpm, 12v, 0.38a
fan dim: 25x90x90mm
heatsink & fan dim: 71x96x95mm
weight: est. 425 grams
includes: pre-applied thermal compound

---

Compatible with Sockets: LGA775
Est. Pricing: $32USD ($39CDN)
Akasa's AK-961 heatsink is made from a collection of very thin stacked aluminum fins with zippered interlocking tabs, three copper heatpipes, and a small block of copper at the base. The aluminum fins are rather squat, measuring just under 35mm tall, but that gives the heatsink a compact profile. The aluminum fins aren't nickel plated, so heatpipe-to-aluminum fin joints are not soldered. Hopefully the joints aren'te too loose, or thermal transmission will suffer. The three 6mm diameter heatpipes are soldered to the copper base however.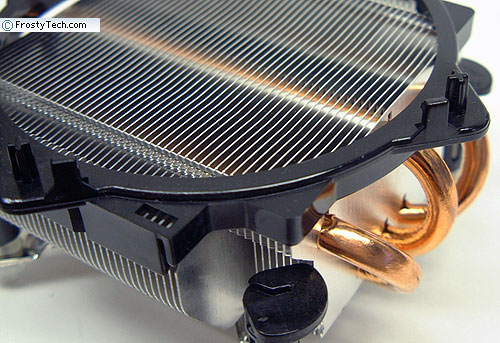 The 90mm Everflow fan has four internal LEDs to illuminate the blue plastic it is made from. The lights are pretty small, but the effect is nice. The fan mounts on posts spaced 80mm apart, with little plastic clips that grip the fan frame. Intel's reference tool-free plastic snap clips are used to install the Akasa AK-961 heatsink, and the cooler comes with a pre-applied patch of Shin-etsu thermal compound.
FrostyTech's test methodology is outlined in detail here if you care to know what equipment is used, and the parameters under which the tests are conducted. Now let's move forward and take a closer look at this heatsink, its acoustic characteristics, and of course it performance in the thermal tests!