The Akasa AK-960E heatsink is designed for socket 775 Intel Pentium 4/D and Core 2 Duo processors. As with most heatsinks that are vying to push the stock thermal solution out of the PC, the AK-960E comes equipped with a Pulse Width Modulation controlled fan that can scale between 500-3000RPM. In other words, when your PC is running on idle, the fan will slow down to reduce noise. When the processor is knee deep in a stream of number crunching, the fan spins up to meet the heat. This approach is soon to be the standard for all heatsinks, whether they be for CPU, GPU or chipset thermal solutions.
The 4-pin PWM fan on Akasa's AK-960E is controlled by the BIOS on compatible motherboards. When it's installed on motherboards that don't support PWM, the fan defaults to full speed. At full tilt the heatsink produces a little more than 56 dBA noise.
Intel's referense tool-free plastic snap clips make installation a breeze, and the AK-960E even ships with a pre-applied patch of Shin-etsu thermal compound applied.
Akasa AK-960E Heatsink

---

heatsink specsheet
manufacturer: akasa
model no.: ak-960e
materials: aluminum fins, copper heat pipes, copper base
fan mfg: everflow f128025sh-af
fan spec: 500-3000rpm, 12v, 0.19a
fan dim: 25x97x97mm
heatsink & fan dim: 72x100x97mm
weight: est. 425 grams
includes: pre-applied thermal compound

---

Compatible with Sockets: LGA775
Est. Pricing: $32USD ($39CDN)
Akasa's AK-960E heatsink is made from a collection of very thin stacked aluminum fins with zippered interlocking tabs, a couple copper heatpipes, and a small block of copper that forms the base. The aluminum fins are rather squat, measuring just under 35mm tall, but that gives the AK-960E a nice low profile.
The only really curious aspect about this heatsink is that the aluminum fins aren't nickel plated, and thus the heatpipe-to-aluminum fin joints are not soldered. If the joints are too loose thermal transmission will suffer, so this is one area where Akasa might have been better of with a more fixed attachment regime.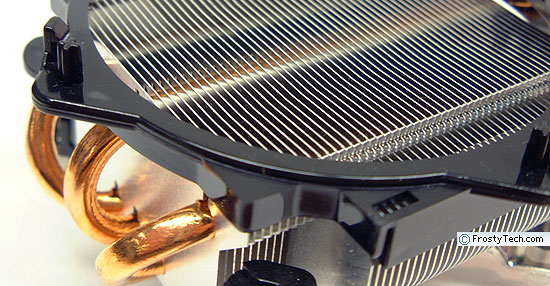 The 3000RPM Everflow fan used on this heatsink mounts on holes spaced 80mm apart, but the impeller is a little oversized in that it measures 97mm in diameter. If you look closely along the side of the fan frame you'll notice a bunch of lateral vents; these are 1.5mm thick, and ~30mm long. We've seen these kinds of vents used many times before, and what they tend to do is decrease the noise pitch of the fan as air rushes through.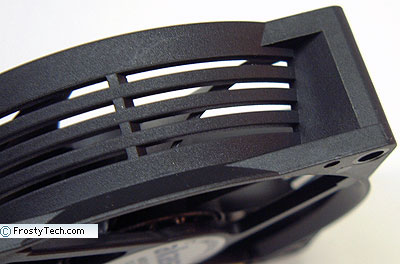 The Akasa AK-960E heatsink will be tested on FrostyTech's new Intel LGA775 version of the Mk.II synthetic thermal temperature test platform, and compared against several reference LGA775 heatsinks. The whole test methodology is outlined in detail here if you care to know what equipment is used, and the parameters under which the tests are conducted. Now let's move forward and take a closer look at this heatsink, its acoustic characteristics, and of course it performance in the thermal tests!