Thermaltake's Jungle 512 socket 775 heatsink looks like it packs a pretty heavy punch.... but does it really? It's monsterous 92mm PWM fan draws upwards of 1.0Amp at full speed, and its red fan blades spin with enough force to take a big chunk out of careless fingers too. Below the big fan is a circular array of bifurcated aluminum fins, and at the Jungle 512's heart a large copper slug; all fairly standard stuff for an Intel socket 775 heatsink.
In fact the Thermaltake Jungle 512 is one of many heatsinks based almost entirely on Intel's reference RCBFH-3 heatsink design. After developing the Radial Curved Bifurcated Fin Heatsink (RCBFH-3) thermal solution for itself, the design has flourished. Almost every single heatsink manufacturer has at least one cooler based upon it.
The Intel 'Prescott FMB2' compliant Thermaltake Jungle 512 heatsink is equipped with a 32x92x92mm 4-pin PWM fan that rotates at between 2300 and 3600RPM. When installed on a PWM fan compatible socket 775 motherboard, this finger chopping fan scales its speed to meet the immediate thermal demands of the processor, without creating too much unnecessary noise. We tested the Jungle 512 with a standard 3-pin fan power supply, and in that instance the fan defaults to its lower speed of 2300RPM. That's good enough for adequate cooling, but not any better than the stock Intel Pentium D heatsink can dish out.
The 560g Thermaltake Jungle 512 heatsink installs onto any socket 775 motherboard via Intel's plastic push-to-click, turn-to-release retention clips. No tools are needed.
Thermaltake Jungle 512 Heatsink

---

heatsink specsheet
manufacturer: thermaltake
model no.: jungle 512 (cl-p0037)
materials: extruded aluminum, copper insert.
fan mfg: everflow f129032but
fan spec: 2300-3600rpm, 12v, 1.00a
fan dim: 32x92x92mm
heatsink & fan dim: 89x97x97mm
weight: est. 560 grams
includes: thermal compound.

---

Compatible with Sockets: LGA775
Est. Pricing: $30USD ($35CDN)
The Thermaltake Jungle 512 heatsink is composed of two sections - the first is an outer 90mm diameter cylinder of extruded aluminum cooling fins, the second is an internal 34mm diameter cylindrical copper slug. The copper slug makes direct contact with the surface of the LGA775 processor.
The copper transfers heat energy from the CPU, and increases the total surface area of the heat source before transferring the heat energy to the 40mm high aluminum component.
As you know, surface area is key to achieving an efficient thermal solution. The more cool air you can pass over a surface of a given size, the more heat you can remove into the surrounding environment. This is where the radially curved bifurcated aluminum fins come into play; compared to a standard fin they have about 1.5x the surface area. Bifurcated simply means "to divide or fork into two branches," and that is exactly what the fins look like.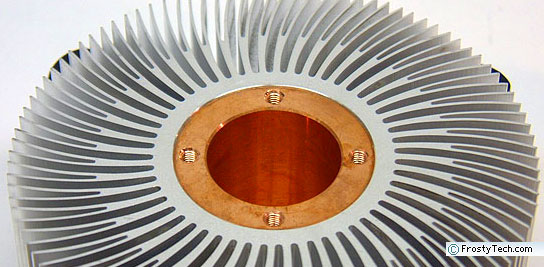 FrostyTech's heatsink test methodology is outlined in detail here if you care to know what equipment is used, and the parameters under which the tests are conducted. Now let's move forward and take a closer look at this heatsink, its acoustic characteristics, and of course it performance in the thermal tests!