The first heatsink installed on almost every Intel Pentium 4/D/EE processor is the boxed reference heatsink included with the CPU. Most often, these stock heatsinks provide a lifetime of use, diligently cooling the CPU with a moderate amount of noise while keeping temperatures within safe margins. Yet when applications call for enhanced cooling capacity, or quieter operation, the stock heatsink is often the first to go - replaced by more exotic thermal solutions from after market heatsink manufacturers.
For some reason, most of us just assume that "stock" or "reference" heatsinks are equivalent to "basic" or "bottom-line" thermal performance. Yet while some 3rd party Intel LGA775 heatsinks are much better, many others are in fact much worse.
Intel's own Radial Curved non-Bifurcated Fin Heatsink (RCBFH) reference solution is a fairly well designed cooler; it uses a 4-pin PWM 84mm diameter Nidec F09A-12B4S1 fan that scales in speed to meet thermal demands, it conforms to ATX motherboard keep-out and high recommendations, it relies on an efficient and light weight mix of copper over the integrated heatspreader and high aspect ratio extruded radially curved aluminum fins, and it installs or removes from a motherboard in a snap without the use of tools.
Intel Stock Pentium D Heatsink

---

heatsink specsheet
manufacturer: intel
model no.: stock pentium d
materials: extruded aluminum, copper insert.
fan mfg: nidec f09a-12b4s1
fan spec: 800-2600rpm (est.), 12v, 0.42a
fan dim: 25x84x84mm
heatsink & fan dim: 72x88x88mm
weight: est. 460 grams
includes: pre-applied thermal compound.

---

Compatible with Sockets: LGA775
Est. Pricing: $25USD ($30CDN)
In this review, Frostytech is going to evaluate the stock heatsink model that accompanies most Intel Pentium D processors. It closely resembles just about every other Intel RCBFH heatsink, except that single fins are used in place of bifurcated ones.
The stock Intel Pentium D heatsink is composed of two sections - the first is the outer extruded aluminum donut of 23mm long cooling fins, the second is an internal 41mm diameter cylindrical copper heat spreader. The copper heat spreader makes direct contact with the surface of the LGA775 processors's integrated heat spreader, transmitting the heat energy it absorbs to a larger surface area which is in direct metal-to-metal contact with the aluminum.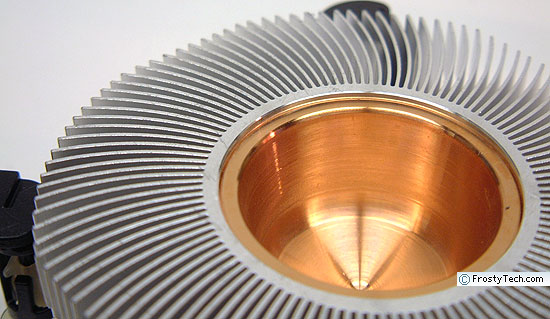 Aluminum has a thermal conductivity of 247 W/mK, whereas copper (which is heavier and more costly) has a thermal conductivity of 398 W/mK.
The technique of building heatsinks with copper centers and outer aluminum cooling fins has long been used to transfer heat energy from the CPU, disperse it through the copper component to an increased surface area, and from this larger total surface area to specially shaped aluminum cooling fins and the surrounding environment.
We'll see how this design affects the stock Intel Pentium D heatsink at its quickest and slowest fans speeds.
The stock Intel Pentium D heatsink will be tested on FrostyTech's new Intel LGA775 version of the Mk.II synthetic thermal temperature test platform, providing a reference point from which to compare after market LGA775 coolers against. Given Intel's rapidly changing trends in lower power desktop processors, and high wattage multi-core chips, FrostyTech will be testing with two different heat load this time around. Anyhow, we'll touch upon the details of the new test platform a little later in the review.
FrostyTech's heatsink test methodology is outlined in detail here if you care to know what equipment is used, and the parameters under which the tests are conducted. Now let's move forward and take a closer look at this heatsink, its acoustic characteristics, and of course it performance in the thermal tests!