Thermalfly are a new heatsink manufacturer out of Taiwan, and the company is introducing itself with a collection of fresh thermal solutions in a nice shade of nuclear green. FrostyTech wil be testing out a couple of Thermalfly's CPU coolers for the socket 775 and 939/AM2 platforms in the coming weeks, so keep you're eyes peeled! In this review it's the Thermalfly F1-IACSHA heatsink that we'll be putting through its paces on both the thermal and acoustic front's, and on both Intel LGA775 and AMD K8 thermal platforms.
This is the debut for FrostyTech's new Intel LGA775 version of the Mk.II synthetic thermal temperature test platform! Given Intel's rapidly changing trends in lower power desktop processors, and high wattage multi-core chips, we'll be testing with two different heat load this time around. Anyhow, we'll touch upon the details of the new test platform a little later in the review. Right now it's time to get back on track as we evaluate the F1-IACSHA, a large fully copper heatsink which combines a 63mm diameter squirrel cage fan and a unique L-shaped copper cooling fin array. This heatsink has a couple attributes we've never seen before in a desktop cooler...
The Thermalfly F1-IACSHA is equipped with a four-pin Pulse Width Modulation (PWM) squirrel cage fan that goes one step further than BIOS determined fan speed control. At the base of the F1-IACSHA heatsink is its very own thermistor temperature sensor, taped to the top of the copper processor block with a small aluminum sticker. The thermistor provides accurate temperature readings to the fan, and this determines how quickly it spins at any given moment.
Thermalfly F1-IACSHA Heatsink

---

heatsink specsheet
manufacturer: thermalfly
model no.: f1-iacsha
materials: four copper heatpipes, copper fins and base.
fan mfg: everflown b128080bc
fan spec: 1300-3500rpm, 12v, 0.80a
fan dim: 80x80mm
heatsink & fan dim: 116x117x114mm
weight: est 700 grams
includes: multi-socket mounting hardware, thermal compound, fan clips, printed instructions

---

Compatible with Sockets: LGA775, 754/939/940
Est. Pricing: $59USD ($67CDN)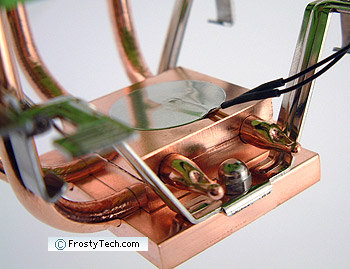 If you prefer manual control over you processor heatsink, the Thermalfly F1-IACSHA supports this as well. A simple fan speed control dial set on a PCI bracket allows the F1-IACSHA heatsinks' fan speed, and hence noise, to be adjusted at will.
The dial can be shut off, reverting control of the fans' speed back to the PWM system and motherboard BIOS. All this can be done without disconnecting any wires, which is a nice adaptation other manufactures ought to take notice of. If you intend for the PWM circuit to control the fan entirely, the fan speed control bracket needn't be connected at all.
Core 2 Duo and AMD Athlon64 Compatible
The Thermalfly F1-IACSHA heatsink comes with it's own custom heatsink retention frame that's compatible with both socket 754/939/940 AMD Athlon64 and socket 775 Intel Pentium / Core 2 Duo processors. Socket AM2 is not supported as of this writing. For either application, the plastic retention frame is attached to an included rear motherboard metal support bracket, which uses non-standard metric threads.
AMD Athlon64 K8 motherboards and socket 775 Intel motherboards will both need to removed from the case prior to installing the big Thermalfly F1-IACSHA heatsink into the system.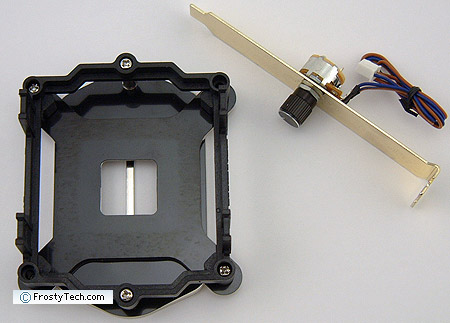 On the positive side, the heatsink is held in place with four tool free metal clips in a similar manner as socket 478 heatsinks used to be, so it's very easy to configure.
FrostyTech's heatsink test methodology is outlined
in detail here
if you care to know what equipment is used, and the parameters under which the tests are conducted. Now let's move forward and take a closer look at the Thermalfly F1-IACSHA heatsink, its acoustic characteristics, and of course it performance in the thermal tests!