The Antazone ASC1000 heatsink appears remarkably similar to the Zalman CNPS9500 in design, but the two CPU coolers are in worlds apart once the vernier of similarities is lifted. The Taiwanese company CompTake Technology Co., Ltd produces the Antazone heatsink, and they are a newcomer to the stage of desktop cooling. CompTake recently launched with a handful of heatsink models, including a series of small heatpipe based passive northbridge and chipset coolers of a similar shape which FrostyTech will be evaluating in the future.
The ASC1000 heatsink makes use of direct airflow paths from its front mounted 95mm fan to its donut shaped 76mm diameter copper cooling fin section. Yet how the ASC1000 actually handles is directly tied into how efficiently its three 6mm diameter copper heatpipes, and the balk of copper at its base perform together. A thick copper base plate connects the upper portions of the ASC1000 heatsink to the heat generating processor below, and as a final good measure the whole contraption has been sugar dipped in a nice shinny copper plating bath.
Antazone's ASC1000 desktop heatsink weighs in at 564 grams, and is compatible with AMD sockets A/462/754/939/940 (though not AM2), and Intel sockets 478/775. It's front mounted 2200RPM fan can be augmented with an additional rear 80mm fan if desired, and on the whole noise output is average (57 dBA). No fan controller, and no thermally responsive sensors are provided. All this comes wrapped in a small black box for an estimated sticker price of $49USD through TigerDirect & NewEgg.
Antazone ASC1000 Heatsink

---

heatsink specsheet
manufacturer: antazone
model no.: as-c1000
materials: copper plated copper heatpipes, fins, base. three heatpipes.
fan mfg: tek-chain a129525mm-f
fan spec: 2200rpm, 12v, 0.30a
fan dim: 25x95x95mm
heatsink & fan dim: 125x102x85mm
weight: 564 grams
includes: multi-socket mounting hardware, thermal compound, extra fan screws, printed instructions

---

Compatible with Sockets: 478/775, A/462, 754/939/940
Est. Pricing: $49USD ($55CDN)
The heatsink is held in place on the motherboard with two X-shaped bolt-through-board retention brackets which can only be installed with the motherboard fully removed from the system. The mounting hardware is not particularly complicated - an insulated metal bracket unfolds to match the screw positions on the reverse side of the motherboard, and a secondary metal clip unfolds over the top of the Antazone ASC1000's copper base to receive the mounting screws from below.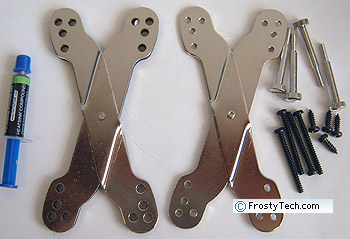 The clips are a little unwieldy to install, and the prospect of fully removing the motherboard just to install a heatsink is never particularly exciting.
On top of that, for the K8 socket 939 platform in particular, only half the clip mechanism is actually used, leading to some concerns of rigidity. It's also slightly disappointing to see a new heatsink enter the market without support for AM2.
I suppose the plus side of all this is that six different processor platforms are supported by one pair of clips. A small tube of "25% silver included" thermal compound is also bundled in with the heatsink, so at least this stage of installation is an easy one.
Both sets of Antazone ASC1000 clips rely on hand tensioned screws to apply clamping pressure, so this means two things. One, you'll need to remove your motherboard from the case if it's an Intel socket 775 CPU, and two you'll need to pull off the heatsink retention frame if it's a socke 939 or socket 478 board.
The Low Down on Heatpipes
Heatpipes are making their way into seemingly ever bit of computer hardware this year, and three of them are used on the Comptake Antazone AS-C1000 heatsink we're testing in this report.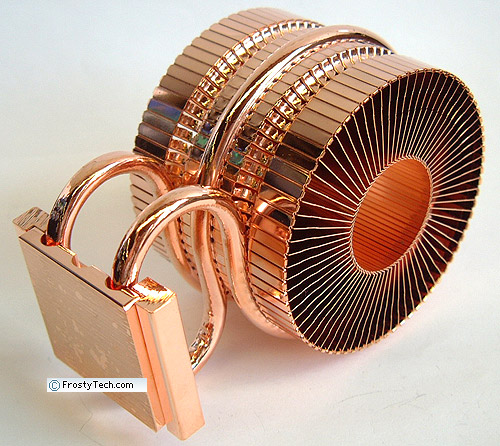 It's easy to get confused about the impact heatpipes have in a heatsink, since they actually don't "cool" a thing. Basically, heatpipes just transfer heat from one location to another.
The process works like this: as heat energy enters into the heatpipe, liquid inside the tube (generally water) is converted into vapour. You'll recall that water boils at a lower temperature when there is less atmospheric pressure, and the inside of a heatpipe is a vacuum. This water vapour is what transfers the heat it has absorbed to the other end of the heatpipe.
As the heated vapour reaches the cooler side of the tube it condenses, and returns back to liquid form. As it does this, the energy which caused the water to turn to vapour is dumped into the surrounding metal of the heatpipe, which impart transfers it to cooling fins.
A physical property known as capillary action then takes hold and draws the freshly condensed liquid back along an internal wick structure to the hotter end of the heatpipe, where the entire process repeats. The important bit to remember is that it doesn't matter how many heatpipes a cooler has, it's where they are positioned, and how the cooling fins interact with airflow that is critically important.
FrostyTech's K8 Test Methodology is outlined in detail here if you care to know what equipment is used, and the parameters under which the tests are conducted. Now let's move forward and take a closer look at this heatsink, its acoustic characteristics, and of course it performance in the thermal tests!