The Ultra-120 heatsink extends Thermalright's position as one of the best low noise heatsink manufactures in the market. Yet the Thermalright Ultra-120 applies only fairly simple cooling technologies; a selection of U-shaped heat pipes, widely spaced aluminum cooling fins, and a low speed 120 mm fan which is user provided. The end result though is a large, and albeit balky heatsink, but one which can be operated very quietly while disbursing the high heat loads from modern day dual core processors.
The Thermalright Ultra-120 is compatible out of the box with socket 775 Intel Pentium and Core 2 Duo CPUs, and with socket 754/939/940 AMD Athlon64 processors. A CPU mounting bracket for the newly introduced 940-pin socket AM2 heatsink retention frame is also available separately, yet really ought to be included. Frostytech has updated this review with a complete reference list of both AMD and Intel heatsinks to compare against, previously this review only contained results for AMD 939/AM2 platforms.
The tower-sized Ultra-120 heatsink is sold without a fan, and is intended to be used with 120mm fans. Virtually all Thermalright heatsinks are sold without fans, so in effect the company is allowing the end-user to make the heatsink as quiet or as loud as they wish by incorporating a suitable fan for their personal noise requirements. Anti-vibration rubber strips are used along the leading edges of the fins to prevent vibration noises from occurring where the fan and heatsink meet. The Ultra-120 heatsink design is based upon copper heatpipes, a large array of aluminum fins and a small copper base plate; all of which have been nickel plated and soldered together. The Ultra-120 heatsink weighs 745grams without a fan installed and retails for in the region of $55CDN ($48USD).
Thermalright Ultra-120 Heatsink

---

heatsink specsheet
manufacturer: thermalright
model no.: ultra-120
materials: nickel plated aluminum fins and copper base, four heatpipes.
fan mfg: martech d71202512sz2n (as tested, fan not included)
fan spec: 1600rpm, 12v, 0.25a (as tested, fan not included)
fan dim: 25x120x120mm
heatsink & fan dim: 160x132x93mm
weight: 745 grams
includes: multi-socket mounting hardware, thermal compound, fan clips, printed instructions

---

Compatible with Sockets: LGA775, 754/939/940, AM2 (optional adaptor req'd).
Est. Pricing: $46USD ($55CDN)
Thermalright have designed the Ultra-120 with widely spaced fins, allowing lower velocity air to move through the fins with better efficiency and less back pressure. By combining this technique with a large, slow RPM 120mm fan, a sufficient amount of air can be moved through the heatsink without generating significant noise.
To induce turbulence within the fins and improve thermal transmission between the air and metal, Thermalright have modified the aluminum fins by adding "proprietary bent winglets." In other words, the leading and trailing edges along either side of the aluminum fins are bent 15° up and 15° down respectively.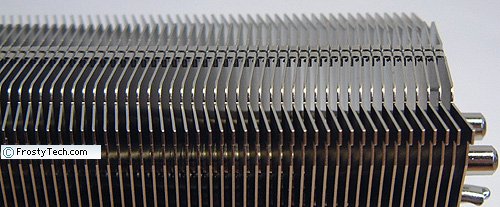 The four 6mm heat pipes, which join all the components of the heatsink together, are soldered in place to reduced thermal resistance at the joints. The heatsink is held and place on the motherboard with bolt-through-board retention brackets and spring tensioned screws. The mounting hardware is uncomplicated, and very easy to set up and install even within a fully installed computer. We only wish that Thermalright would include the socket AM2 adapter instead of leaving it as an optional extra.
Plenty-O-brackets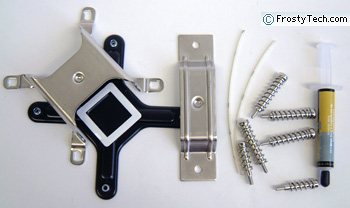 The Thermalright Ultra-120 heatsink ships with brackets for LGA775 and AMD K8 processors (754/939/940 respectively). A separate kit for AM2 can be purchased through Thermalright, as of this writing.
Both sets of clips rely on spring tensioned screws to apply clamping pressure, so this means two things. One, you'll need to remove your motherboard from the case if it's an Intel socket 775 CPU, and two you'll need to pull off the K8 heatsink retention frame if it's a K8 AMD chip.
On the plus side, all K8 motherboards all ship with the metal motherboard support brackets that have a 6-32 thread in place, so the hardware Thermalright include will work just fine with that.
After the clips are in place, the next step is to attach the rubber anti-vibration strips to the front of the Thermalright Ultra-120 heatsink, and then install your own 120mm fan. The thin adhesive backed strips insulate the fan from direct contact with the aluminium fins, so if there are any motor vibrations the strips will hopefully prevent the metal fins from rattling. Thermalright provide special wire clips to hold the fan in place, although none were included in the unit FrostyTech received for testing (paper clips serve yet one more purpose!).
Next, we take a closer look at the socket AM2 mounting hardware, and the new AM2 heatsink retention frame.