The Verax Quattro 1 is a large squarish heatsink, accented by two specialized fans which produce barely a whisper of noise. Six copper heatpipes extend up from a large copper base through a cube of aluminum cooling fins, as is popular with many silent heatsink designs. A multi-socket mounting bracket makes it possible to use the Quattro 1 with just about any processor platform, although it does require the motherboard to be pulled from the case for fitting.
The two Verax ultra-quiet CAIRdB fans are the real selling point of the Quattro 1 heatsink however, and under power both fans generate less than 31 dbA according to FrostyTech's own measurements. The unique fan impeller characteristics of the CAIRdB fan generally translate into moderate airflow, so it's always good use additional case fans to ensure a healthy flow of cool air over adjacent motherboard components, chipsets, etc.
A couple other insightful thermal design choices come into play, adding up to a nice ultra low noise thermal solution which retails for $89USD, through North American distributor VeraxFans.com. There has always been a high premium on low noise cooling and that trend isn't stopping here.
Verax Quattro 1 Heatsink

---

HEATSINK SPECSHEET
Manufacturer: Verax
Model No.: CNPS9500 LED
Materials: aluminum fins, copper heatpipes and base.
Fan Mfg: Verax CAIRdB VB802512ST-3M (x2)
Fan Spec: 1500-3600RPM, 12V, 0.3A
Fan Dim: 25x80x80mm
Heatink & Fan Dim: 124x121x116mm
Weight: 820 grams
Includes: thermal compound, multi-socket mounting hardware, instructions.

---

Compatible with Sockets: 478/775/754/939/940
Est. Pricing: $89USD ($95CDN)
Verax heatsinks cool only to within the allowable thresholds of the CPU operating temperature range. Reducing computer noise is the primary goal of Verax, and as such its heatsinks are far and away the quietest solutions, though not the coolest.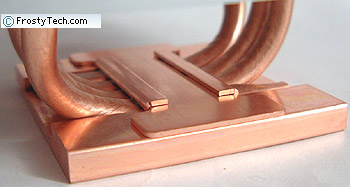 The Verax Quattro 1 heatsink will work with Intel socket 478/775 and AMD socket 754/939/940 processors, however not socket AM2. Mounting hardware and thermal compound is included.
The vast majority of enthusiast grade heatsink manufacturers produce coolers that are designed to keep CPU temperatures as low as possible. Considerations like volume, weight, noise come in secondary, and this has led to a lot of noisy computers... The German manufacturer Verax Ventilatoren GmbH takes a slightly different approach with its thermal solutions.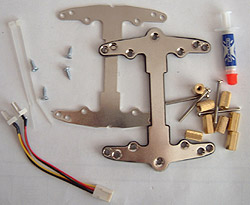 Verax accomplishes this by adopting a radically different fan impeller design that reduces many of the noises typically associated with vaneaxial fan blades. The Verax CAIRdB fan design is arguably one of the most revolutionary on the market, though it can be a struggle to get acclimated to when moving from traditional cooling systems.
The Verax CAIRdB Fan Impeller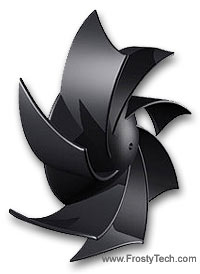 Verax CAIRdB fans are one the most unique zero-noise fans in the marketplace that we have tested. The stealthy acoustical act is accomplished by tossing out convention and starting with a completely fresh impeller design.
The Verax CAIRdB fan works by accelerating air between its blades evenly, over a substantially longer distance than standard CPU fans. This supposedly keeps turbulent noises down, as the impeller rotates counter-clockwise - totally opposite to that of traditional vaneaxial fans. The CAIRdB fan doesn't move air as quickly as standard fans of the same size, so it is not suitable for overclocking use.
To scale the speed of the CAIRdB fan, there is an embedded thermistor located in one of the motor support struts. This thermistor samples the intake air temperature continuously, and allows the fan respond as case temperature increases with a speed change from 1500RPM - 3600RPM over a temperature range of 25-50 degrees Celsius. Since this is a thermally responsive fan, the sound levels will increase to about 55dBA from 30.9dBA at max RPM - according to our sound meter which is officially calibrated to 35dBA.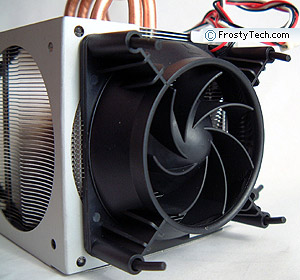 So quiet are the Verax CAIRdB fans that you literally have to hold one up to your ear to hear anything - there is almost no discernible noise signature until the fan starts to kick into a higher speed range. The temperature responsive VB802512ST-3M CAIRdB fan is virtually silent under power at the default speed, slightly louder at full RPM.
We remain critical of the thermistor placement on the CAIRdB fans, especially when the fans are used on heatsinks as it does not react to the actual heatsink temperature. For this review we'll be forced the fan to spin at its full speed, in addition to allowing it to operate at the slowest setting.
To reduce vibrations between the fan and the rest of the heatsink, Verax use rather clever rubber vibration dampening rubber posts to hold the fan in position.
FrostyTech's new Test Methodology is outlined in detail here if you care to know what equipment is used, and the parameters under which the tests are conducted. Now let's move forward and take a closer look at this heatsink, its acoustic characteristics, and of course it performance in the thermal tests!