Want to know what heatsink AMD relies on for its socket AM2 Athlon64 FX and Athlon64 X2 reference platforms? The AVC Z7U7414001 heatsink. While this cooler certainly lacks a catchy name, for an OEM heatsink it packs a big punch in a little package. The AVC Z7U7414001's thermally responsive fan enables the heatsink to automatically adjust its fan speed as ambient case temperature dictates, thus decreasing noise output as much as possible. While running quietly, the AVC Z7U7414001 is a mainstream cooling solution, but when its 70mm fan spins to full speed, the Z7U7414001 is one of the most effective Athlon64 heatsinks Frostytech has tested for the socket 939 or socket AM2 platforms.
As this is one of the very first socket AM2 (aka socket M2) heatsinks to enter the FrostyTech test labs, we'll be touching upon the critical differences between 940-pin socket AM2 and socket 754/939/940 heatsinks in just a moment. The Z7U7414001 heatsink is fairly compact, and weighs but a little over 440grams, but its four copper heatpipes and thin aluminum fins work together in a very efficient manner.
The heatsink comes with a pre-applied square of SC-5022 thermal compound on the base and little else. The single tab clip mechanism makes it compatible with both socket AM2 and socket 939 processor heatsink retention frames.
AVC Z7U7414001 AM2 / 939 Heatsink

---

heatsink specsheet
manufacturer: asia vital components (avc)
model no.: z7u7414001
materials: copper base, heatpipes and aluminum fins
fan mfg: avc de07015b12u
fan spec: 3800-5400rpm, 12v, 0.70a bb
fan dim: 15x70x70mm
heatsink & fan dim: 77x97x73mm
weight: 447 grams
includes: pre-applied sc-5022 thermal compound

---

Compatible with Sockets: 754/939/940/AM2
Est. Pricing: $40USD ($45CDN)
Asia Vital Corporation (AVC) itself is one the largest heatsink manufacturers in the industry, but primarily so in an OEM capacity. The company produces several models of stock Intel and AMD heatsinks, in addition to a variety of after market models. In our experience, AVC's heatsinks are designed and built with reliability and cost in mind, so they perform well at a generally affordable price point.
The AVC Z7U7414001 heatsink relies upon a set of four heatpipes that connect the copper base to different portions of the aluminum fins, at different heights. The intention of this is to transfer heat from the copper base not only via the fins, but with the aide of the copper heat pipes to sections of the heatsink that are out of range for purely conductive forces.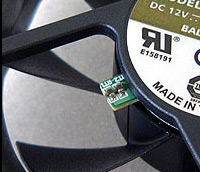 Testing this heatsink was a little tricky, because of the thermistor tied into the fan motor. It adjusts the speed of the impeller based on the ambient air temperature, and so we had to short out those contacts to push the AVC Z7U7414001 heatsink into its maximum operating speed.
Next, we'll examine the new AMD Athlon64 socket AM2 heatsink retention frame and discuss which kinds of socket 754/939/940 heatsinks have been made obsolete by its four-post screw design.
If you're familiar with all of this information, jump to the next page for a closer look at the AVC Z7U7414001 heatsink. Now, let's take a look at the new socket AM2 heatsink retention frame and explain which kinds of K8 heatsinks are not going to be compatible with it...