FrostyTech.com Mk.II Synthetic Thermal Heatsink Test Results

---

Results based on readings from a 38x38mm copper interface die with 125W heat load on the Mk.II Test Platform. Thermal Test values for each heatsink were calculated by determining the rise over ambient temperature at time of test. Information on Frostytech's test methodology is available here.
Socket 939/940/754 compatible CPU heatsinks

manufacturer:
model no.:
*fan speed:
125w thermal test (°c)
noise level (dba)

---

AVC
Z7U7414001
high
17.0
63.0
Noctua
NH-U12
17.5
45.4
Gigabyte
G-Power Pro
high
18.6
71.9
Noctua
NH-U9
18.8
58.4
Coolermaster
Hyper6
high
20.5
54.7
Thermaltake
Venus 12
high
21.7
68.1
ASUS
Starice
high
22.8
67.4
Zalman
CNPS9500 AM2
high
23.0
53.2
Arctic Cooling
Freezer 64 Pro
23.2
50.9
Coolermaster
Aquagate Mini
high
23.2
59.2
Thermaltake
Polo 735
high
23.4
68.0
Cooljag
SFO-H
high
23.6
60.6
Alpha
PAL-8150
23.7
58.9
Zalman
CNPS9500LED (clip parallel)
high
23.8
50.3
AVC
Z7U3301001 (stock 939)
high
24.6
59.9
Gigabyte
3D Cooler-Ultra
high
24.8
63.0
Scythe
Shogun
high
26.0
45.9
EKL
V8
high
26.3
57.5
Gigabyte
3D Rocket-Pro
high
26.9
56.7
Gigabyte
3D Cooler-Pro
high
27.0
62.5
Spire
SP601B3
28.3
48.9
Ajigo
MF064-074
high
28.8
60.3
Gigabyte
3D-Rocket
28.9
50.7
Zalman
CNPS9500 AM2
low
29.2
36.0
Vantec
Mach1
high
29.2
56.9
AVC
Z7U7414001
low
29.6
48.1
CoolJag
SFO-D(18SC)
29.6
64.0
Arctic Cooling
Alpine 64
30.5
43.9
Zalman
CNPS7000A-Cu
high
30.3
45.2
Dynatron
SK-V24
30.3
56.4
Zalman
CNPS7000-Cu
high
31.0
45.2
Coolermaster
Hyper48
31.7
43.6
Scythe
Kama SCKK1000
31.9
47.5
Scythe
Samurai SCSM1000
high
32.1
51.6
Zalman
CNPS7000B-CU
high
32.3
44.9
Thermaltake
Silentboost K8
32.3
49.7
Jetart
JAX801
33.2
53.5
Dynatron
A22
34.5
44.5
nPowertek
NPH K8-1
34.6
52.2
Ajigo
MF043-044 (stock 754)
35.0
45.4
Verax
Quattro 1
36.9
30.9
Arctic Cooling
Silencer 64 Ultra TC
37.5
55.5
Gigabyte
NeonCooler 8-BL
37.7
42.0
Titan
TTC-K8ATB/825/SC
38.7
63.1
Evercool
K802-715
42.1
51.5
Spire
SP741B3
43.2

45.6

Evercool
Magic Cooler
46.6
55.5
ASUS
Starice
low
92.4+
34.4
125w thermal test (°c)
noise level (dba)
*heatsinks are ranked according to the 125w thermal test results column (rise over ambient temp.). low temperatures with low noise levels are considered best. for reference heatsinks with variable-speed fans, only the high speed (12v) fan test result is included in the comparison sheet; more detailed results reside in each specific heatsink review.
The FrostyTech Mk.II thermal test platform stresses both socket 939 and socket AM2 class K8 heatsinks with 125W of heat, and once equilibrium is reached we note the rise in temperature (2nd column from the right) above that of the ambient temp. So in effect what we're doing is leveling the playing field and allowing comparisons between each heatsink in this reference list. The far right column identifies the noise level of each specific heatsink, and naturally the quieter the better!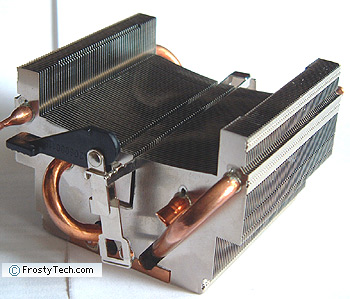 With a 125W heat load applied, the AVC Z7U7414001 socket AM2 reference heatsink yields a very nice rise above ambient temperature at the slowest fan speed of 29.6°C, with just 48.1 dBA noise. When the Z7U7414001's fan speed is increased from 3800RPM to 5400RPM, the socket AM2 heatsink posts much cooler temperatures.... the best we've tested thus far in fact.
The full speed test produces about 63.0 dBA noise, but the rise above ambient temperature result drops to a record breaking 17.0°C rise above ambient temperature!
At its highest fan speed of 5400RPM, the AVC Z7U7414001 heatsink is among the best solutions for either the socket AM2 or socket 939 AMD Athlon64 platform. When running with a more conservative fan speed, the AVC Z7U7414001 heatsink certainly falls within the crowd of well performing mainstream coolers. It compares well against the only other purpose built socket AM2 we've thus tested, the Zalman CNPS9500 AM2, though each has its own specific qualities. Considering these results, it is clear that AVC has provided socket 754/939/940 and AM2 Athlon64 users with very capable heatsink.
Related Articles:
For more reviews on the latest heatsinks and cooling solutions, rely on FrostyTech's inventory of 350+ heatsink reviews. Here are a few other articles that you might enjoy as well...
1. Zalman CNPS9500-AM2 Socket AM2 Low Noise Heatsink Review
2. Spire VertiCool II SP601B3 AMD Athlon64 Heatsink Review
3. Scythe Shogun Low Noise Heatsink Review
4. Arctic Cooling Freezer 64 Pro Athlon64 Heatsink Review
5. Arctic Cooling Silencer 64 Ultra TC Athlon64 Heatsink
6. Spire VertiCool II SP601B3 AMD Athlon64 Heatsink
7. Arctic Cooling Alpine 64 Heatsink Review
8. Noctua NH-U9 Low Noise Heatsink Review
9. nPowertek TTIC NPH K8-1 Heatsink Review