The Scythe SCSM1000 Samurai is one of those all-in-one heatsinks that tries to accommodate virtually every kind of processor formfactor out there. Generally when coolers go down this route they either succeed on a few different CPU cores, or fail miserably on every single one. It all depends on the base of the heatsink, and a couple other factors we'll get into shortly.
In any case, the Scythe SCSM-1000 Samurai heatsink is advertised for socket 370/A, 478, and 754/939/940 processors - basically the full gamut of chips with the exception of LGA775 and AM2 sockets. In reality, the Scythe SCSM-1000 is very clearly a socket 478 heatsink which has been adapted to take on many different roles. Given its 600 gram weight, you should not consider this heatsink for the bare cores of AthlonXP processors in our opinion.
With this much copper above the CPU, it's easy to make quick assumptions about the Samurai's thermal capabilities that could be far from accurate. As with any heatsink, you can never really tell how it will perform until it's been put through the tests!
In this review FrostyTech will be testing the Scythe SCSM-1000 Samurai heatsink on the AMD K8 platform, since the other sockets it supports have all been retired. Off the cuff, the Scythe SCSM-1000 boasts full copper construction, an 80mm speed controlled fan, and a rather large spot of shiny ducting to squeeze all that airflow into a tiny 70mm footprint. Let's begin...
Scythe Samurai SCSM-1000 Heatsink

---

heatsink specsheet
manufacturer: scythe
model no.: samurai scsm-1000
materials: copper fins and base, stainless steel fan shroud
fan mfg: cf-12825bh(rc)
fan spec: 1300-3400rpm, 12v, 0.22a
fan dim: 25x80x80mm
heatsink & fan dim: 94x83x67mm
weight: 605 grams
includes: mounting clips and screws, fan speed controller, instructions.

---

Compatible with Sockets: 478, 462/A, 754/939/940 (not AM2 compatible)
Est. Pricing: $32USD ($38CDN)
Before testing beings, the matter of which bracket to use needs to be sorted. The Scythe SCSM-1000 comes with a few, and each attaches via a set of screws to the main body of the cooler.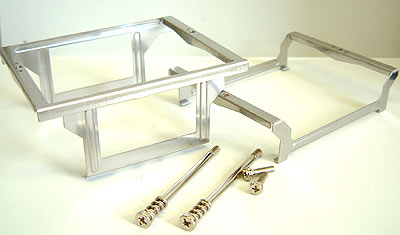 The fan shroud doubles up as a duct, and it directs airflow down into a field of coppery fingers - the edges are shaped rather than just straight edges of metal. Attached to a PCI bracket is the potentiometer for making adjustments to the speed of the Samurai's fan.

FrostyTech's K8 Test Methodology is outlined in detail here if you care to know what equipment is used, and the parameters under which the tests are conducted. Now let's move forward and take a closer look at the Scythe SCSM-1000 Samurai heatsink, its acoustic characteristics, and of course it performance in the thermal tests!